Are you a mountain enthusiast?
These frosty white peaks are situated in the mountains which occupy a large area in north-west Pistoia just outside of Florence, on the southern ridge of the Apennines. Abetone, which literally means huge pine tree, reaches 1388 meters and though it doesn't include some of the highest peaks in Tuscany it is well known among the winter sports enthusiasts. The ski resort area around Abetone and the Apennines consists of about 50 km of downhill ski runs, served by 22 lifts and 18 km of cross-country trails.
The chain covers a total of 53,767 hectares, more than a half of the province of Pistoia in Tuscany and bordering along the Emilia Romagna region.

The ski slopes are divided into three principle areas:
The historic ski slopes of Abetone consist of two blue (Selletta and Chierroni) which are suitable even for those who have never skied before and a red slope (Riva) which can be reached by a ski lift.
Just on the other side of the mountain, you will find the Three Zeno's (designed by the famous ski champion Zeno Colò). These include two red and one black slope. You will also find the slopes called Pulicchio and Stucchi. This area brings you in close contact with the marvelous wooded areas of Tuscany, and a great opportunity to wind down and recharge your energy levels with the fresh crisp clean mountain air. The ski lifts here are: a chairlift, a ski lift and a cable car.
The last area are the slopes of the Val di Luce which are classified as medium to easy and you will find ski lifts to the summits.
But Abetone is not just about the skiing. The area is ideal for those who love the winter sports, and inhale the frigid yet invigorating air of the mountains, enjoying the winter wonderland vistas, walking through the snowy landscapes and sports. There are even two skipark with areas to practice jumping!
In fact, for those who are looking forward to admiring these marvelous panoramic views we suggest you look into stay at one of the well equipped refuges in the area. Where not only can you spend the day traipsing the mountains and the night sleeping in a cosy warm bed but you can enjoy a wide range of local dishes that will warm you right up!
Places like the Selletta, the Baita del Pulicchio, Ovovia and Monte Gomito refuge offer snack bars and restaurants. You don't have to ski to enjoy their services, you can wait for friends and family who are on the slopes or grab a lounger and even get a bit of a tan!
Over 50 kms of Trails to Explore
The beauty of this area is that it has a slope of every level of skill. There are at least 50 km of trails: 14 easy, 14 medium and 1 which requires expert skills. There are two trails for cross country skiing, covering over 15 km, and they are the perfect window onto the dreamy Tuscan mountain landscape. In addition to the slopes, there are many other options: snowshoeing, snowmobiling, snowboarding, skating and hiking in the snow. I'm sure you'll find the sport for you!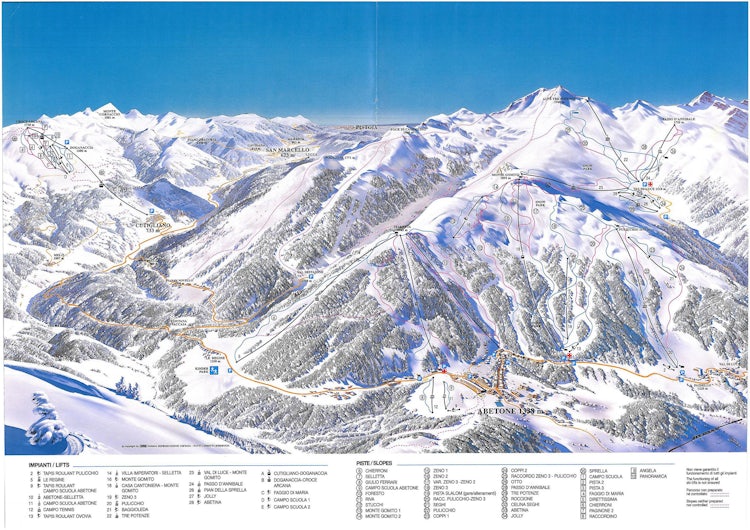 If you have never experienced it then a walk with snowshoes is an ideal way to enjoy the surrounding natural beauty, breathe in the fresh air and take the day off from visiting museums and monuments. The forests of beech and fir trees along with the Tuscan-Emilian Apennines Pistoiese will be the perfect frame for your "white" days in Tuscany. Let the silence of the mountains in winter guide you along one of many trails.
If you have never skied before, this could be that special opportunity to take advantage of the many professional ski instructors with a personalized lesson or even together with other beginners. Or if the idea of trying out snowboard has been floating in your head - then here is your chance! Be inspired, and sign up for a class or lesson to get you started on your dream.
So Much Fun in the Snow
Between Abetone and neighboring locations, there are more than 20 lifts and cable cars. All are easily reached with ample parking nearby, and for those who don't have a car the area is serviced by public buses and private shuttles. If you are only here for a couple of days and didn't bring your own equipment or if this is your first time then you will find several places that rental quality skis and the necessary accessories.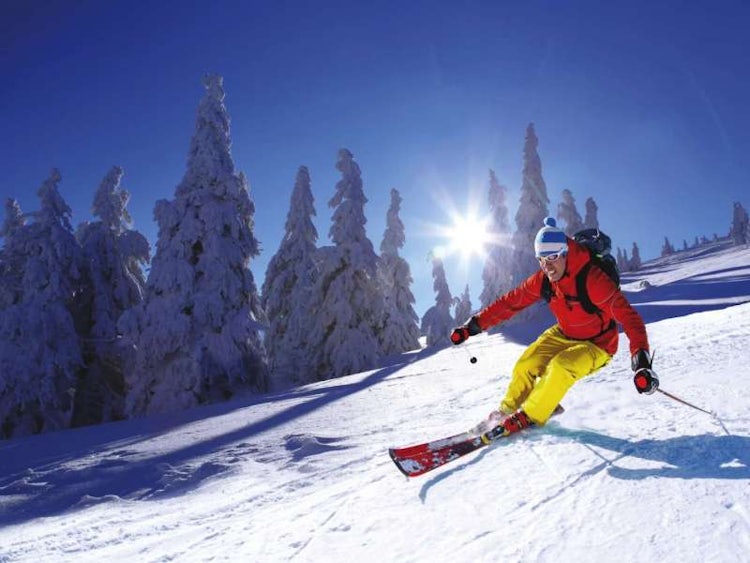 The pricing is flexible and allows for a single day trip or a skipass for several days. The prices vary, but they are competitive and you will find that they offer excellent facilities: a low of 30 Euro per weekday with unlimited use to 38 Euro for weekends and holidays or a 5 day ski passes starting at 116 Euros.
There are several accommodation alternatives nearby the slopes ranging from vacation homes, B & Bs, hotels and resorts with spa facilities. In addition, there are many opportunities to stay close to Pistoia where you can enjoy the best of the slopes and the cities of art near by.