The first lights are lit, store windows are decorated with bows and colorful ribbons, the Christmas markets open and just like that, Christmas cheer enters our spirit and hearts.
In Pistoia and its surroundings Christmas is arriving and the city is preparing its advent by organizing events and days of celebration per both the young and old.
During these December weekends, it is by now the time to be on the look out for the perfect gift for your friend, significant other or parent. The stores are crowded and the markets are full as each of us is on the hunt for the right present for this Christmas 2014.
What are the events in the upcoming weeks?
Let's discover together what Christmas markets and events are in store for us in Pistoia!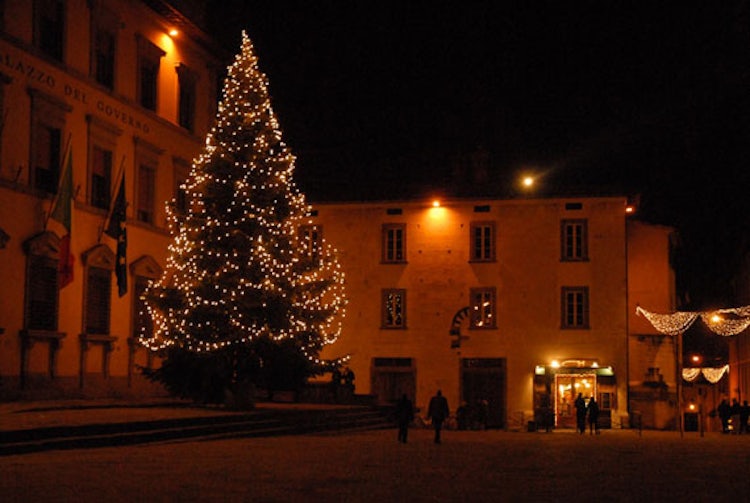 Photo credit: archivio gonews.it
- From December 6th to 8th around the Cathedral of Pistoia (every day from 9 am to midnight, located just 150 meters from the train station), Aspettando Il Natale 2014 is where you can find artisan crafts, various gifts and plenty of other ideas. With free entrance, this is the perfect place to start your holiday shopping for those first Christmas presents. Inside tents, you can even stop for a quick snack, a sandwich or even sit down for dinner. You can also choose from a vast assortment of handcrafted beers. But it doesn't stop there: your weekend at Aspettando Il Natale 2014 will be enriched with aperitifs, music, fashion shows, and a special area dedicated completely for kids.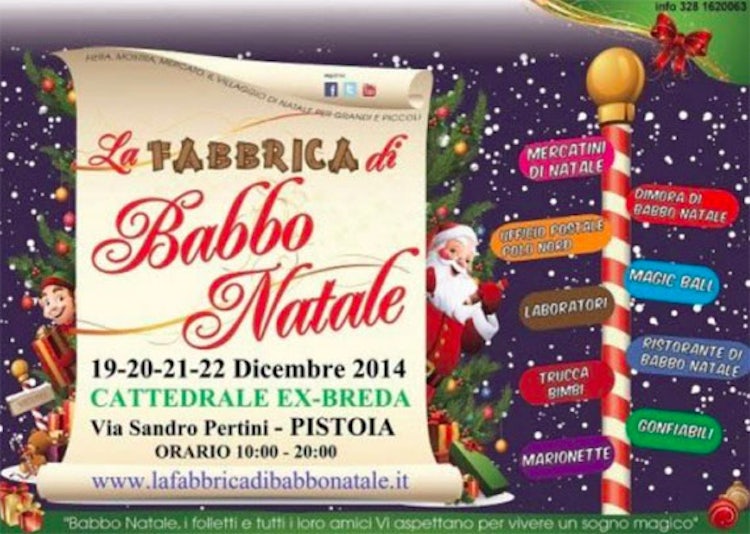 - From December 19th to the 22nd at il Polo Ex-Breda (everyday from 10:00 am to 7:30 pm), la Fabbrica di Babbo Natale or Santa's Workshop will take over Pistoia and will delight both children and adults alike, especially those of us who still get all wrapped up in the Christmas spirit. Bring with you your letter for Santa and drop it directly into his mailbox, try your hand at toy making with the elves, or help out with puppet shows. Visit Santa's house for an unforgettable day, make your last minute Christmas purchases at the market full of crafts and good food or stop off for lunch at Santa's restaurant.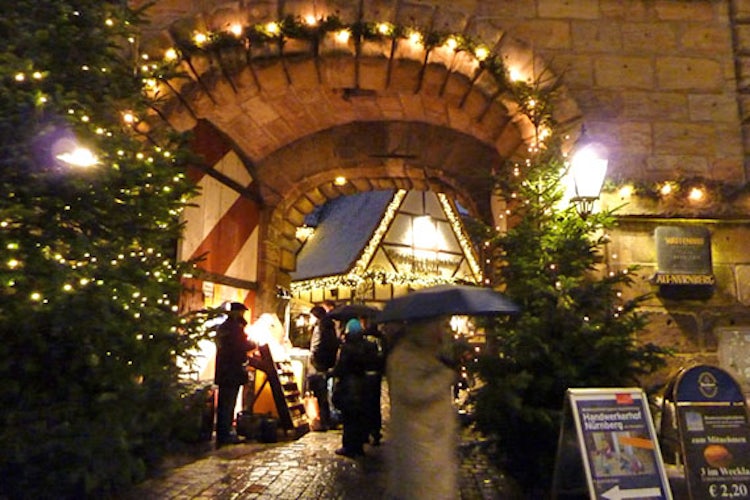 - Natale in Città is a festival of various events in Pistoia in celebration of the holiday season. For example, on Friday the 5th of December, the city becomes illuminated throughout with Christmas lights and the Christmas tree in Piazza del Duomo is lit up at 6:00 pm as Christmas carols fill the air. On Sunday the 7th, the nativity scene completely made out of cord knots by Franco Melani will be inaugurated within the San Zeno Cathedral's crypt at 4:00 pm. Libraries, churches, theaters, bookshops and museums all host events, meetings, workshops, markets and Christmas concerts.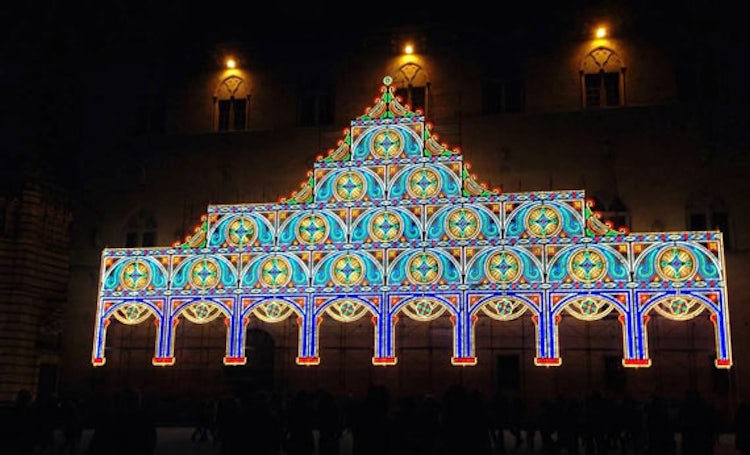 Luminarte 2013: Civic Museum - Photo credit: lalocandina.blogspot.it
Pistoia has truly organized an interesting and full Christmas program but let's not forget that the surrounding areas and villages of the city have also committed themselves to a calendar full of various Christmas markets and events.
- In Castellare di Pescia [PT], the event Arti, Mestieri ed Enogastronomia Locale in Atmosfera Natalizia (The Christmas Atmosphere of Arts, Crafts, Food and Wine) is hosted at il Giardino degli Agrumi (The Citrus Garden, from 10:00 am until the evening), on the 7th, 8th, 14th and 21st of December. These days are dedicated to sharing local products and the old crafts of the area such as woodworking and spinning.
- From the 5th to the 8th, the 12th to the 14th, the 19th to the 31st of December and the 1st to the 6th of January (from 10:00 am to 9:00 pm) in Montecatini Terme you can go to Santa Claus' house in the Castello delle Terme Tamerici. By now, this event attracts not only children but also adults alike who want to meet the man with the white beard.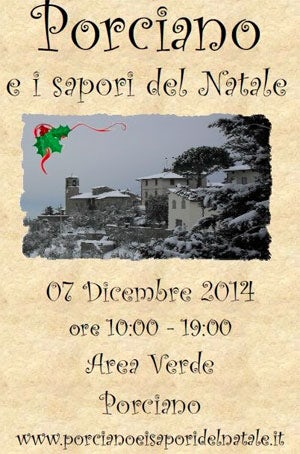 - On December 7th (from 10:00 am to 7:00 pm) in the green area or lawn of Porciano di Lamporecchio, you will leave feeling enchanted by the atmosphere of a medieval village nestled in the hilly surroundings decked out for the holidays. Visit Porciano e i sapori del Natale for a day of Christmas shopping, sweet treats, mulled wine and lots of music.
- On the 13th and 14th of December visit Massa e Cozzile and check out the Vicoli di Natale event for creative ideas for your Christmas shopping this year.
- Beyond all the traditional Christmas markets and shopping that is organized in these villages, a real live nativity scene is planned. On Sunday the 21st of December in Pescia for example, the IX annual Città nel Presepe (Nativity in the city) reconstructs some scenes from the Annunciation and Jesus' birth to remind us that Christmas is much more than just buying things.
You will surely find the perfect experience with all of the Christmas events and markets to choose from in Pistoia and in the nearby towns. During these December weekends, it is wonderful to simply take a walk, let yourself be enchanted by the lights and decorations, and get lost in a place filled with Christmas cheer. You might find the perfect Christmas gift or just spend a pleasant day with family or friends. Choose your Christmas market and get lost in the holiday spirit that is not only an excuse for shopping but also an opportunity to be together with loved ones and remember the importance of the holidays.
Top photo credit: lavocedipistoia.com