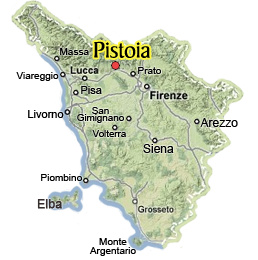 The city of Pistoia is located in northern Tuscany, halfway between Florence and Lucca, about 40 km away from each.
The province of Pistoia is quite large, includeing both flat valleys as well as hilly and mountainous sections, including the Valley of the Ombrone river, the Valdinievole and the Pistoia Mountains (where you can go ski!).
The area of Pistoia and Pescia is also very well known for the cultivation of plants and flowers exported all over the world, with a long tradition of local nurseries being passed down generation after generation.
The small town of Quarrata is known for the production and marketing of quality wood furniture.
Thermal baths are another important resource for the province of Pistoia. The thermal baths of Montecatini and Monsummano can boast of waters with beneficial health effects and thus are much sought after by anyone wishing to take care of themselves, as well as treat themselves to spa treatments. These are the thermal baths which hosted nobilty and royalty, as well as more recent movie stars, through the centuries.
Outdoors and sport lovers will love the Pistoia Mountains, both in the summer and in the winter, when the ski slopes and lifts are open. The ski resorts of Abetone and Val di Luce are among the most popular.

Pistoia is located in the so-called "Tuscan chocolate valley", an area that extends between Pisa, Pistoia and Prato in which we can find some of the most renowned Italian artisan chocolate makers known in Italy and beyond.
Attractions
For children of all ages, we recommend heading to the Zoo of Pistoia (about 10 km outside of the city) and to the Pinocchio Park in Collodi, with its adjacent Garzoni Garden. Both are perfect for spending time outdoors in the spring, summer and fall.
The Fattoria di Celle is a beautiful outdoor sculpture garden with contemporary works of art that are part of its environment. If you'd love to visit, make sure to book ahead of time.
Recurring Events
Among the events that you can find every year, you'll find the Pistoia Blues Festival and the Giostra dell'Orso, or Joust of the Bear, both taking place in Pistoia in July. The joust takes place every 25th of July, on the feast day for the city's patron saint, St. Jacob. Here are some of the main annual events in the city and area.