Il Giardino Volante di Pistoia
The Best Way to Entertain the Kids
Sometimes its seems like such a challenge to find activities that mix the thrill of visiting Tuscany with the needs and desires of the younger persons in the group. But in Pistoia, that is definitely not the case. The mix of colors, happy people, smiling faces, works of art and nature: this is how we would define The Giardino Volante in Pistoia. A green space in the center of the city. A corner where you can savor the perfumes of the season illuminated by the sun and full of positive energy.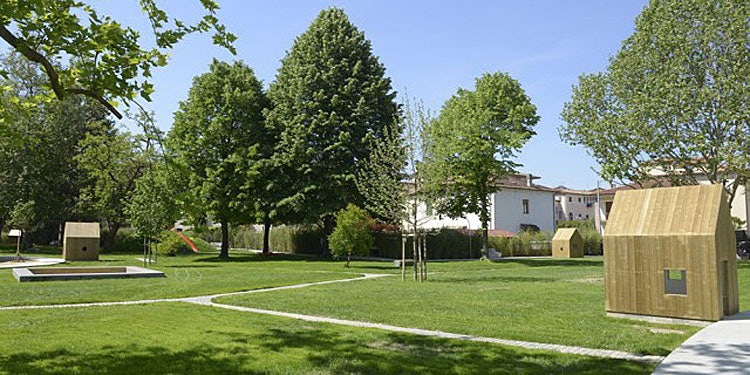 After strolling the historic center of Pistoia, it's time to find a space where you can take the kids, let them enjoy life in their own special way … and why not? Expose the kids to contemporary art in the form of a game where they can get closer yet to a world of creativity.
This is how Pistoia has brainstormed a solution to restless kids and their open minds for appreciating their surroundings: a park where one can live little moments of pleasure. A garden in the heart of the city, created to offer to Pistoia, its inhabitants and its guests a precious place which is radically new, where they can find themselves while strolling in a deep green background.
Pistoia's Gift to You
"The "Giardino Volante" is a public park accessible to everyone, where the smallest can play and live their own adventures inspired by nature and art, in a magical and extraordinary place where their fantasies guide them.
This is the Giardino Volante, a work that we are happy to donate to the city and to all those who want to visit."
Ivano Paci, Presidente Fondazione Cassa di Risparmio di Pistoia e Pescia
The art, thanks to its energetic forms, its colors, and the soft way it depicts life from another perspective, we are allowed to fly. It takes us by the hand and accompanies us towards new and unknown worlds. The Giardino Volante of Pistoia is dedicated to children but there is also room for the adult who has a desire to continue to dream, feel more art and freedom.
Why do Kids Love it?
The works of art inside the park are not only made to be admired but also to be lived and interact with them: climbing over, jumping upon and running around.
The City of Pistoia, with the opening of the park, has given attention to the creative growth of the smallest of the population and has heightened attention to their world by using environmental art. It is a given fact that when we open our minds we always learn something new, even from the smallest who live with a carefree and creative attitude. As we grow, we often forget that vitality and becomes victim to impatience, obligations and routine.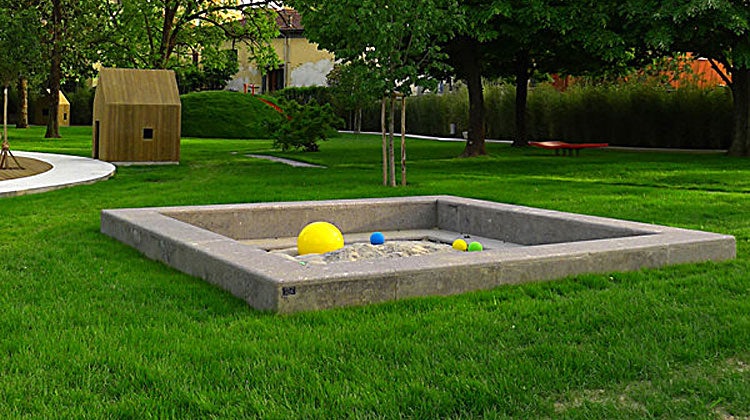 Where does the name come from?
The idea came from a book called "Pittore Volante" or the Flying Picture, by Anselmo Bucci where there are a series of aphorisms, one of which is that nothing in this world is as delicate as a leaf that falls. Therefore, the word flying in this project means to capture all those things simple and extraordinary that happen around without letting anything escape our attention.
Who are the Architects?
Every piece of art situated in the garden was created by an architect that had a story they wanted to share with their "readers". Creative Architects are Lapo Ruffi and Angiola Mainolfi; Luigi Mainolfi, Alessandro and Francesco Mendini, Gianni Ruffi.
Obvious they were not chosen by chance, each one of them in the course of their career, has always worked in one way or another with children, looking at life with curiosity and driven to continually to put themselves in challenging situations. Because we all know, if you live life as a game and don't take everything too seriously, you will live a more satisfying life.
When I stepped into the Garden I sat in a corner and a began to observe. Every child had a different approach to the works of art. Each one, with their special brand of fantasy, entered and interact with the art in a different way.
But this wasn't something that they could truly appreciate. The older generation took a seat and just watched the kids play. Curious parents might have been trying to learn something from their kids...how to be a bit less stressed and more immersed in the immediate sensations and just simply enjoy the here and now.
As for me: as I sit here, warmed by the rays of sun, slowly fell in love with this magical place....
I encourage you to take this opportunity (with or without little ones) to fly towards faraway worlds in a this place where art joins with nature in a beautiful union of poetry. Let your mind free itself and push far away those heavy everyday thoughts and problems. Find a little space to breathe in infinite peace and tranquility with your family...let yourself find a way to fly away in a bit of fantasy.