I was totally surprised to find out that I lived less than 2 hours away from a real live Guinness World Record — truth be told, it is now in second place, but for more than 80 years the Ponte Sospeso (Suspension Foot Bridge) in the Abetone mountains near Popglio was the longest suspension foot bridge in the world.
I immediately put this on my Tuscany To Do list…which now exceeds over a 100 things to do before the year's end.
I know. I am ambitious – the Italians would say folle (which is a nice way of saying crazy), but they don't appreciate my determination.
This adventure is actually an easy drive (even though we are talking about getting to about 1700 m a.s.l.) and it makes for an excellent day trip for those with kids. It has a bit of everything. You can make your first stop at Pistoia, arrive about mid morning and enjoy a second breakfast at one of the picturesque cafes in the city center; famous for its flower markets and plant nurseries as well as the octagonal baptistery, the Giostra del Orso and the Summer Blues Concerts. After a stretching your legs a bit here, you load everyone in the car once again.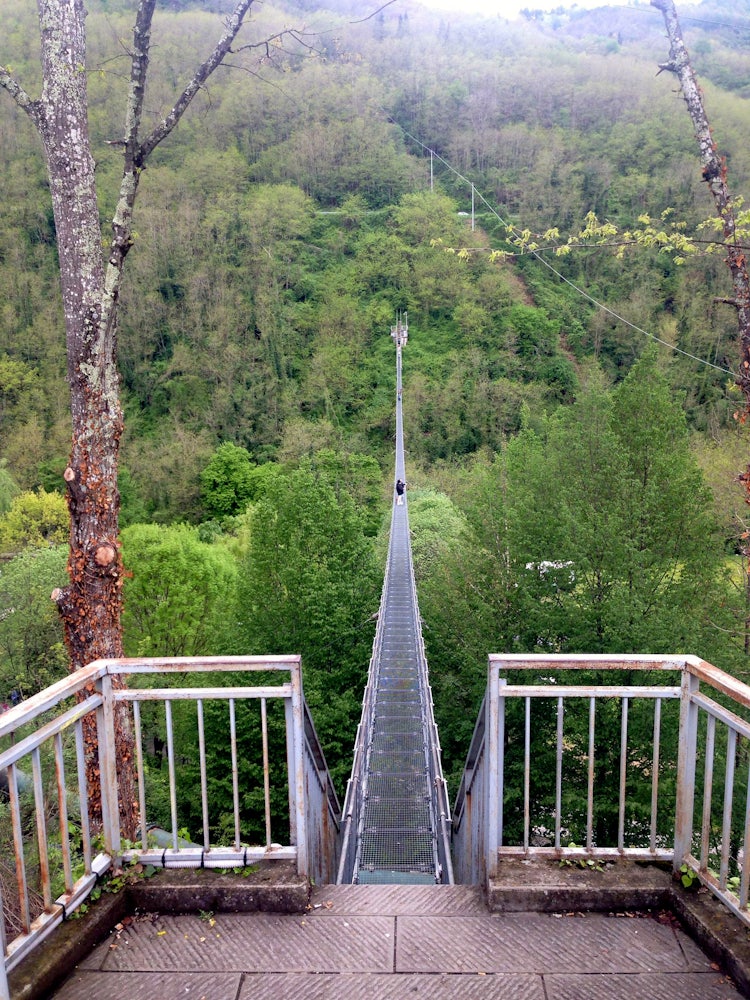 The Best Things are Free
In less than 30 minutes in the car you will reach the Ponte Sospeso. I found it to be well indicated with yellow and black signs, and this was a pleasant surprise. I truly thought that since this seemed like such a fun stop that, there would be tons of people.
But my mid-summer visit, resulted in just enough peace and quiet to make the stop pleasant and relaxing. I was also prepared to shell out money for parking and an entrance fee — wrong once again. There was plenty of parking both at the entrance of the bridge and below at the lake (keep reading, its well worth it). There is no entrance fee — I am saying this hush hush because, if you let on that it is worth the price of a ticket who knows what may change.
Why visit here?
Loved: the entrance fee (none), the parking situation (lots and free) and ease in which I found it
Ideal for: kids of every age (even well into the teen and post teen range)
This stop is truly suitable for everyone, indifferent of your age — and I am also taking into consideration any fear of heights (or lack thereof). Let's start with the bridge: 214 meters long, recently reinforced and now boasting lighting for your nighttime enjoyment — what more could you ask for?
Truth be told, I would have appreciated if the young lady in front of me didn't feel the urge to run laps back and forth but other than that I was surprised at its stability.
The foot bridge is suspended over the Lima River (pronounced Lee-ma) and at it's highest point there are 35 meters of fresh mountain air separating you from a frosty bath below. Personally, I prefer not to venture out on a structure that has a grated floor which allows me to appreciate every single one of those centimeters, however, in its defense, this bridge starts out slow, with only a few meters difference between you and the ground and before you notice that you're not in Kansas anymore, you are appreciating the great view.
I also noticed that the bridge is anchored quite securely on both ends and they have added extra cables which stabilize its left to right movement. You can feel the oscillation up and down and I am sure on a windy day it is accentuated. However, I made it over and back calmly (no valium necessary) and, yes, I truly did enjoy the adventure. So I can only image the younger, less fearful participant will want to do it at least 10 times.
How to get there
On your GPS or phone map app, type in "ponte sospeso di san marcellino pistoiese" to map how to get there. You can see the map with some other photos here: https://goo.gl/maps/4JmikaqWuKp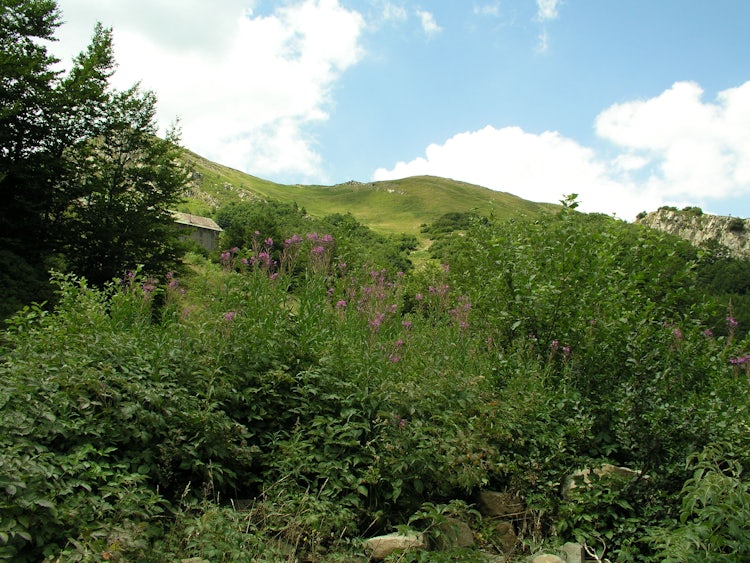 After that adventure, you can mosey down to the lake and park located under the bridge. If I learned anything while entertaining my 3 – 8 – 11 year nieces and nephew, their favorite activity was a park with swings, slides, etc. Though probably geared for the younger end of the spectrum, you might be able to tempt the older ones with trying their hand at a little bit of sport fishing . . . or if all else fails, gelato. (I bet you thought I would say another trip on the bridge… but gelato is my personal favorite back up plan.)
The area is perfect for running around, letting off steam, playing around, picnics and a quick afternoon nap in the shade. If you aren't prepared with a hamper full of goodies, then you can lunch at the on-site restaurant which has a simple & budget-friendly menu, or you could check out the panini at the bar located in front of the entrance of the bridge.
Looking to Cool Off
Only 20 – 25 minutes away you can find the Orto Botanico (Botanical Gardens) which highlights the fauna and vegetation of the mountains. Small yet entertaining. There is an entrance fee, but when you think of how much they are asking (2 Euro) it seems but a trifle for the education experience you receive.
The inside is pretty much green and a little scarce on the "colorful blooms" but I thought it was organized very nicely and inviting with little stone and wooden bridges, lots of little streams and signs indicating what was what. The gardens are manned by university students earning credit for the semester and they proved to be very enthusiastic about their "kingdom."
You are climbing quite a few meters to get to the park, so be sure to have a sweater on hand. As a side note, my GPS got me there with a few hairpin turns — and one or two that I thought would have been more practical if I were riding a unicycle — but we are in the mountains so I guess that is to be expected.
Enjoy your adventure!