Who knew there were volcanoes in Tuscany, right?
Volcanoes in Tuscany are one of those well kept secrets. Just like sharks on Miami Beach and grizzly bears in the Rocky Mountains. The fact that Italy is a volcanically active country is pretty much well known fact - think Pompeii ... more recently Mt. Etna, however who knew Italy is the only country containing active volcanoes in all of mainland Europe. In addition, Southern Tuscany holds the record for some of the oldest volcanic activity in the Italian peninsula.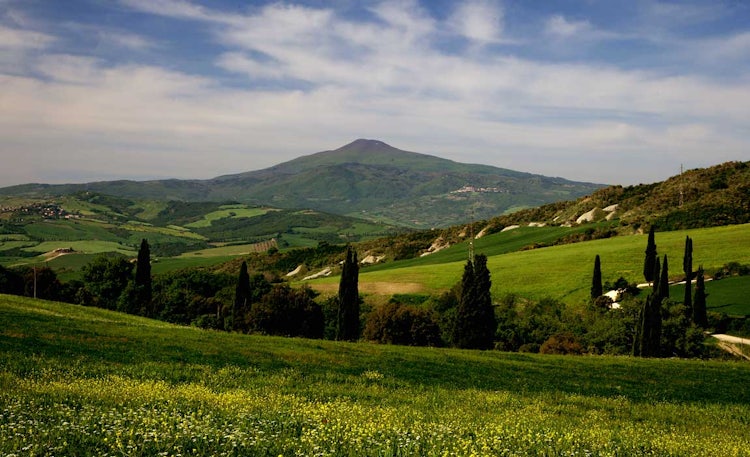 It's really no surprise that this area has its share of volcanoes and seismic activity because with the Eurasian and African Plates colliding and pushing each other around, they naturally form 'magma,' and other types of underground explosive activity. But. You can continue to plan your vacation here because there has been no recent eruptions in Tuscany. The truth is, the Amiata volcano (which also doubles as the tallest mountain in Tuscany) located about 80 km south of Siena dividing the Maremma from Val d'Orcia, is now officially considered extinct.
But I believe it is a bit too early to consider it dead.
300.000 years definitely qualifies as "not recent"
For a volcano to be labeled "extinct" it must not have had any recent activity and since the last known activity for Amiata was approximately 200,000 – 300,000 years ago (give or take a few thousand years either way), it pretty much qualifies.
The position and height of Amiata are ideal for those who appreciate a more naturalistic type of vacation and incredible panoramic views. The lush forest, rich wildlife and untouched beauty make it an ideal stop for planning outdoor adventures.
Warning: If you climb to the summit, just a little over 1700 meters, don't expect to see a volcanic crater. Instead you will find yourself looking at a monumental iron cross and a panorama dominated by what are called lava domes (this is nothing like the Superdome or the Millennium Dome.)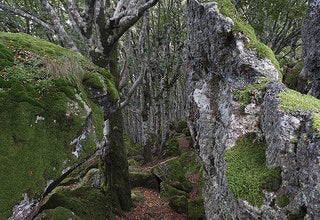 Lava domes are created when the lava is so thick that it hardens before it can move too far and thus creates a cap on the opening. This acts pretty much like a cork on a bottle – keeping all that good volcano stuff (lava & gas) inside. There are over 7 of these domes in the Amiata complex which all make for great hiking and skiing. In fact the Maremma landscape and Mt. Amiata lend themselves to exploration on foot, horse or by bike. Not only are there over 20 km of trails on the Ring of Amiata alone, but nearby you can explore the Provincial Nature Reserves of Monte Labbro and Monte Penna or the WWF Oasis of the Rocconi Forest.
Amiata put the hot in Tuscan hot springs
What do I mean when I say it's extinct, but not dead?
How else would you explain a volcano which has been technically labeled extinct yet about 3-7 miles below the surface is still bubbling away?
That's what I thought, just a bit suspicious.
It is this underground percolating that provides southern Tuscany with some of its more famous hot springs (Saturnia, Bagni San Filippo and Bagnore.) When water filters deeply enough into the ground, it will be heated as it comes into contact with hot rocks or with magma (molten rock). These waters will then find their way up by seeping through the cracks and crevices of the Earth's crust; sometimes it appears as just a trickle and sometimes gushing at over 500 liters a second, like at Saturnia.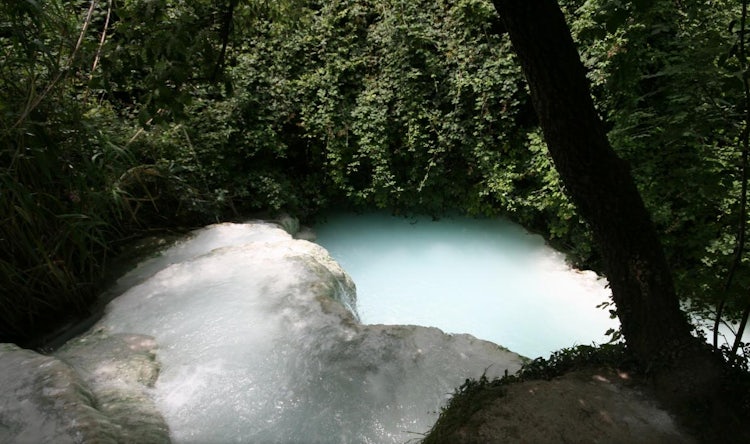 Perhaps one of my favorite places to enjoy these restorative waters is Bagno Vignoni where one can admire a 16th century collecting basin of water which contains a mix of sulphur compounds, bicarbonates and sulphates. It takes approximately ten years of percolating underground and covering over forty kilometres from Monte Amiata before the water makes its way to the surface.
My curiosity was sparked by a description I read in a guide book highlighting a Roman tub in the town center. My imagination ran wild, dreaming up a huge white marble tub with ornate carvings of Roman gods and goddesses. I was hooked! I just had to see it.
I spent at least 30 minutes wandering around this very quaint but also very small town (tot. population 40 pax... on a good day) wondering why such an incredible Roman find didn't have signs showing the way, long lines at a ticket booth or an arrow pointing it out. However, when you consider the wealth of Etruscan and Romans remains in the area . . . the locals probably just see it as ...normal. In any case, it was the translation in my guide book that threw me on a wild goose chase ... the word tub really should have been olympic sized swimming pool. It had been almost literally staring me in the face the entire time I explored the cobbled stone streets.
It is amazing. As you walk around the stone walls you can trail your hands in the aquamarine tinted, transparent waters and actually see it bubbling up from its 1000 meter depths.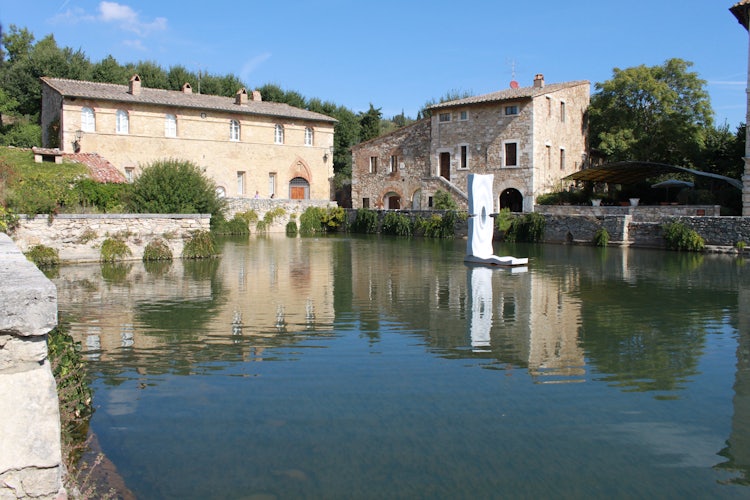 A Natural Source of Energy
But this is not all that we get from Amiata. When something is heated by the natural forces of the earth it is called geothermal activity and it can be captured as a renewable energy source. The Romans and Etruscans were very avant garde using these waters to heat their villas and baths long before the Italian electric company came along. But now the Bagnore steam vents are used for geothermal energy production for over 50.000 families in that area.
The Amiata volcano, better known as Mt. Amiata dominates the landscape and can be seen for miles and miles (and miles and miles) away. Not only is it a clear landmark on the Maremma skyline which offers excellent opportunities for (excuse the pun) letting off some steam ... with physical activity but it provides (and has been providing for over 200,000 years) healing waters perfect for relaxing and bathing at several Tuscan hot springs.