In celebration of the great Michelangelo's 450th anniversary since his demise, many exhibitions and initiatives are taking place this year. Tonight, the City of Florence, along with the Central Market in San Lorenzo, is hosting a very particular event: the revocation of the funeral rites for Michelangelo Buonarroti.
Michelangelo is today buried in Piazza Santa Croce – he died in Rome on February 18, 1564 but his nephew stole his body in the middle of the night and brought him back to Florence where he was buried in great pomp. This is something the event tonight seeks to re-evoke, the particular drama around his final resting place.
The evening starts at 6pm and continues on till midnight.
At 6pm, a solemn mass in honor of Michelangelo at the Basilica of Santa Croce, while in front of the Church of San Lorenzo marble sculptors work on recreating a copy of Michelangelo's Pieta, to be admired at St. Peter's in the Vatican in Rome.
At 8pm, the cart departs piazza Santa Croce heading to Piazza del Mercato Centrale. At the same time, a parade in historical costume by the Calcio Storico Fiorentino departs Palagio di Parte Guelfa, also headed to Piazza del Mercato Centrale where they will welcome to car symbolically carrying the stolen body of Michelangelo. Here, you will be able to see a show of flag throwers. The parade will move on to the Piazza di Santa Lorenzo around 10pm.
Starting at 10:30pm, Piazza San Lorenzo will host a projection of Michelangelo's  works and more on the church's facade. There will be readings from Michelangelo's letters and poetry and a piano and voice concert by mezzosoprano Anastasia Boldyreva and pianist Riccardo Sandiford. The program in Italian is below.
It will be an interesting evening dedicated to the genius. Hoping it doesn't rain, hope to see you there!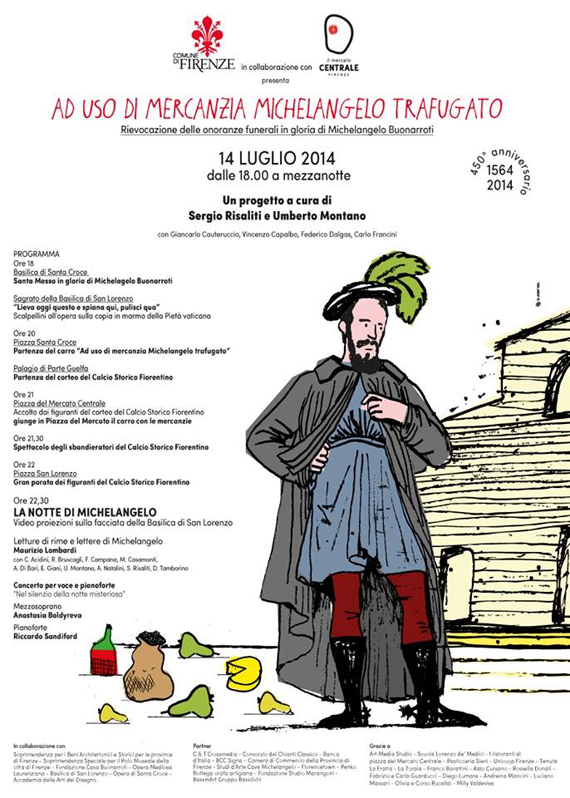 About Lourdes Flores
An American living in Florence for over 10 years, Lourdes continues to explore and discover new places in Tuscany with the eyes of a tourist but with the experience of living in Italy. She shares her experiences on this blog and website, particularly offering lots of travel planning help on the Forum!