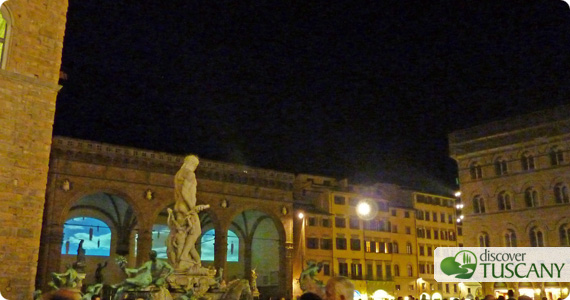 What do I do in Florence on weekends?
Today is Thursday and I'm planning my weekend in Florence. Of course as a Florentine I have lots of Florentine friends and several of them always complain that they can't find anything interesting to do in town, from events to night-life. Well I want to prove that Florence has so much to offer and I'd like to share with you my plans for this weekend.
My weekend starts tomorrow night after work with the Friday happy-hour at the Oblate Caffè on the roof-terrace of the Oblate Library that stays open until midnight from Tuesday to Saturday. Then me and my friends will got to visit Palazzo Vecchio, that is extraordinarily open at night during the whole month of May. After a bit of culture, a bit of fun so we'll probably get a gelato as we wait for the upcoming Gelato Festival next week, and then go to Jazz Club Firenze (Via Nuova de' Caccini, 3) to listen to some good music.
On Saturday I'll wake up with no alarm and get a cappuccino and cornetto at my local bar. Then I'm planning to go to the Sant'Ambrogio market (Monday to Saturday from 9 am to 1 pm in Piazza Ghiberti) to buy some fresh fruits and vegetables and maybe new clothes. After walking around Borgo la Croce, Borgo Albizi and Via del Corso looking at shop windows, I'm planning lunch at La Cantinetta da Verrazzano in via de' Tavolini and a delicious schiacciatina farcita, that is typical Tuscan flat bread filled with vegetables and/or cold cuts. If I have some spare time before dinner, I wish to visit the Marino Marini Museum that is right now hosting a funny work of contemporary art called Caffè Sindona. For dinner I'll go out with friends in the Mugello to eat Tortelli di patate, handmade ravioli filled with potatoes and cheese, a local specialty.
I'm still not sure what to do on Sunday. There are so many events and I also want to watch the GP Grand Prix. On my agenda, the relaxing brunch at Hemingway cafè near Piazza del Carmine is for sure, and I'd like to include visits to a few of the gardens and historical residences in Florence's center that are open just this Sunday from 10 am to 1 pm and from 3 pm to 7 pm as part of the event Exclusive Tuscany 2010. Then I intend to go to Pratolino Park and enjoy Ruralia 2010, a nice green festival with food and animals, of course if I have enough time!
So these are my plans for a weekend in Florence. Who said that Florence isn't fun and has lots to offer?