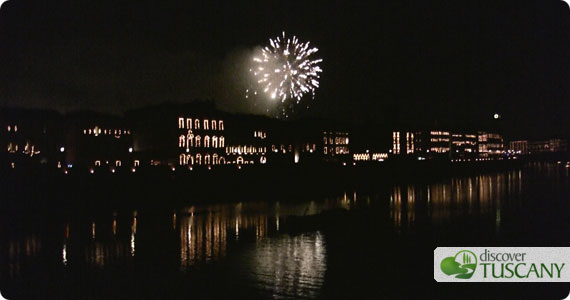 We were in Pisa last week to witness the beautiful  (but very crowded) Luminara along the Arno river and then to attend the late afternoon regatta of San Ranieri. We spent a little more than 24 hours in Pisa. Most everyone who tries to fit Pisa in into an otherwise crammed Tuscany itinerary generally only dedicates a few hours to Pisa. Get in, see the Leaning Tower and Piazza dei Miracoli (main square where you find the tower, cathedral, baptistery and monumental cemetery) and leave.
Given our plan was to experience first-hand Pisa's feast day for its patron saint, San Ranieri – we nonetheless wholeheartedly recommend giving Pisa a few more hours of your time next time you visit. In addition to seeing the Leaning Tower, we recommend climbing all 300 steps to the top of it! It is a bit on the expensive side to do so (15 euro), but it surely is a once in a lifetime experience. It is the most incredible sensation – your body's equilibrium is tested the whole way up!  The stairs going up are all worn down in certain spots where thousands of feet have gravitated to given the tower's inclination. We bought a cumulative ticket to all of the sights in the Piazza dei Miracoli and spent the day seeing some intriguing frescoes in the Camposanto, experiencing the particular acoustics of the Baptistery, admiring the cathedral's art at the Museo dell'Opera del Duomo and just enjoying all of the views of the Leaning Tower every side of the square offers. Since it was the patron saint's feast day, there were several masses in the Cathedral throughout the day and visitors could only enter about 20 feet in. Sooner or later, we'll have to go back to admire the cathedral's treasures up close.
We had a great dinner at Montino's pizzeria and a delicious lunch at the Osteria dei Cavalieri – I'm working on writing up some reviews for those. In the meantime, I've written up articles dedicated to the Luminara and Regatta di San Ranieri and working on others about all the wonderful things to see in Pisa (in addition to the Leaning Tower, of course 🙂 ).
About Lourdes Flores
An American living in Florence for over 10 years, Lourdes continues to explore and discover new places in Tuscany with the eyes of a tourist but with the experience of living in Italy. She shares her experiences on this blog and website, particularly offering lots of travel planning help on the Forum!