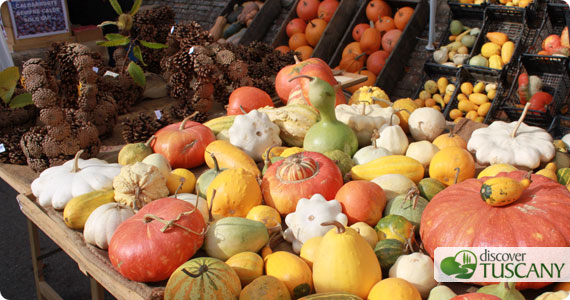 Last week looked like winter with its gray, damp days, but the weather for this weekend should be sunny and nice overall, perfect for taking part in an event or food festival or sagra in Tuscany and enjoying a relaxing weekend.
Chestnuts and fairs:
Sunday October 17th – departing from Florence's SMN station, the steam engine train goes to Marradi to the traditional Chestnut Festival.
Also in Borgo San Lorenzo, in the Mugello, there is a local fair celebrating the chestnuts, polenta and delicious Florentine steak. In Palazzuolo sul Senio there will be the Festival of Marrone and of other products coming from the woods.
In Chianti, at Abbadia San Salvatore the last weekend of the Autumn Fair will take place, celebrating this beautiful season and its products.
I'd like also to bring to your attention the nice and historical Fair of San Luca in Impruneta. This traditional country fair celebrates for an entire week its patron Saint Luke with food and local products.
Antique markets:
On Saturday and Sunday in the gardens of the Fortezza da Basso in Florence there will be the antiques market "Fortezza Antiquaria" with over 120 exhibitors.
In Lucca there will be a big antiques market all around the city center with 230 exhibitors selling furniture, fabrics, jewels and collectibles.
Piazza del Mercato in Siena and the historical center in Certaldo will also host their own antique markets.
I suggest you take advantage of this promising sunny weekend and enjoy Tuscany and wish you a nice weekend 🙂