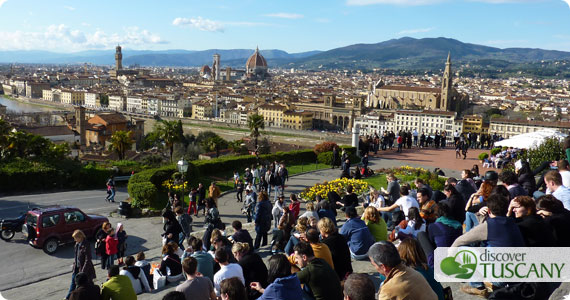 If you are going to be in Florence during the weekend of Halloween, you should know that All Saints Day on November 1st is a national holiday in Italy. Halloween itself has only very recently been adopted here as a festive event, mostly for children. Here are our suggestions for spending a great Halloween weekend in Florence.
On Monday November 1st most museums will be closed, both because it's Monday and it's a holiday. The museums which will be open are the Uffizi Gallery, the Accademia Gallery, the Palatine and Modern Art Galleries at Palazzo Pitti – all following their regular opening times – while Palazzo Vecchio will be open only half day, from 9.00am to 2.00pm. If you intend to visit one of the suggested museums, I strongly recommend you book museums tickets in advance, to avoid waiting hours in line.
For art lovers, there are also some interesting exhibits in Florence, such as Bronzino at the Palazzo Strozzi and the Caravaggio and Caravaggesques at Uffizi and Palazzo Pitti.
Something that you can always do is do some shopping in Florence! The historical center is full of nice shops: from luxury boutiques such as Gucci to H&M, from Bulgari to jewelries on Ponte Vecchio. Most shops in the city center will be open throughout the weekend, Monday included, while shops outside the historical center will be closed on Sunday and Monday.
On Sunday October 31st there will be a large market near the Florence stadium in the Campo di Marte area. Rionalissima is a yearly market where there are over 300 stalls selling almost everything from 8am to about 7pm. If you want to experience something typical, don't miss it!
Also restaurants in Florence will be certainly open. I suggest you reserve your restaurant, since they will be pretty busy. Halloween is a chance for many bars and restaurants to organize theme-based events, mainly for late-night party goers so you might enjoy spending late night revelry on this spooky night.
Something that might be really fun to do but which we haven't personally done yet – is try the Legends of Florence Night walk which should offer something that is pretty appropriate for Halloween. You get to see Florence from a whole new perspective hearing ghost stories and anecdotes from the past!
Of course, these are just some of things to see and to do in Florence. If you want further information about what to see in general, I recommend you read our suggestions for spending two days in Florence and if you haven't booked your accommodation yet, have a look at this guide to Florence accommodation.
P.S. If you want to do something really different I suggest you spend the Halloween night at Natural History Museum La Specola in via Romana 17. On October 31st the museum will organize a special event and workshop for families in the Skeletons' room. The event will start at 9.00 pm until 11.00 pm and cost euro 2.50 plus the museum's ticket.