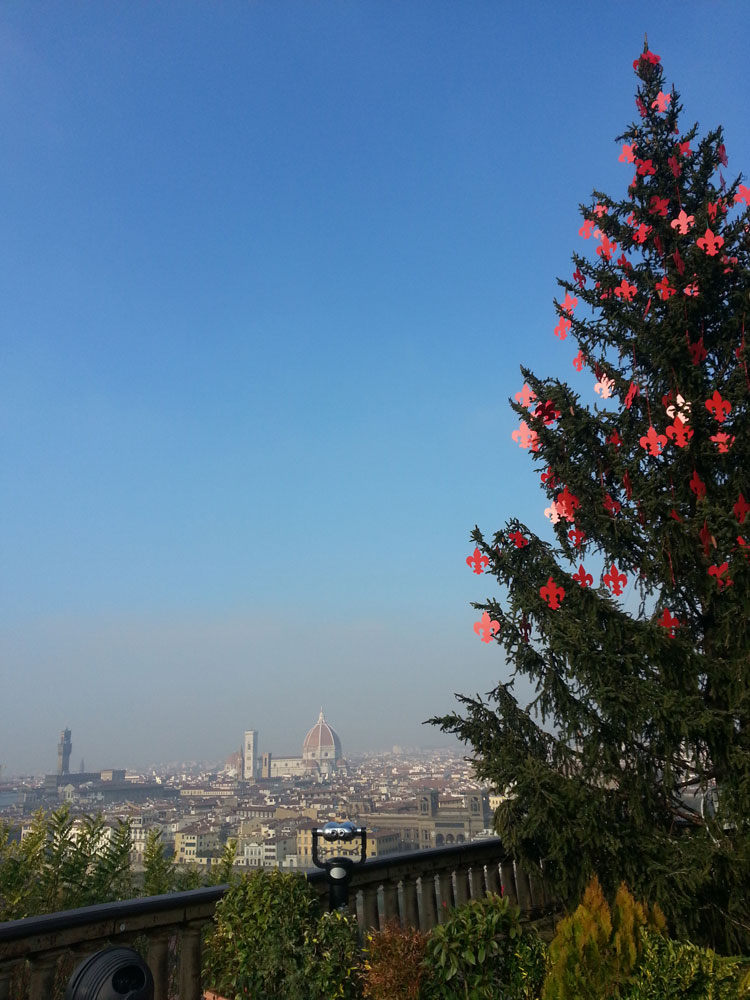 Here we are, the most magic period of the year is right behind the door, and all of us are anxiously waiting for Christmas for enjoying its joy, music, colours and why not, food specialities!
Christmas in Tuscany is rich in events and dates that suit everybody's fancy, so we're going to give you some advice should you plan to spend some holidays here in Tuscany.
If you have not yet got your Christmas shopping finished, traditional markets will come to your aid: there you'll find nice presents, typical local food specialities and much more, surrounded by a Christmas atmosphere that will remind you of Santa Claus home, in the North Pole.
Among all Christmas markets, we would like to point out the Weinachtsmarkt in Santa Croce (Florence), taking place till the 23rd of December: there you'll find plenty of traditional music, coloured stuff, decorations and much more. Don't miss the chance to taste their food specialities, like Vin Brulé and the Stollen, a typical Christmas sweet.
Moving to Siena, along the Chianti road, you'll find a nice and delicious market at Logge della Mercanzia (just behind the famous Piazza del Campo, from the 8th of December to the 8th of January), where tradition, art and typical Chianti food give life to a such an extraordinary event that you really won't come away from.
Sassetta (province of Livorno) is home to one of the most genuine and sincere Christmas markets, totally dedicated to solidarity, naTale e Quale, whose funds will be devolved to charity.
Of course, the city of the Leaning Tower, Pisa, couldn't welcome Christmas without the traditional market taking place at Le logge dei Banchi, rich in sweets and Christmas cakes, decorations for trees, local handicrafts products and so on; if you drop by, take a visit to the Lungarni (roads along the Arno river), that are usually full of decorations, colours and music.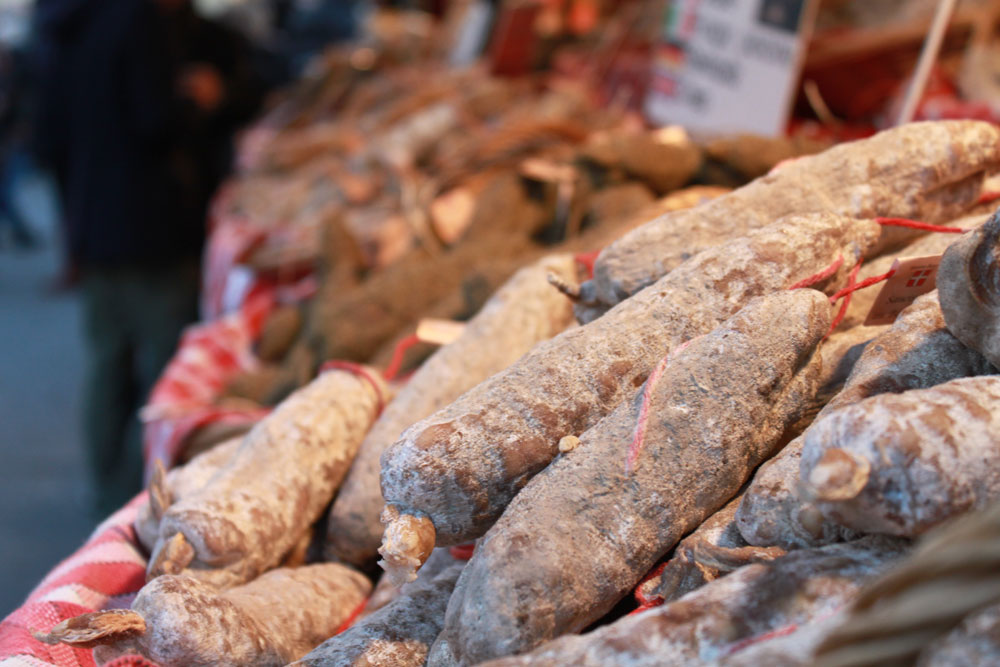 Lucca and province are home to several Christmas markets that actually are worth your while, for both the suggestive and stunning location, and the typical products – local handicrafts and traditional dishes – you may find.
Christmas, however, is much more than markets: if you drop by Pistoia, we suggest you stop in Pescia on the 22nd of December. There, a characteristic parade in beautiful costumes evoking the arrival of the three wise men will take you to the nice Piazza del Grano, where you'll take part to the holy mess and a suggestive life nativity: La città nel Presepe.
If you're passionate of life nativities and their magic atmosphere, there's another event you should not miss out: that in Santa Brigida, Pontassieve (province of Florence). It will take place on the 24th, 26th of December and 6th of January in an amazing location naturally aimed to be home to this kind of representation, since it's shaped like an amphitheatre.
Another life nativity will be represented in Porto Ercole, province of Grosseto, on the 26th and 29th of December, 6th and 9th of January, where the amazing landscape will play the role of a natural, magnificent scenography.
If you're just interested in traditional nativities, take a visit to Palazzuolo sul Senio at a stone's throw from Florence from the 8th of December to the 6th of January: Mille presepi per Palazzuolo (A Thousand nativities for Palazzuolo) is going to show every kind of local handicraft creations.
San Miniato (province of Pisa) will be home to one of the biggest nativities in Tuscany, that always catches the eye of thousand people coming from anywhere. You'll have time till the 12th of January.
Finally, La via dei Presepi in Castelforentino (Nativities road) deserves a particular mention: there you'll find any kind of nativity artistic realizations, made by the town inhabitants.
Christmas, anyway, belongs to kids: they wait all year round for getting presents from Santa Claus, the real protagonist of Christmas. A few ideas about some place where your children may have fun can be helpful I guess..! Waiting for Christmas Eve, you may find everywhere in Tuscany Santa's houses, villages and factories, magic places where kids will get lost among toys and sweets and go to Santa's – surrounded by elves and reinders – and bring him in the flesh their wishing list.
From the 14th December to the 6th of January, Fucecchio is home to Natalia, a place rich in toys for children and Christmas markets for grown-ups!
The Leopolda station in Pisa, instead, will be turned into Santa's factory from the 13th to the 29th of December, while Camaiore is going to host such a magic place – full of fairies, elves and dwarves – that will surely enchant both kids and adults.
In Montecatini Terme – historical thermal location of Tuscany since the early 1900s, where you could also enjoy a relaxing spa treatment between a present and another – you'll find Santa Claus's home (open to the public from the 15th of November to the 6th of January), that is a sort of fairy village aimed exclusively at kids and fun. Besides Santa's house and factory (where funny elves will help children to assemble their own toy), there are lots of creative spaces dedicated to handiworks, like the realization of cakes or Christmas decorations.
If you and your kids are passionate of Winter sports, but you can't leave the city even for a short while, Florence has the right solution for you! Along the Lungarno Aldo Moro, you'll find a place for skiing, snowboarding, ice-skating and much more, all without moving from the city, the Toscana Winter Park…Odd, isnt'it? See for yourself! Open from the 30th of November to the 2nd of March.
Christmas is much more than only presents, natives and fairy villages: Christmas is also music, an unlimited selection from Gospel to classical music concerts that will bring you all suggestion and love of Christmas' time (and I simply omit in this context the New Years' eve concerts that always fill all Tuscan squares with lots of people eager of welcoming the new year!).
Starting from the 13th of December, the most important American Gospel chorus will go on a tour all around Tuscany, while traditional Christmas concerts will bring joy in many squares, like that usually hold in Santa Croce in Florence on the 23rd of December.
Besides those classic dates, I would like to remind you of the extraordinary concert with Bobo Rondelli e l'Ottavo Padiglione at the Cage Theatre in Livorno, a particular, original, but mainly touching event.
For all those keen on Balkan music, the Florence night club Flog will be home to a Christmas date with Balkan and tarantella sounds.
Finally, we've come to the most delicious part of this article: traditional Christmas food! In Tuscany cappelletti (ring-shaped ravioli with meat) in soup are a typical first course dish, while meat is usually served as second dish (the famous zampone – pig's trotter – with lentils, a good omen recipe for the New Year's Eve, may be served on Christams day also!).
Cakes are, anyway, the most desired Christmas dishes (you must be patient on this day: you could even stay at the table for more than three hours eating and chatting with your family and friends!). Among the traditional – and not Tuscan – panettone and pandoro, Siena plays the role of protagonist in this occasion, showing off its best products: panforte (nougat-type cake), cavallucci (anise, candied fruits biscuits), copate (honey, sugar and almond biscuits) and ricciarelli (a sort of marzipan biscuits).
And now it's only up to you: if you can't decide among all options…write a note to Santa, he will guide you into this Christmas world!
Happy Christmas 🙂
About Chiara Ricci
Chiara was born in Pescia, where the province of Pistoia borders with Lucca, has lived and studied in both Florence and Pisa for several years. Traveling is her second passion... Her first one? To swim, but up to now it's still impossible for her to explore Tuscany and the world swimming so she has to use other means!