For two weeks now, standing in the shadow of the imposing Palazzo Vecchio in Florence near Neptune's Fountain and the monument to Cosimo I, visitors have been able to admire "Two Rivers".
That is the title of the great bronze statue, over 4 meters tall, that New York artist Greg Wyatt created and positioned in front of the entrance of the Sala d'Arme in Palazzo della Signoria. The sculpture, donated by the artist to the city of Florence, represents the Arno and Hudson rivers, the two main waterways that divide the two cities of Florence and New York, the two cities residing within the artist's heart.
"Two Rivers" will remain in this location until the end of October while the exhibit dedicated to works by Wyatt continues inside the Sale d'Arme in Palazzo Vecchio, after which it might be transferred permanently to Piazza Poggi. The use of the conditional is necessary because the placement of the sculpture in Piazza della Signoria a few weeks ago has raised several objections and a debate on the statue's future collocation.
Out of curiosity I went a few days ago to go check out the much debated statue and have to admit that I personally actually liked it. I probably wouldn't agree with a permanent location on Piazza della Signoria next to much more significant works of art in terms of artistic importance to the city of Florence, but another location within the city, such as Piazza Poggi, would be perfect.
What do our readers think? Has anyone had the chance to see "Two Rivers"?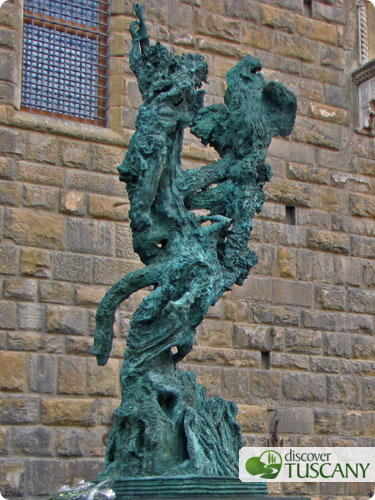 About Cristina Romeo
Born in Florence at the end of the fabulous '70s, Cristina has always lived in the famous "cradle of the Renaissance". She's in love with her homeland, but also enjoys traveling and discovering new places. Cristina is mum to a lovely little girl, to whom she hopes to pass on all the passion and love of our precious, wonderful Tuscany.