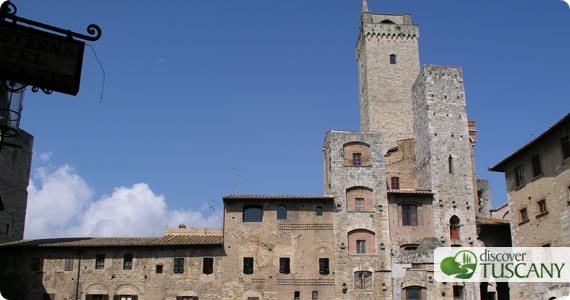 I haven't yet planned everything I will do this week end. The only thing that is certain is that I'm heading to Mercantia in Certaldo tonight. I'm going to go see this great Festival of Street Artists that I liked very much in the past. I'll be in Certaldo around 8 pm and after taking a look at the market in the lower part of  Certaldo and dinner, I'll climb up to upper Certaldo to go see all the events.
On Saturday I'm planning a morning of total relax. After lunch, I'm planning to go to Cerreto Guidi, a nice Renaissance town about 35 min driving distance from Florence. There is Medicea, an event about culture, food and wine. At 6 pm the "historical reconstruction of threshing", as well as wineries will open, with wine tastings and art exhibits. At 9.30pm a guided tour will be offered within the beautiful Medicean villa of  Cerreto Guidi. This Renaissance villa, turned into the Museum of  Hunting and of the Territory, was built by Buontalenti as a hunting villa for the Grand Duke Cosimo I.
I have yet to decide what to do on Sunday. I'd like to go to San Gimignano, where a new and very interesting museum opened two weeks ago. The museum is called San Gimignano 1300 and is a spectacular and extremely detailed reconstruction of this beautiful medieval city in Tuscany at that time. It should be really impressive. On the other hand, I'd like also to go to Palazzuolo sul Senio in Mugello for the medieval festival "At the Ubaldini's Family Court". The peculiarity of this festival is that this year it's an historical reenactment of the heroic deeds of Roland. There will a free shuttle bus service from Florence and Pontassieve.
I think I'll wait and decide on Saturday night what to do on Sunday. In the meantime I wish you a nice weekend!