Summer in Tuscany doesn't mean only marvellous beaches and blue flags (a quality certification for beaches): woods, mounts and hills are waiting for you to discover an off the beaten track surprising region.
I'm going to propose you some interesting suggestions for arranging a Summer vacation in Tuscany dedicated to the discovery of amazing sites and… affordable temperatures!!
Abetone, thrilling and tasteful itineraries
Tuscany boasts hilly and mountain areas that are actually worthy a visit: Abetone is the first of the list. Set in the province of Pistoia on the borders with Emilia Romagna, Abetone is one of the most renowned Summer and Winter tourist resort of the Appennines. Thanks to its recently renovated ski lifts, it has gained an important place among the ski destinations of Tuscany, featuring also interesting trekking itineraries for open-air activities during Summer. Trekking excursions along the steep and panoramic slopes of Monte Gomito, Cimone or Libro Aperto to the discovery of suggestive and impressive views, or to the research of blackberries and blueberries which the Abetone underwood is rich in, perfect for making delicious marmalades and other typical products.
And last, but not least, the downhill, a sport activity that has recently gained international claim, consisting of biking down the mountain slopes along the Gravity Park paths – a freeride circuit area with several different paths that attracts lots of two wheels passionates and… thrill-seekers!
The Apuan Alps, a massive marble backdrop to the long Versilia beaches
Going further to the Versilia coast, there's another mountain chain standing out in the horizon, a backdrop to one of the most impressive scenery of the region. The almost bony and digged Apuan Alps overlook the surrounding landscape with a sort of heroic resistance to the endless erosion that have always undergone, like a tribute for being home to the white gold of Tuscany, marble.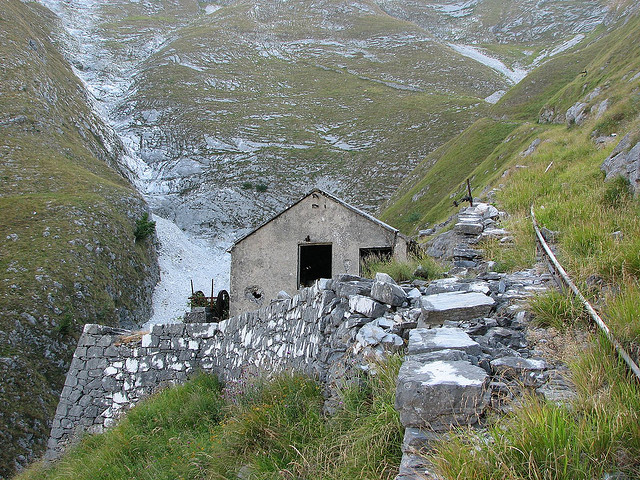 A sort of border-line between Versilia and Garfagnana, the Apuan offer several ideas for arranging day trips and long vacation in the surroundings. Trekking itineraries along their slopes to the discovery of breathtaking peaks – like Pania della Croce, where you may see even the seaside from if weather permits – are just one of the interesting suggestions: bike and horseback riding excursions, vie ferrate (protected climbing routes with steel cables running along and fixed to the rock) and steep rock climbing. Touring quaint cities like Carrara with its marble caves, or Colonnata (just an eight kms drive from), where the renowned lardo is made, or visiting the Versilia sea resorts and the marvellous landscapes of Garfagnana, an off the beaten track destination which actually deserves more than just a quick visit.

Chianti, an endless surprising site!
Mainly renowned for its wine-and-food qualities, the Chianti region boasts a small mountain area running about more than 20 kms along, known as Monti del Chianti. Set among the provinces of Arezzo, Florence and Siena, these mountains separate the most renowned wine region of Tuscany from Valdichiana and Valdarno, featuring a nearly 900 meters high peak, Mount San Michele. I think it's quite useless furtherly suggest why you should visit this area: itineraries amidst nature and forest slopes, the Chianti region offers suggestive views and delicious wines that, to be honest, restore both body and mind !
Pratomagno, a balcony over Tuscany
Between the provinces of Arezzo and Florence there's another massive destination, which your sight may reach impressive distances from, if weather permits (till the mountains separating Umbria from Marche, other two Italian regions): Pratomagno. It's a popular destination for all open-air sport lovers, like trekking and biking excursions, included adrenaline rush seekers who come here for practicing free flights (mainly from the areas of Reggello and Vallombrosa) for example. Its surroundings offer many other travel opportunities, like Casentino valley, a wonderful natural destination easily reachable driving along a panoramic route on the Eastern side of the mountain, or Florence and Arezzo – situated just a few steps away – should you suddenly feel art-and-culture thirsty.

Mount Amiata, an old volcan amidst Tuscan hills
Furtherly to the South there's another impressive mountain, a 1700 meters high old volcan, inactive since many years and now very famous for being a popular Winter and Summer resort: the Mount Amiata. Nestled amidst the amazing Valdorcia landscape – with its thermal resorts and quaint villages where you may taste some of the most delicious wines and typical products of Tuscany – and at a stone's throw from the lunar crete senesi, the Mount Amiata offers a wide choice of activities to do open-air: trekking, bike and horseback riding excursions in a wonderful wood to the discovery of deers and wolves, WWF protected areas and hidden mountain rifugi serving typical local dishes. The unique landscape of Maremma is siuated at a short distance on the Eastern side of Amiata and offer many ideas and travel suggestions alike.
That said, there's no excuse for high temperatures during Summer in Tuscany: you've now a few more trip ideas for cooling down and finding refreshing spots where you may calmly and peacefully enjoy your long-awaited vacation, so:
Have a nice time here in Tuscany 🙂
About Chiara Ricci
Chiara was born in Pescia, where the province of Pistoia borders with Lucca, has lived and studied in both Florence and Pisa for several years. Traveling is her second passion... Her first one? To swim, but up to now it's still impossible for her to explore Tuscany and the world swimming so she has to use other means!