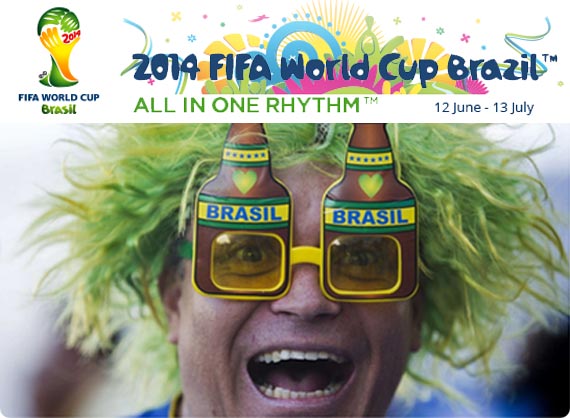 If you're in Florence and Tuscany over the next month (until July 13 to be precise), be prepared to be caught up in FIFA World Cup fever! To join in the fun, you can always head to the local pub – most have large screen TVs where you can watch all of the matches. With a pint and snacks in hand and great company, you can cheer on your team!
Italians love calcio, known as football or soccer depending on where you're from, so all matches will be followed closely.
But for even larger crowds and screens, head to a square or park near you. The World Cup is so popular that you will also find large screens mounted up in the main squares of many of the smaller villages in Tuscany. The entire town and locals from the area turn up to watch the Italy matches together – be prepared!
In Florence there are several large screens being set up in time for the first Italy match this Saturday night against England (at midnight, local time). Here is where you can go watch the matches outdoors:
right along the Arno, on the beach along Lungarno Torrigiani right below the San Niccolò tower. There is a bar for snacks and drinks.
in Piazza dei Ciompi, under the loggia so that it can be seen even in case of rain
in the garden right next to the Fortezza da Basso at the Off Bar
in Piazza Tasso in the Oltrarno area
within the horticulture garden on via Vittorio Emanuele II 4 at the Giardino dellArtecultura, a place you can head anytime to relax in the gardens while kids are nearby playing. Food and refreshments are available.
on Lungarno Pecori Giraldi in the "Fiorino sull'Arno" space where there is also food and refreshments.
at the Anconella park on Via di Villamagna
at Spazio Alfieri on Via dell'Ulivo 6 in the Santa Croce area
on the first floor of the San Lorenzo Market, where two large screens and 18 smaller screens will be distributed throughout the market space.
in Largo Annigoni next to the Sant'Ambrogio market
at the Limonaia of Villa Strozzi, at the Boschetto park. Here, you'll also find a bar and pizzeria to offer food and refreshment.
in Piazza Demidoff on Via dei Renai
Italy will also be playing against Costa Rica on June 20th and against Uruguay on June 24th (city holiday in Florence as it is St. John the Baptist's feast day – don't miss the parade, Calcio Storico game or fireworks!), both matches at 6pm local time. If Italy were to win the cup on July 13, be prepared to join in on the major national party ;).
If you decide to stay in and watch the matches from home, why not make up a snack to go with the country that's playing? We participated in creating the fun infographic you see below that illustrates a national snack for several countries across the world, perfect to accompany each match.
For Italy, you cannot go wrong with a thin crust pizza!! It is really easy to make and you don't have to wait for the dough to rise – so try it tomorrow night as you watch Italy play!
EASY PIZZA DOUGH for THIN CRUST PIZZA
1 tsp instant yeast
200ml warm water
1 tbsp olive oil
1 tsp salt
300 gr bread flour 0
STEP 1: Pour the warm water into large bowl, sprinkle the yeast and let stand until foamy.
STEP 2: Add the olive oil, salt and flour and mix with wooden spoon until you have a soft, fairly wet dough. Turn onto a lightly floured surface and knead for 5 mins until smooth.
STEP 3: Cover with a tea towel and set aside. You can leave the dough to rise if you like, but it's not essential for a thin crust!
EASY MARGHERITA PIZZA:
Make pizza sauce by mixing a crushed garlic clove, 100ml of tomato sauce, a handful of fresh basil and season to taste with salt. Set aside while preparing pizza base.
For the perfect snack, make small pizzas!
Shape the dough base, cover with pizza sauce and use slices of fresh, sliced mozzarella and additional fresh basil leaves (optional).
Bake on high heat (200-200°C) for 10 minutes or until crunchy as you like it.
The perfect Italian beer to go with pizza: ice cold Birra Moretti, Peroni or Nastro Azzurro.
Here's the entire infographic – with recipes linked so you can try something different every day!
About Lourdes Flores
An American living in Florence for over 10 years, Lourdes continues to explore and discover new places in Tuscany with the eyes of a tourist but with the experience of living in Italy. She shares her experiences on this blog and website, particularly offering lots of travel planning help on the Forum!