Ideas to Complete your Itinerary around Lucca
with or without a car, you can go everywhere
If you are contemplating taking the car and heading towards (or from) the fabulous walled city of Lucca, check out these 10 great ways to "super charge" your itinerary.
Consider that with one little stop on the road between Florence and Lucca, it is possible to find a vineyard, visit the Etruscans, explore a castle or play with Pinocchio. It doesn't make a difference if your holiday rental is near Lucca or closer to the Florence, this list of suggestions ranges from kid friendly parks, whimsical castles, spiritual quests to the wholesome flavours of olive oil and IGT wines.
In other words - whatever you like, we got you covered.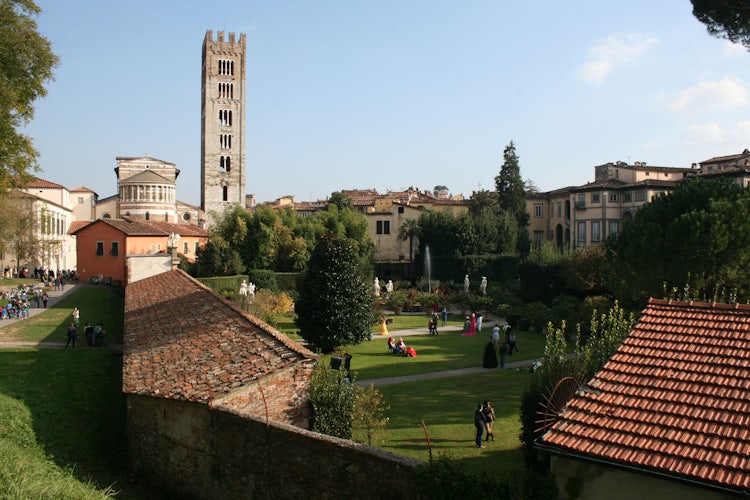 The Three Big Stops
These three options practically need no introduction - Pisa, Florence and Cinque Terre are classical stops on everyones itinerary. We include them now only because it would be remiss not too, however we follow up with several ideas that are new, different and enticing yet not too far off the beaten track.
Pisa
Driving Time or by Regional Train: Approx. 30 - 40 min
The closets of the big three, Pisa can easily be visited and appreciated in less than a day. (Remember to buy your tickets in advance online). The Leaning Tower needs no introduction, however the other monuments in the Square of Miracles are just as beautiful - the Cathedral of Santa Maria Assunta, the baptistery and the Camposanto.
Ideas about what to see in Pisa
Florence
Driving Time or by Regional Train: approx. 1 hour
The capital of Tuscany, Florence, truly deserves a day of its own, if not more. Here you can visit the top museums of Tuscany, extraordinary monuments and lose yourself for a little bit in a city that is alive with tradition, good food, and excitement. Avoid the parking hassle and take the train!
Choose your Itinierary for Florence
Cinque Terre
Driving Time: 1 hr or with Public Transport (Train to La Spezia) 1 hr. & 30 min.
Obviously not located in Tuscany, but close enough to consider it feasible for a day trip. This territory, declared part as one of the World Heritage Sites, is spectacular especially from Spring to Fall. You will find local color, trails to hike, great photo opportunities, delicious food and a totally unique glance of the coast of Italy.
Learn more about where to go in Cinque Terre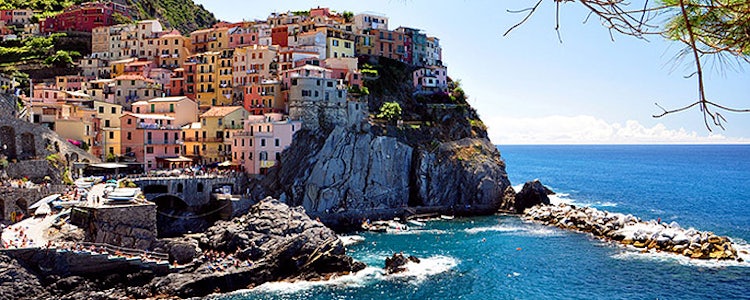 10 Places you Will Want to Include in your Itinerary
Everything we suggest will keep you close to the main highway (the A11) between the cultural mecca of Florence to the delightfully, provincial town of Lucca.
1. Altopascio
Driving Time: 25 min or with Public Transport (Regional Train) 30 min.
The via Francigena which passes through the town of Altopascio was well known by the pilgrims from the north heading to the crusades. It was an important stop offering food, healing and a place to rest until they moved on the next stop. This trail has been revitalized by the local government and the Catholic church. Altopascio with its stunning Tuscan views and tranquil small town invites you to explore both its city streets and to walk the via just like the pilgrims did in the late 1100-1200's.
Check this site out for a path from Lucca to Altopascio.
---
2. Montecarlo and Region
Driving Time: 30 min or with Public Transport (Regional Train) 1 hr & 20 min, plus a 2 km walk
This area is dedicated to wine (and olive oil). A visit to the small town of Montecarlo will definitely include a stop at the Rocca del Cerruglio. The fortified "borgo" was founded in 1333 and guaranteed a prime lookout for Lucca against the troublesome city of Florence. Hours to visit the Rocca: May to October on Saturday and Sunday from 3pm to 7pm. You need to make an appointment to visit during the week and from November to April.
For those who thought they wouldn't get to taste the wine and olive oil ... here is the perfect opportunity. There are several vineyards which offer tastings and visits to the wine cellar, check this site for one that tempts your curiosity.
I have personally visited Fattoria del Teso and found the atmosphere, the tour and the landscapes beautiful as well as the wine and olive oil absolutely delicious and diverse, especially the history of the grapes. We opted for the light lunch and tasting set in the cantina with over 50 "botte" surrounding us. Tenuta del Buonamico, with a different, more modern flair, also comes highly recommended by my personal wine consultant ;-)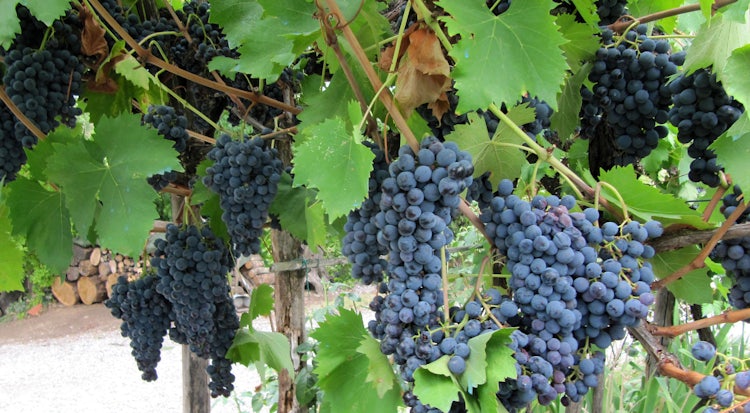 ---
3. Capannori & Villa Torrigiani
Driving Time: 30 min or with Public Transport (bus) 1 hr & 5 min, plus a 1 km walk
(The villa is featured in main photo above)
If your time is limited, we understand the frustration of not to be able to include everything! The city Lucca will truly captivate you all day long with the lovely architecture, the city park and walls, the fascinating main square and all the little shops. However, if you manage to squeeze in a little more time, with less than a 30 minute ride into the uncontaminated and often unexplored countryside around Lucca, you can visit one of the many historic villas which dot the landscape.
The first mention of the villa is in the late 1500's and then again when it was restructured in the 1600's with probably what is understood to be one of the best examples baroque architecture in Tuscany. Completely different, more ornate and prestigious to the eye, this villa still maintains not only the gardens but also much of the original decor and artwork. Fashioned after Versailles, a visit to the villa and the prestigious garden will be the highlight of your holiday in Lucca. Visits: the park and the villa are open every day from the first Sunday in March to the second Sunday in November.
Timetable: from 10.00 to 13.00 and from 15.00 to 18,30. From the second Monday in November to the first Saturday in March it is open upon reservation. Entrance: €uro 7; Park and villa: €uro 10 Reduced entrance: for over 65 and groups of more than 20 people: Park €uro 6 / Park and villa €uro 8 Free entrance for under 16 years old with family and professional guides.
---
4. Pistoia
Driving Time: 40 min or with Public Transport (Regional Train) 50 min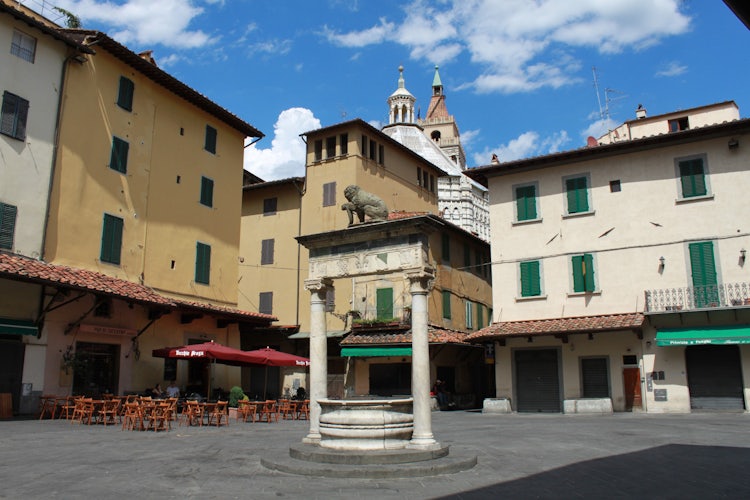 Pistoia make a good stop for an afternoon especially now with its rich calendar of events celebrating its nomination of Cultural Capital of Italy 2017. (Exit at Pistoia from the A11 and follow signs to Pistoia centro) It is positioned approximately mid road between Florence and Lucca. This charming city will definitely delight. Not only is it the gateway into the mountains between Tuscany and Emilia Romagna, it is also the gateway to snow skiing in Tuscany. But that is really only a secondary reason for those who are looking for a way to expand your day trip to (or from) Lucca.
Besides the relaxing and enchanting atmosphere that embraces you as you stroll the medieval streets, pastry shops and boutiques, the historical beauty of Pistoia is evident as you contemplate the colorful Duomo facade, Palazzo dei Vescovi, Ospedale del Ceppo (hospital) in piazza Giovanni XXIII and the Baptistery of San Giovanni in Corte from the 14th century.
This and more awaits you as make your way around this compact and easily walkable city center.
Read more about what to see when in Pistoia.
---
5. Montecatini Terme & Montecatini Alto
Driving Time: 30 min or with Public Transport (Regional Train) 40 min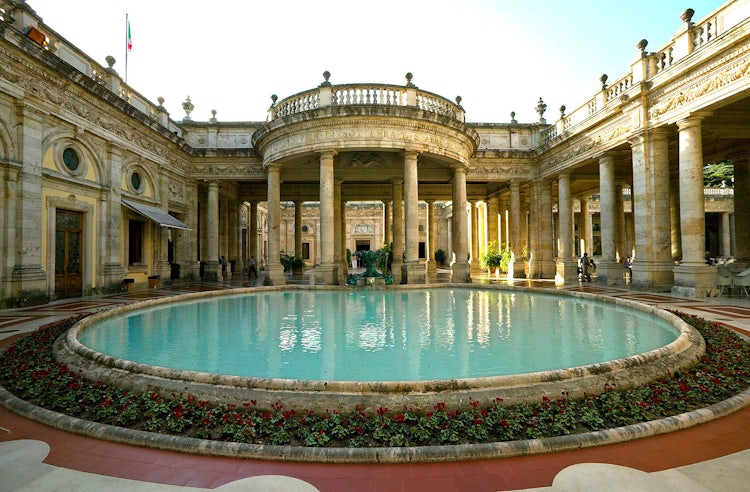 Bring your swimsuits and take the exit Montecatini T. coming from either Lucca (less than 30 minutes) or Florence (approximately 40 min.) and follow the indications into town. This is definitely not just "another historic" town with ties to Florence Lucca, Pistoia and everywhere else, this small town is definitely a pleasant surprise, especially if you feel like indulgingf and spoil yourself in a luxurious setting. The special treat at Montecatini are the thermal waters and the beautiful spa where you can relax and soak in the same royal style that the nobles did almost 600 years ago.
Use Information for Navigating Montecatini Alto & Montecatini Terme
---
6. 10 Castella
Driving Time: 1 hour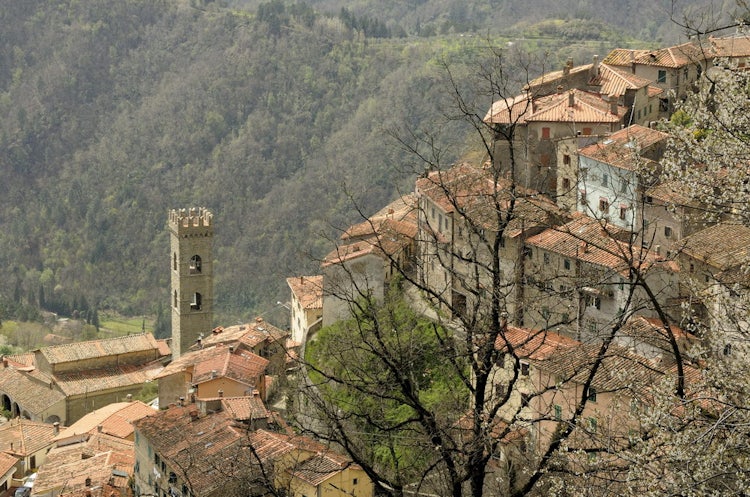 Sometimes called the little Switzerland of Italy. If the spas were a warm comforting retreat than the mountainous hillside of the Svizzera Pesciatina will be a stark contrast, but just as enchanting. There are a total of 10 little towns which incorporate the typical characteristics and culinary delights of the area. Though each was considered a fortified location with historic importance, some of these towns risk becoming a "ghost town" with the changes in today's economy.
But while they are still alive and active, I encourage to read this article in full and make a point of adding at least one if not two of them to your itinerary.
---
7. Collodi
Driving Time: 30 min or with Public Transport (bus) 45 min
Toyland for the kids. Where Altopascio appeals to your more spiritual aspirations, Collodi will appeal to the playful side of your personality! (exit Chiesina U. about an hour outside of Florence. From the town of Lucca, Collodi is fairly well indicated) So up until now we have covered history, Etruscans, Romans, thermal spas, ghost towns and now I offer you something for the playful at heart.
Disney may have made this little wooden puppet famous outside of Italy but, Pinocchio is as much a part of the Italian culture as pizza and mozzarella. This fictional character was born in the hills of Collodi where there now stands a fun park for all ages. Though it is not necessary to know the entire story to appreciate the well maintained garden with its artistic statues - it certainly doesn't hurt.
A stop at this park will give the kids a place to run around, laugh and be silly while for the adults, there is a more structured garden at Villa Garzoni which will offer a magical setting of colors and architecture.
Read here to find out times and costs.
---
8. Prato
Driving Time: 55 min or with Public Transport (Regional Train) 1 hr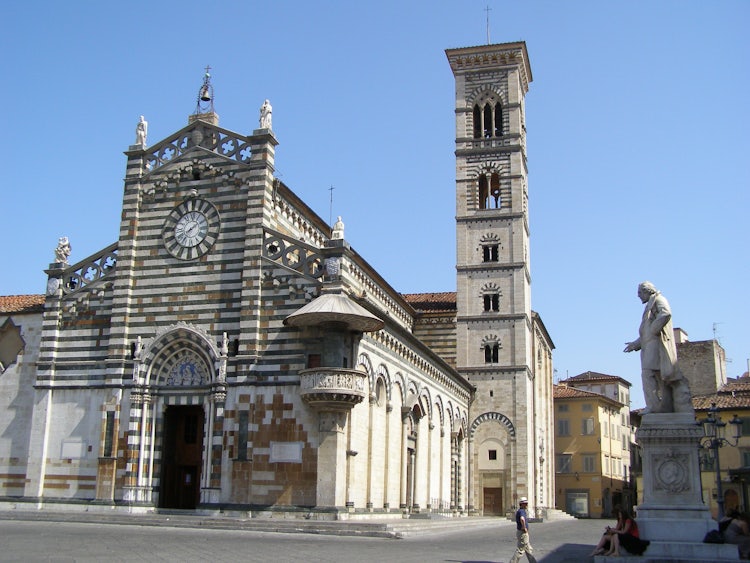 As close as 15 min to Florence, exit Prato Est from the A11 Autostrada. Prato, often overshadowed by Florence, has a history as long and almost as turbulent as its neighbor. You can plan a full day in Prato, visit the museums and eat a typical Tuscan meal or even just a quick stop and stroll around the historic center.
Initially the battles were against the city of Florence until it was put (sold) into the hands of Florence - some say for protection others say for greed. Prato boasts a truly diverse panorama of activities ranging from the unique historic center with a very particular Duomo, Palazzo Pretorio and the Castello dell'Imperatore to the Contemporary Arts Center Pecci to Textile Museum that covers centuries of a craft that has made Prato international recognized.
Great ideas for what to do in Prato.
---
9. Montemurlo and La Rocca
Driving Time: 50 min or with Public Transport (Regional Train) 1 hr, plus a 2 km walk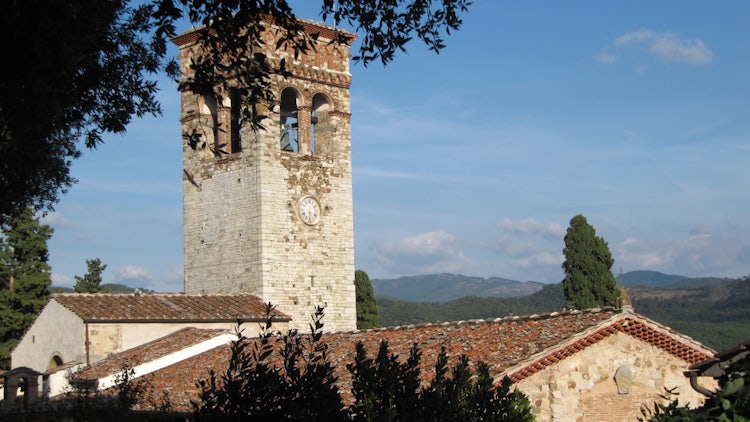 This addition to your day will have you winding through the green olive groves to a prime panoramic position...it is no wonder it was used as a strategic military outpost since the Etruscan times. From here you can walk around a small but picturesque hamlet, enjoy a meal at the terrace restaurant and take photos of the landscape that stretches from the Duomo of Florence and Prato to the skyline of Pistoia. Located less than 40 km from Florence, just exit at Prato Ovest and follow signs or if you are visiting Prato then follow the back roads and signs for Montemurlo.
Here is more information about a visit to Montemurlo.
---
10. Viareggio & beaches
Driving Time: 35 min or with Public Transport (Regional Train) 40 min, plus a 2 km walk
Who wouldn't want to mix a bit of cultural exploration with the sunny, sandy beaches of Viareggio? Long recognized as the place to be if you are looking for clean water, waves and a great place to perfect your tan. Viareggio is an active coastal city with clean beaches, with many facilities including pools, umbrellas, changing areas, restaurants and a lovely promenande.
Learn more about what there is to see in Viareggio