High up in the mountains, the air is clean and fresh and far away from all the traffic, smog and city confusion. The magnificent villages in this area astonish me with their sweet, passing wind and the slow flow of daily life. Even the cars slow down and are overcome by the calm atmosphere. Just minutes from Pistoia is what is called the Montagna Pistoiese, or Pistoia Mountains, a true paradise. This territory includes the mountain municipalities of Abetone, Cutigliano, Marliana, Piteglio, Sambuca Pistoiese and San Marcello Pistoiese and Pescia, Montale and part of Pistoia's upper limits.
If you don't have a car, you can reach this area by train by getting off at the station of Pracchia e San Mommè. Bordering the Modena region and the territory of Bologna, you will find landscapes characterized by summits, such as the Corno alle Scale, various rivers such as the Lima and forests rich with thriving plant life, conifer, chestnut and beech trees. If you love trekking through the middle of the woods and getting lost in nature, this place is for you. In fact, this area is full of hiking trails marked CAI and GEA (Italian trekking and outdoor associations), itineraries for bicycling trips, hidden corners and marvelous spots where porcini mushrooms and wild blackberries grow. You may even glimpse a groundhog behind a tree while hiking around or, if you look up into the sky, you may catch sight of a golden eagle. If you are feeling up to the 2 hour walk from Maresca and Gavinana, hike up to the Rifugio del Montanero in Poggio dei Malandrini in the Teso forest where you can also sleep. In these same woods, you may stumble across the remains of several stone charcoal pits.
If you do decide to spend a weekend in this area, you will definitely have to make the hard decision on which areas to explore.
If you start the tour with the various medieval villages of Popiglio, Piteglio, Sambuca, San Marcello, Cutigliano and Serra Pistoiese, remember that each one hides a treasure: a charming historic center built upon memories and picturesque streets, as well as Nature's beauty which is certainly not lacking. Abetone, for example, offers unique views from its gentle slopes.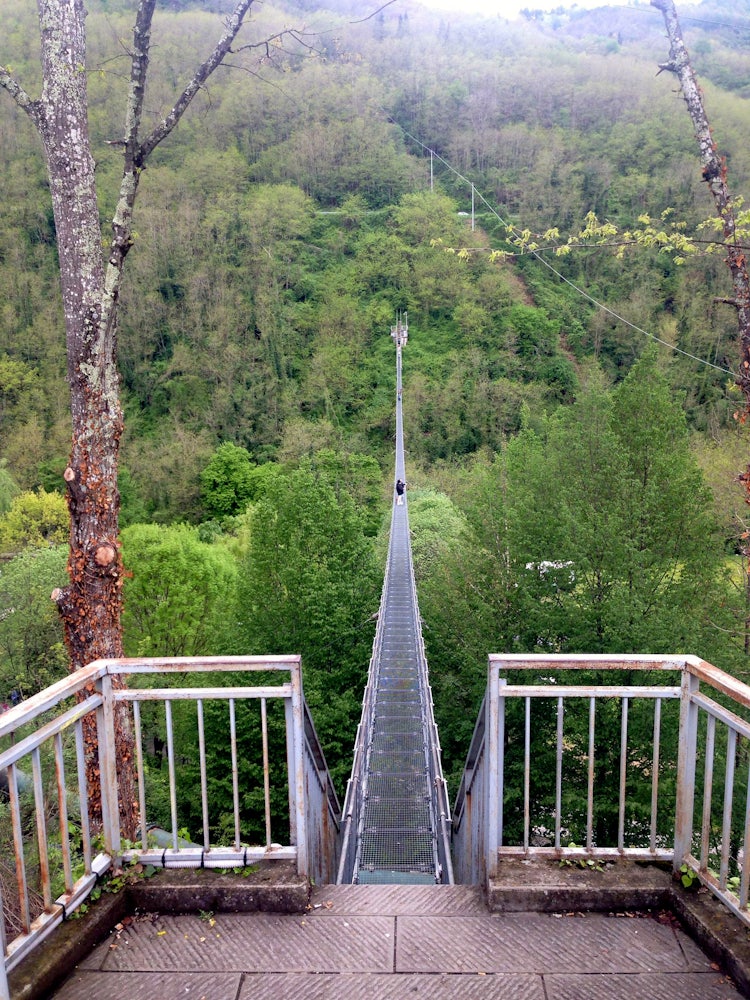 Other areas not to be missed:
Ponte Sospeso: a breath-taking footbridge, long, narrow, unstable and high, that connects the two sides of the Lima stream between Mammiano Basso and Popiglio. It was built in 1923 to allow for the factory workers to arrive at work quickly. Being suspended high in the air makes for a thrilling hike while admiring the views. As you start to cross, adrenaline will run from your toes all the way to your brain so keep your head up and don't stop.
Osservatorio Astronomico (Astronomy Observatory) at Pian dei Termini: equipped with two observation domes and Newtonian telescopes to look out over the starlit sky during summer nights.
Ecomuseum of the Pistoia Mountains: located in Palazzo Achilli in Gavinana and well integrated with the surrounding municipalities. Consisting of six outdoor itineraries (of ice, iron, sacred art, daily life, naturalistic, and of stone), the museum seeks to highlight the magical places of this area and of the people who live here, such as the Museum of the People of the Pistoia Apeninnes located in Rivoreta. They have a weekly newsletter with events (bi-weekly in the winter) so take a look at their website to check out what's going on the area before heading there.
Museo ferrucciano: dedicated to the Italian leader Francesco Ferrucci who died in Gavinana.
La Maceglia: a memorial monument dedicated to the antifascist leaders Sergio Giovannetti and Franco Prioreschi who died here in 1944.
There are also many events and shows that give life to these mountains during the summer months, from the blueberry festival (Festival del Mirtillo at the Abetone) to the Palio dei Ciuchi (donkey races) in Cireglio, from moonlit walks to the "sagra" or food festival dedicated to the neccio di Pracchia (local flat bread made with chestnut flour - read this article on other products made with chestnuts and flour in Tuscany).
The Oasi Dynamo is also worth mentioning. Founded in 2006 in association with WWF in the municipalities of San Marcello Pistoiese and Piteglio, it offers various sports and nature activities, excursions and camping areas for families. As part of the Dynamo Camp, children, ages 6 to 17, diagnosed with severe or chronic illnesses are welcome to take part in their recreational therapy free of charge during the stages of recovery and of management after hospitalization. If you would like to be involved for a day, don't miss the opportunity known as "Festa del Dynamo Camp" when they open their doors to the public every year (this year on Sunday, October 5th, 2014).
The Montagna Pistoiese or Pistoia Mountains, surrounded by forests and where the fresh wind blows, really does offer unique and unforgettable moments.
Are you ready to discover this area of Tuscany? 1, 2, 3... pack your bag and go!