Maggio, Maggio canto i colori,
riempio i giardini e i prati di fiori;
tutto è più bello e profumato
ed anche il bosco si è risvegliato.
The Tuscan tradition praises the colors and blossoms of May, and while the weather can still be temperamental, that doesn't stop all the fun and activities throughout the region of Tuscany: along the coast, in the hills, from small town to small town there is somethinng for everyone.
If you happen to be in Tuscany during this period - which is one of the best times of the year for visiting Tuscany - you'll find long daylight hours, warmer temps and lots of outdoor activities for everyone. You'll be challenged to decide between all of the food and wine festivals, antiques and handicrafts exhibits, and adventures!
Many of the events taking place throughout the month clebrate the region's traditions and ancient customs and you will find a complete calendare of Medival Fairs at this link.
Are you ready to find out the most important among them?
Tuscany | #DomenicalMuseo | 1° Sunday in May
A standing appointment every month
How about enjoying a bit of art, history and culture on a Sunday? How about enjoying it with free admission? Then mark the first Sunday of the month on your calendar and make note of the following State museums (and archaeological areas) across Tuscany where you can take advantage of free entrance.
See a List of State Museums in Tuscany
---
Pistoia | CAPITALE CULTURALE D'ITALIA | 2017
the Cultural Capital of Italy for 2017
Celebrate together with Pistoia! Between classical music concerts, art exhibits, cultural activities, blues & jazz in the town squares and so much more, this stunning little Tuscan town is prepared to show the world their true colors when it comes to their cultural prowess. Each month they are planning over 200 events including theater, music, book presentations, learning labs and more. Check in here every month to see select highlights from the Pistoia calendar.
Cassa di Risparmio | IN EVIDENZA | every Sat. & Sun.
The bank Cassa di Risparmio opens its most secret doors to the public, an event not to be missed if you want to see a few hidden surprises. Official Website
Teatro Manzoni, Pistoia | Maggio Musicale | May 3 & 6
Join the 80° Festival del Maggio Musicale Fiorentino while in Pistoia, showing IDOMENEO by Wolfgang Amadeus Mozart Official Website
Podere Colombaia | PISTOIACASAFUTURA | May 12 -14
Restyling the old for the future, a fair & exhibition revolving around architecture Official Website
---
Arezzo | FIERA ANTIQUARIA | May 6 - 7
The oldest and the biggest antique fair
Many years ago, Ivan Bruschi gave life to one of the oldest and biggest antique fairs in Tuscany...maybe even all of Italy. He transformed his love for the old, unique and precious into an event that fills the streets of Arezzo every first Sunday of the month and the Saturday that precedes it that month.
---
Panzano in Chianti | APRILANTE | 1st Sunday in May
Handcrafts & Vintage
We know they call the fair "April"ante, but it really goes all year round! This monthly market in the streets of this charming town in Chianti is where you will find hand crafts, vintage and delicious typical foods and all of it this is just outside in the countryside surrounding Florence.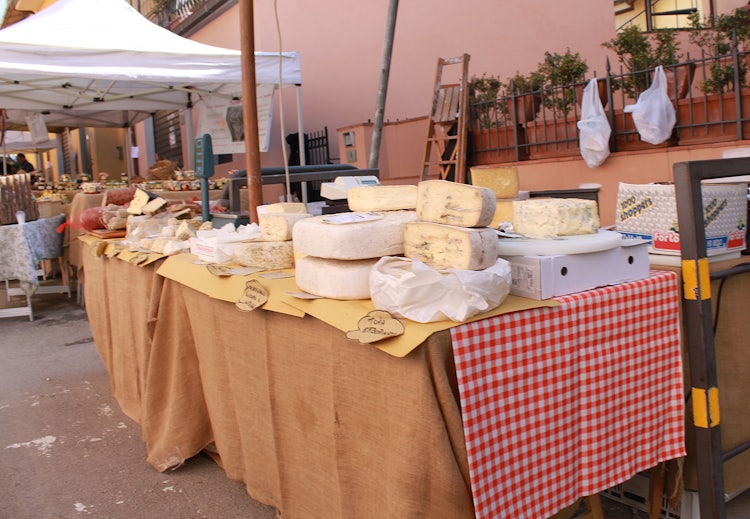 ---
Greve in Chianti | IL PAGLIAIO | Every 4th Sunday of May
Organic and Artisan Market
Piazza Matteotti is filled with locals who feature goods from their gardens, their kitchens and their workshops. Often you will find not only great bargains, but music and opportunities to do some taste testing.
---
Anghiari | MOSTRA MERCATO DELL'ARTIGIANTO | April 22 - MAY 1
42 Years in Valtiberina
Being in its 42nd year, exhibition in the Tuscan Valtiberina - will be held in Anghiari until May 1. A fair that brings together the old and the new, old skills and trades with new methods, artists and designs.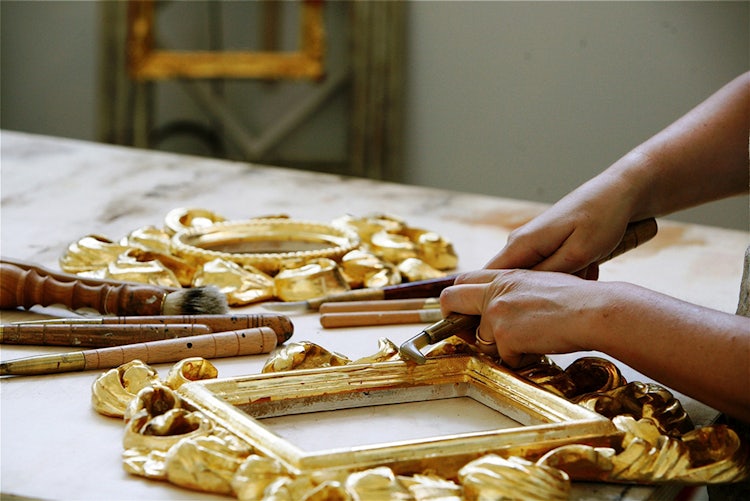 ---
Bagnone | SAGRA DELLA CIPOLLA | May 1, 6 - 7
In the shadow of the Castello
Enjoy a delicious food festival based on local recipes for the Treschietto onion; a culinary festival dedicated to a particular variety of onions which have been cultivated in this territory for many years. The Treschetto onion, distinguished for its flattened shape, ruby ​​red color on the outside and white with red streaks on the inside, it is the main Ingredient both cooked and raw in many dishes,. Come out and try a few.
---
Porto Ercole | NOTTE DEI PIRATI | May 5, 6 & 7
Avast Ye! The Pirates Have Landed in Tuscany
The first weekend of May, the countryside changes and becomes even more picturesque and mysterious. A transformation involving the promenade and its beaches, and especially bars, restaurants, locals and ... people. Costumes, scenographies, costumes and choreographies provide every edition new fun and entertainment motifs for "pirates" and spectators.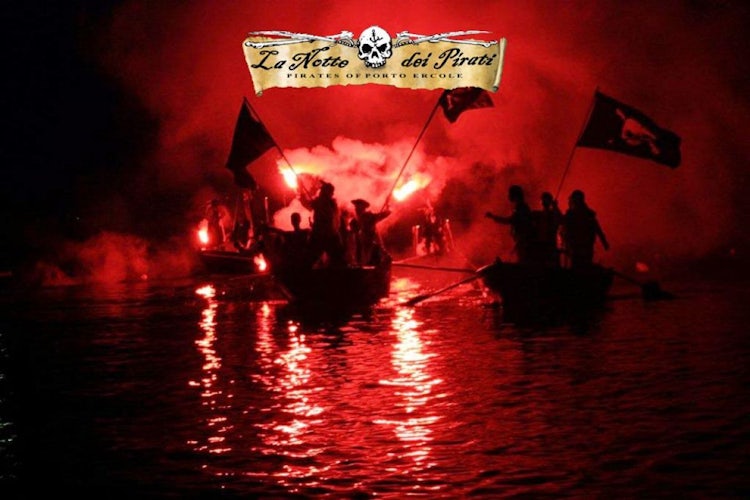 ---
Montalcino | L'EROICA PRIMAVERA | May 5, 6 & 7
Biking 209 km south of Siena
Cyclists on the white roads of Tuscany; there are four trails departing from Montalcino and stretching to the Val d'Orcia, passing through Bagno Vignoni, San Quirico d'Orcia, Pienza and the heart of the Crete Senesi with Montisi and Trequanda. During the day you can enjoy the magnificent views, small towns and some serious exercise and at night the streets of the borgo will be lit up for a festival immersed in the charm of the medieval streets.
---
Pieve Santo Stefano | SAGRA DEL PRUGNOLO | May 6 & 7
Mushrooms are springing up everywhere
Located in the province of Arezzo and one of the most eastern towns of Tuscany, this small town features a festival for the foodies; an event you won't easily forget. This magical mushroom is said to grow on the night that the witches dance, and its flavor is reminiscent of fresh flour and truffles. Not only will you find a yummy menu but also an event that celebrates the shepherds and the "transumanza", when they would herd their sheep towards the green grass of the Maremma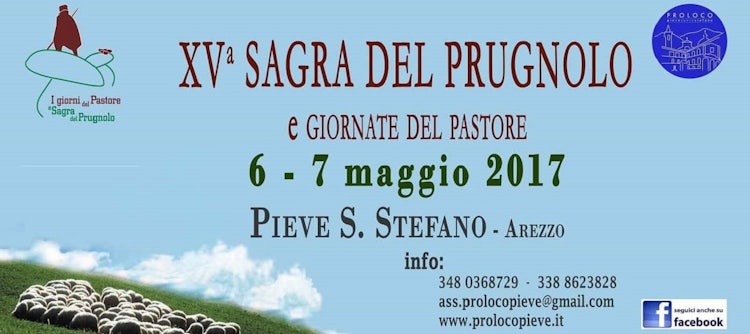 ---
Borgo San Lorenzo | 6° Mugello WIld | May 6 - 7
Exotic Animals & Plants
The town opens its doors to the special and exotic with a market, falcon shows and information on the wide range of wild life. Mixed in with the medival setting, this will create an exciting atmosphere.
---
Terricciola | FESTIVAL DELLA FRAGOLA | May 6 - 7 & 13 - 14
35 years celebrating Tuscany's Favorite Springtime Fruit
Two full weekends of strawberries! And not just this delicious sweet red fruit but also music, fun and hopefully some warm sunshine. Be sure to stop in get a cup of sweet goodness and join 1,000's of locals who come to celebrate the beginning of spring.
---
Querceta | PALIO DEI MICCI | 1° Sunday of May
Donkeys make up the fun along the coast
In this little fraction of Forte dei Marmi in Versilia, on the 7th of May you will find a traditional donkey competition. The goal: the first donkey that surpasses the others will win the race (every donkey represents a contrada of Querceta). Every year, this hilarious show draws lots of people who eagerly await to see the stubborn and disobedient animals trying to win the race. A historical parade with more than 2000 people dressed up in costumes will winds its way through the town streets.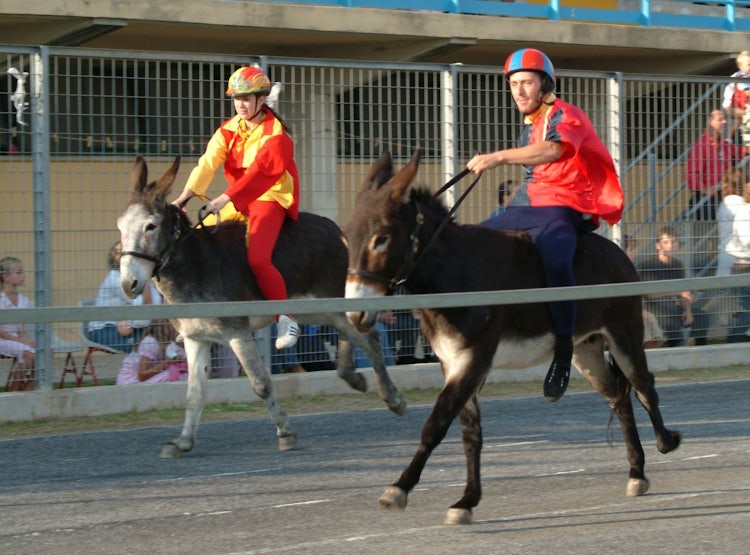 ---
Castagneto Carducci | CASTAGNETO A TAVOLA | May 12 - 14
It's "time to eat" in Castagneto
A food-and-wine festival held in Castagneto Carducci which also gives everyone the chance to visit a special exhibit dedicated to a collection of the prestigious wines produced in the area. This area is well known for the production of high quality wines such as Bolgheri and Sassicaia, symbols of Italy's famed wine tradition spread worldwide. The events taking place during the manifestation will be revolving around the relationship between wine, territory and food. Best day to visit is Sunday at lunch, with many local dishes on the menu
---
Montieri | SAGRA DEL PRUGNOLO | 2° Sunday of May
Mushrooms are spring up everywhere
From east to west in the region of Tuscany everything's coming up mushrooms, last weekend you might have seen the festival in Pieve Santo Stefano, and this week in the countryside between Siena and the coast. During the 13th & 14th of May in Montieri you can taste the exquisite springtime mushroom Prugnolo. From cheeses to liquor, plates of pasta and delicious meat dishes, everything is based on the Prugnolo mushroom! In addition to cookery the fest offers markets, local products, music and hikes.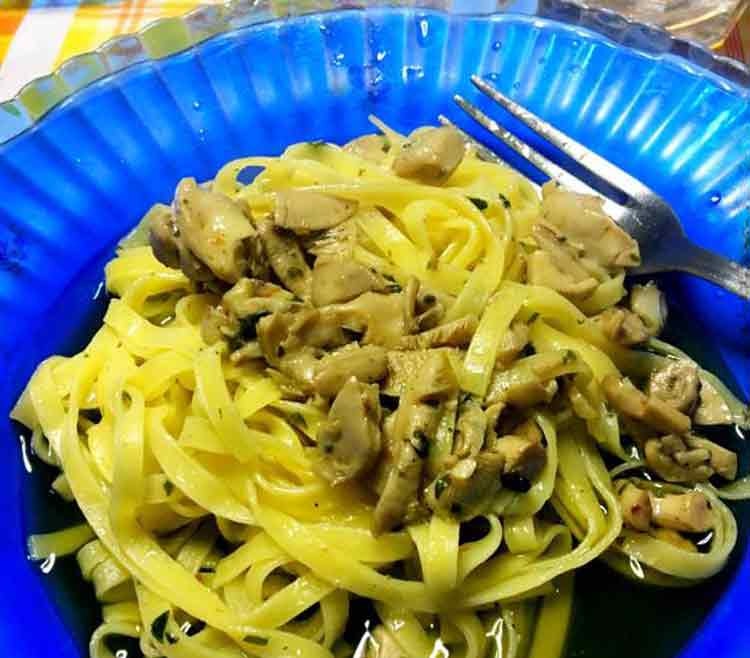 ---
Calci | GIOCO DEL MULINO | 2° Sunday of May
Donkeys and Laughter along the coast
In the province of Pisa, this little town will divide amongst itself in fun and games on May 14th. The rioni (quarters) of the town will compete against each other pushing a mill's wheel towards the river. The wheel, once established at the arrival point, will decide the winner (and loser), who will be thrown some wheat.
---
Cetica | ECO-CAMMINATA | May 14
The Pratomagno Trail for 2017
Not just eco-friendly, but this is also a family friendly walk with two different trail options, lunch and an interesting peek at the antique "mestieri" - or antique trades, like that of the carbon makers. You can watch as they strat the fires once used to make carbon coal.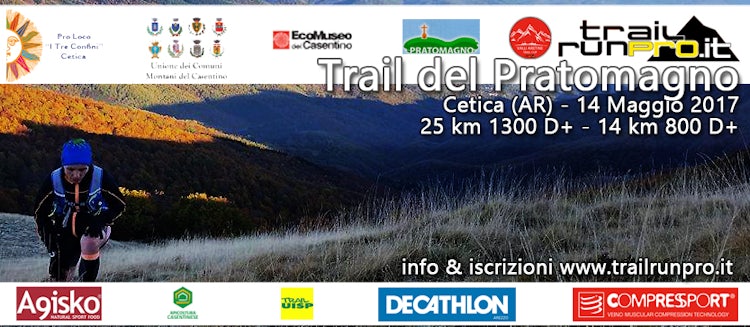 ---
Italy | GIORNO DELLA MAMMA | 2° Sunday in May
Italian Mother's Day
For all of those travelling with their Mom in Florence on May 14th, remember to give her an extra hug and wish her Happy Mother's Day, Italian style of course...that means a double scoop of gelato!
---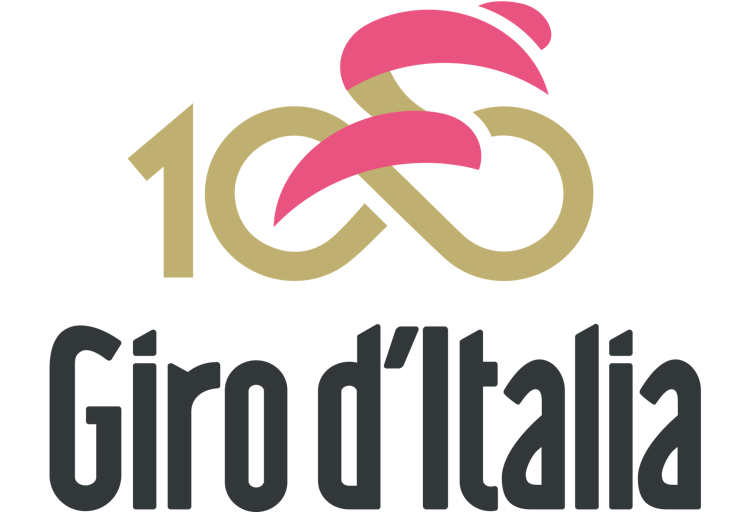 Ponte a Ema, Florence | GIRO D'ITALIA | May 17
The national sporting event of the year: Giro d'Italia (by bike of course!!) This stretch doesn't include one single flat road passing over the mountains that separate Florence from Bagno di Romagna: Passo della Consuma, Passo della Calla, Passo del Carnaio and Monte Fumaiolo. You can join at the starting line in the town of Ponte a Ema, easily reached with public transport from the city center of Florence.
---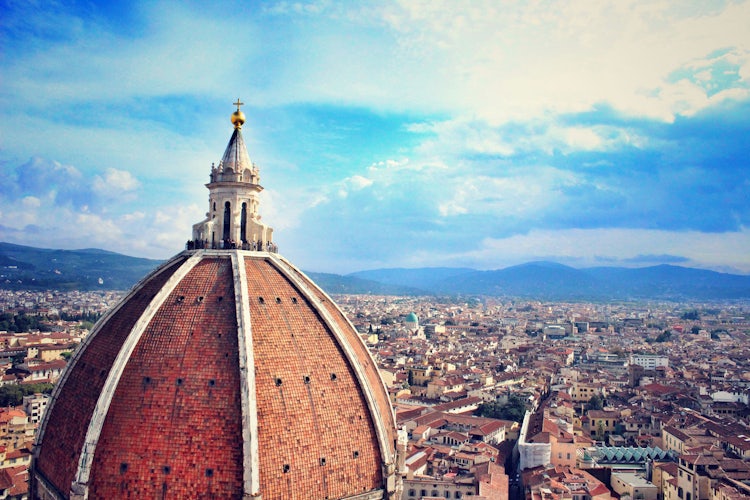 ---
Lucignano | MAGGIOLATA | Last two Sundays in May
80 years of the Maggiolata
The Maggiolata Lucignanese, traditionally takes place the last two Sundays in May and has been doing so for the last 80 years. This event, with activities from the 18th of May till the 4th of June, features a parade of flowered wagons animated by groups in peasant costumes. Each float represents a different "rion" or district of the town, performing in choreographic movements and songs of folk tradition or composed specifically for the festival by local poets and musicians.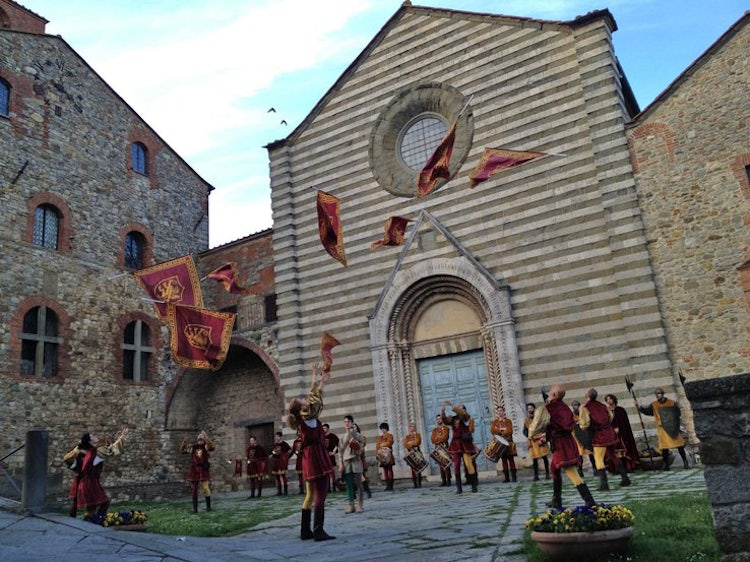 ---
Porto Santo Stefano | TUTTI A POPPA | May 19, 20 & 21
Let's meet at the Pier
At the beach and looking for some local fun? Then head over to the picturesque town of Porto Santo Stefano for a festival of regional fish dishes, art exhibitions, music, shows and fireworks.
---
San Casciano V. P. | PROFUMI & SAPORI DEL CHIANTI | May 20 & 21
Flowers are Blooming again in Chianti
The historic center of this charming little town in Chianti will be rilled with roses, aromatic plants & herbs, and many other colorful blossoms. Stores, and the main squares will be open even on Sunday with artistic displays, local products, animal shows and delicious treats. Sunday you can participate in the fun and exciting lawn mower race - choose your town and cheer them on!
---
Buggiano | SGRANAR PER COLLI | May 20 & 21
Trekking & Good Food
It is a 10km walk through some of the most hidden trails of the Buggiano territory, with stops in the three main hills of the municipality: Colle - Buggiano - Stignano. Along the route and at the same time the participants will be able to taste and taste local produce: wine, oil, jams, honey, cheeses and other delicacies of our culinary tradition.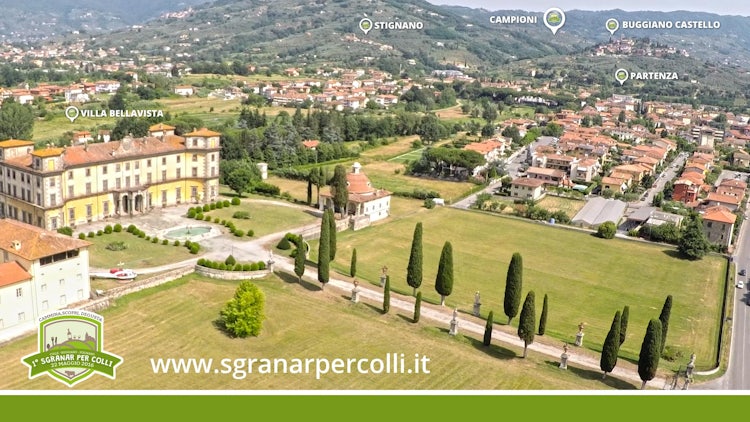 ---
Tuscany | AMICI DEI MUSEI | May 20 - June 4
Getting to know the Museums of Tuscany
Spring is in the air with the participation of the museums in Tuscany, who will open their doors with guided tours, extraordinary exhibitions, animations and workshops for children and adults. A program with hundreds of different activities united by an identical passion: returning the cultural heritage to the community. Check the website for details and museums that are part of the initiative.
---
Montecarlo | VIAVINARIA | May 20 - 21
Catch the Wine Bus
A totally unique event that has you touring the countryside around this stupendous little town and tasting the DOC wines. Let Montecarlo take the wheel as they drive you from Cantina to Cantina, showing off their particular recipe for great wine
---
Torrenieri | TRENO NATURA | May 21
Steam Engine in Southern Tuscany
A totally romantic and epic what to visit the scenery and wines of Southern Tuscany. Meet your train in Siena and visit the incredible landscape in slow motion aboard a vintage steam engine.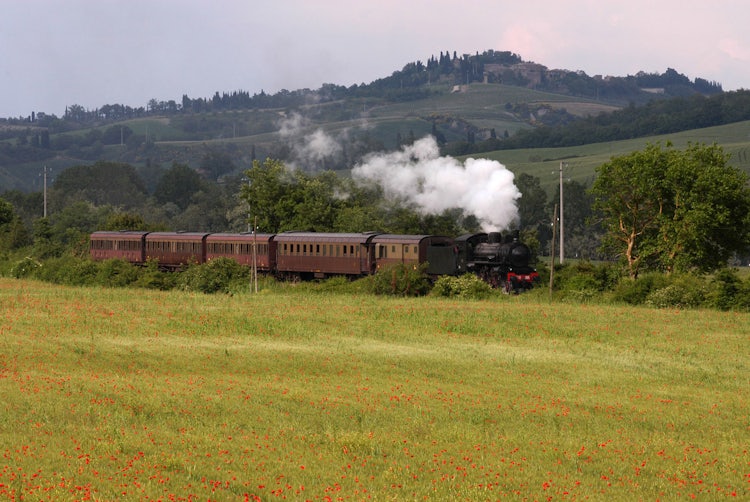 ---
Cascina | PALIO DI SANTO STEFANO | 2° Sunday of May
Steam Engine in Southern Tuscany
Every second to last Sunday of May (May 21 this year) Cascina is home to the Palio di Santo Stefano, commonly known as the Palio of the Bridge, even if this is not as famous as the one which takes place in Pisa in June. Eight groups - with 8 members each - push a large cart set up on the bridge on rails. The aim of the game is to conquer the enemy's side and win the competition. And don't forget to stop and taste the local specialty at the Sagra of the Eel, held at the same time.
---
Lari | FESTA NAZIONALE DELLE CILIEGIE | May 27-28 & June 2 - 4
The Cherry Capital in Tuscany
Lari is commonly referred to as the town of cherries: it is the most renowned and important place in Tuscany for cherry production. It will be hosting the Cherry Festival, a delicious event dedicated to this tasteful fruit, abundantly cultivated amidst the rolling hills that surround the town of Lari.
---
Tuscany Wine Cellars | CANTINA APERTA | May 27 - 28
Bring your tastebuds & wine glasses
THis special event includes the opening of many famous and not so famous vineyards throughout Tuscany. Surprises in everywhere with wine tasting, food and tours of this interesting areas. Read here for more information on this event.
Click here to find who is open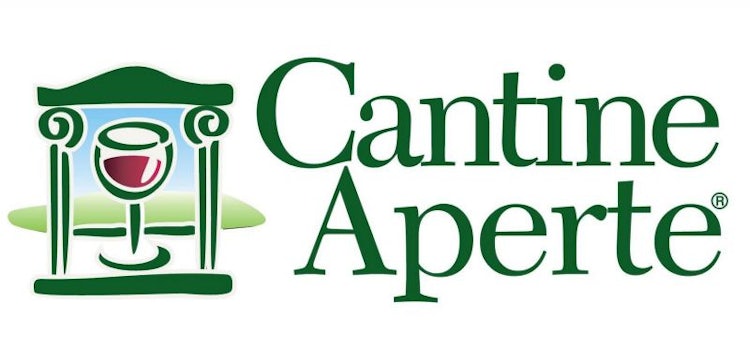 ---
Castelfranco di Sotto | PALIO DEI BARCHINI | May 28 - 29
Row boats with no water in sight
Silly yet fun, this on ground boat race is located in the hills between Florence and Arezzo.
---
Chiusi | TRENO NATURA | May 28
Slow Travel in Southern Tuscany
A trip to Chiusi starting in Siena to visit the scenery and markets of Southern Tuscany. Meet your train in Siena and visit the incredible landscape in slow motion aboard a vintage steam engine.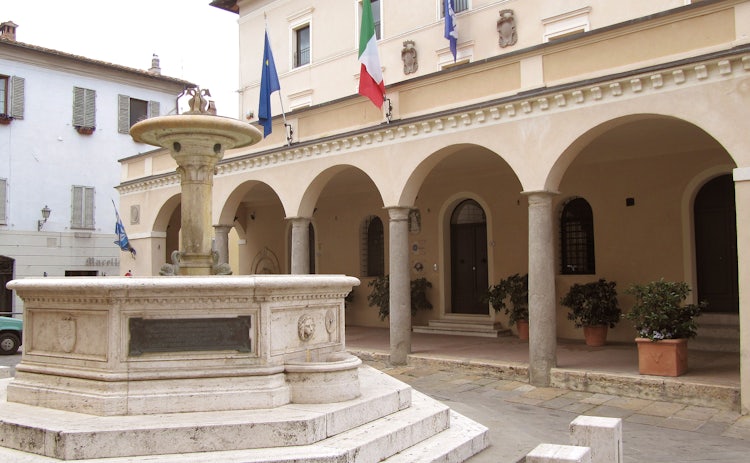 ---
Orbetello | CORSA DEI BARCHINI | May 29 - 31 TBC
Rowers at the helm in the Lagoon
It is a regatta with the typical barchini of the lagoon that runs between the five Rioni of Orbetello. It seems that the first edition took place in 1768 on the occasion of the marriage between Fernando IV of Naples and Maria Carolina d'Austria. The race was born as a challenge among the Orbetello fishermen who liked boasting of their speed From 1886 to 1890 the Barchini Race was practiced with only one "rower" because at that time there were no rowing in pairs.
---