And that thou less may wonder at my word,
Behold the sun's heat, which becometh wine,
Joined to the juice that from the vine distils.
- The Divine Comedy by Dante Alighieri
Purgatory, Canto XXV
Forever the supreme king of any dinner in Tuscany, Bacchus' gold has also been the protagonist of poems, novels and daily life as well!
From September to December, every Tuscan is focused on harvesting olives, grapes, chestnuts and mushrooms, so you'll find many events and manifestations dedicated to the season's bounty throughout our region. These events are mainly an occasion to get together with families and friends, chatting and spending time together while savouring a glass of the new wine called vino novello with a plateful of fettunta, slices of toasted bread soaked in the newly pressed extra virgin olive oil.
Below, we have selected several events and local celebrations that will be worth your while, either for a short trip or a longer excursion, to capture the real essence of Tuscany. You'll find the events divided by topic so you can better find what you're interested in.
Wine
Tuscany is the home of excellent wines; and though most people associate Tuscan wine with Chianti, there are many other renowned and prestigious varieties coming from Maremma, Artimino, Montecarlo and Montalbano, as well as Montalcino and Montepulciano. So it makes sense that Tuscany, during the fall season, transforms itself into the home of many manifestations dedicated to wine. It seems, wherever you choose to go, you'll always come upon some event to enjoy fabulous wines!
The region Chianti (encompassing the territory in both the provinces of Florence and Siena) is traditionally home to Chianti d'Autunno, a manifestation that kicks off in September and usually runs throughout December, offering lots of outdoor and indoor activities. The perfect opportunity to learn more about local culture and typical products: wine cellars and oil mills will be extraordinarily open to public with guided visits, trekking excursions, market exhibitions, workshops for children and other events. An occasion for "killing two birds with one stone", as the local saying goes: tasting the new wine and visiting some of the most beautiful places of the Tuscan countryside, such as Greve, Gaiole and Castellina in Chianti. If you are exploring the area then, remember that in October (usually, at the beginning), Greve will be housing "Non solo vino" (Not only wine: a great product & knowledge from the territory), a market exhibition with culinary, handicraft stands and taste testing of the local specialties.
All these wonderful towns are surrounded by breathtaking views, so bring your camera! Don't forget to include Impruneta, a popular destination for spending a few days in Tuscany thanks to its proximity to Florence's city center.
Sorano, in Maremma, is home to a local wine celebration that usually takes place from the end of October to the beginning of November.The wine produced with this particularly variety of grape is one of the most renowned of the area, together with the white wine from Pitigliano and the red Morellino di Scansano. The manifestation - called Festa delle Cantine or "Festival of the Wine cellars" - offers the opportunity to discover a wonderful territory, rich in natural protected areas (such as the National Park of Maremma) and cozy, welcoming accommodations in a quiet and restful countryside, where civilization seems to recede into the distance. Check the dates on the official website.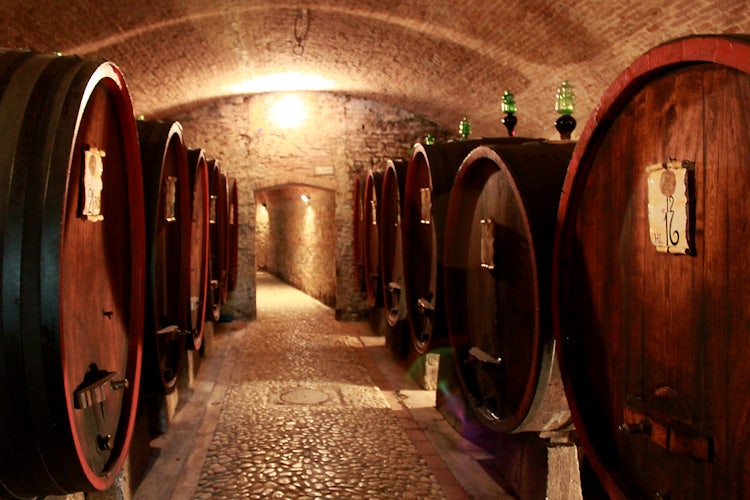 The medieval villages of Pitigliano and Sorano, as well as the Etruscan Coast, are destinations we strongly suggest you visit. If you still have time, head to the thermal baths of Saturnia and Petriolo to experience an outdoor hot bath. There you'll find both luxurious spa establishments or the free natural hot springs to suit everyone's needs.
September is the time when grape harvesting begins: farmers - with friends and relatives helping out with the work - crowd the typical Tuscan vineyards for harvesting those grapes that will be turned into delicious wine. If you're interested in trying out such an experience, check on the Wine Tourism Movement website those farms and wine cellars taking part in the event organized specifically for this occasion and called "Cantine Aperte in Vendemmia" (Open wine cellars at harvest time). Since it is an event taking place all over the national territory, dates will be changing according to when the grapes are ready for the "vendemmia".
You will find a wide range of planned events: concerts, theatre shows, conferences, guided excursions through vineyards and much more, surrounded by a natural context of rare beauty. On the weekend around November 11 - Saint Martin's day - visitors and experts will have the chance to taste the result of the September grape harvesting during "Cantine Aperte a San Martino" (check the dates on the official website Cantine Aperte for San Martino). Finally, the last date with the Wine Tourism Movement will bring a dreamy atmosphere and the magic of Christmas inside the wine cellars: cheering in front of wooden barrels inside of the traditional Christmas tree will be a one-of-a-kind experience (Cantine Aperte for Christmas).
On November in Montecarlo - quaint little town in the province of Lucca, nestled among the rolling hills close to the famous Collodi, where the renowned odden puppet Pinocchio was born and the Pinocchio Park is also located - will be celebrating the Fall Flavours, a festival dedicated to the new olive oil and wine. Montecarlo is also home to another wine festival taking place in September that goes deep into the local culture and folklore and always draws thousands and thousands of visitors. Montecarlo has a delightful medieval historical center at the top of a hill from which you may enjoy a wonderful view; from there you can head to Lucca, easily reachable in about 15 minutes driving, or Florence or the Versilia with its coastline and night pubs, both about less than an hour distance by car.
Extra virgin olive oil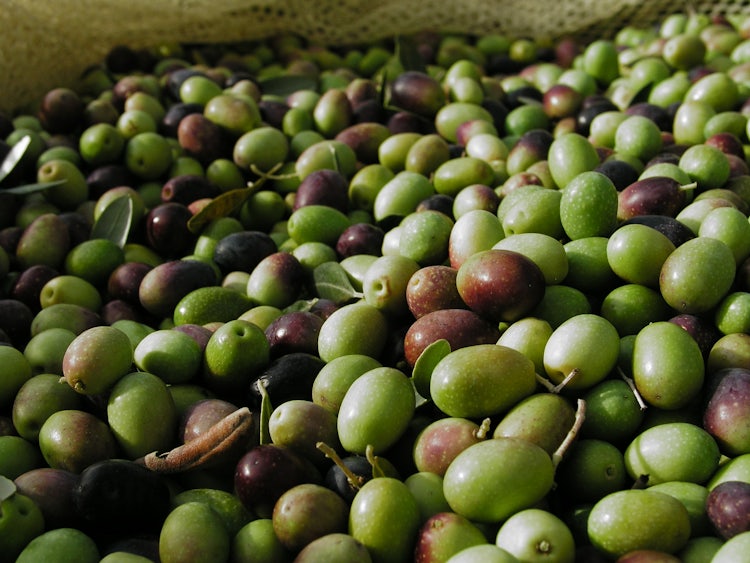 While it is almost impossible to imagine a Tuscan table without wine, olive oil is another element considered an essential (some would say, a source of eternal youth!) If you're wondering why we Tuscans look so beautiful and young, here's the answer! ;-). The secret lies in the extra virgin olive oil that, taken in small doses since childhood, preserves our youthful aspect!
I'm obviously joking, but the healthy properties of olive oil have been known since ancient times.
Montecarlo (no surprise that the manifestation is called "Festival of the new wine and new oil") and Chianti once again are home to several events that celebrate the season's new extra virgin olive oil, in addition to those dedicated to the new wines. The typical fettunta (a slice of lightly toasted bread, the perfume of garlic brushed across it and then lightly drizzled with oil) goes perfectly with a good glass of red wine!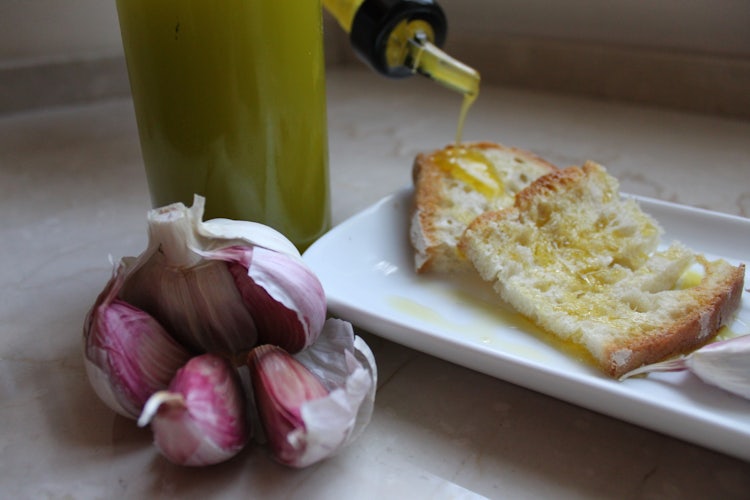 On November (usually at the beginning), the local event called Fest'all'olio is dedicated to the promotion of oil in Vitolini, a hamlet of Vinci, home to the famous Tuscan artist Leonardo. Here, you'll get a chance to taste local dishes such as the ribollita or farro sui fagioli, a vegetable soup with spelt and beans cooked according to traditional Tuscan recipes. Each plate is accompanied with an abundant drizzle of the new oil from the closeby Montalbano hills, we recommend you don't miss out!
The territory of Prato also offers several events for one its most representative products (olive oil) with special guided tours to the olive mills, tasting lessons and other initiatives dedicated to the promotion of oil. This manifestation (website only in Italian) is held usually at mid-November in Borgo alla Rocca di Montemurlo. Check the official website for the dates of this very interesting event that usually has a full day of olive oil, medieval reenactments and special visits to La Rocca and Borgo. Many outdoor activities may be arranged in the surroundings, from trekking excursions to horseback riding lessons. The area is a perfect base for going to visit Florence, just minutes away from there.
Chestnuts, or Marroni, as the locals call them!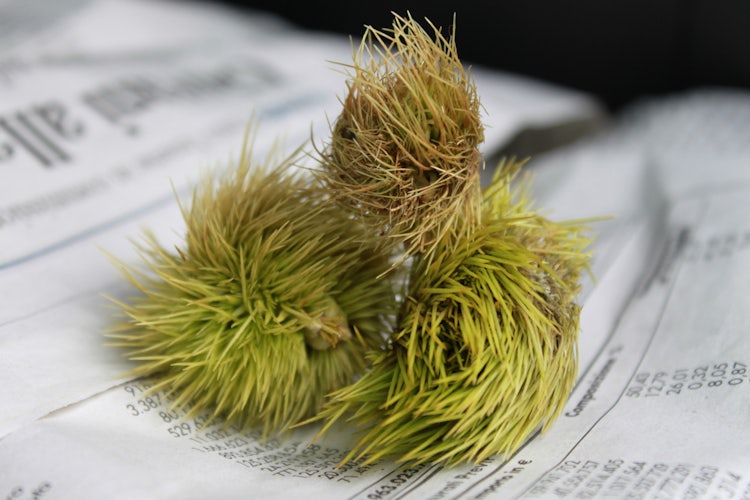 Chestnuts are another typical product Tuscany is proud of. Chestnuts go hand in hand with the hunt for mushrooms, although strict laws protect both these fruits from inexperienced "hunters" today. Chestnuts, an integral part of the Tuscan diet since ancient times for their nutritional properties, are the star of several manifestations all around Tuscany. However, the territory that has gained international claim for its special and unique chestnut variety is the Mugello, where the local species has got the prestigious Italian quality assurance label IGP.
To be more precise, the town of Marradi, which has recently become a Slow City, is the home of the marroni (the local name for their chestnuts), a high quality variety that gives way to a whole month of celebrations dedicated to it! In October, meetings, guided excursions for learning the art of chestnut harvesting along the Strada del Marrone del Mugello di Marradi, photo exhibitions of past editions and, obviously, lots of tasting, tasting and more tasting of anything with chestnuts! Any dish or recipe you can think of with chestnuts is offered every weekend in Marradi: caldarroste or roasted chestnuts, ballotte which are boiled chestnuts, castagnaccio (a Tuscan cake prepared with chestnut flour), necci which are rolled chestnut pancakes with delicious fresh ricotta or chocolate inside, and naturally, the Monte Bianco, a chestnut cake with a mountain of whipped cream on top! There are countless other offerings for you to savor. The chestnut festival will be held on October sundays. The easiest way to get to Marradi is obviously by car, but if you want to enjoy a slower way of travelling, while appreciating the surrounding landscape and diving into the past even just for a while, then hop up on a traditional steam engine train heading to the chestnut festival!
Moving across Tuscany, you'll come upon another territory where chestnuts are traditionally the queens of the forests, the Casentino. Itineraries among nature, along the Strada dei Sapori del Casentino, and open air museums will guide you to the discovery of chestnut history and local traditions. Cetica, a small borgo nestled among the hills between Florence and Casentino, will host the chestnut festival on mid-October. During the festival you can taste a lot of typical dishes made with chestnuts and local recipes.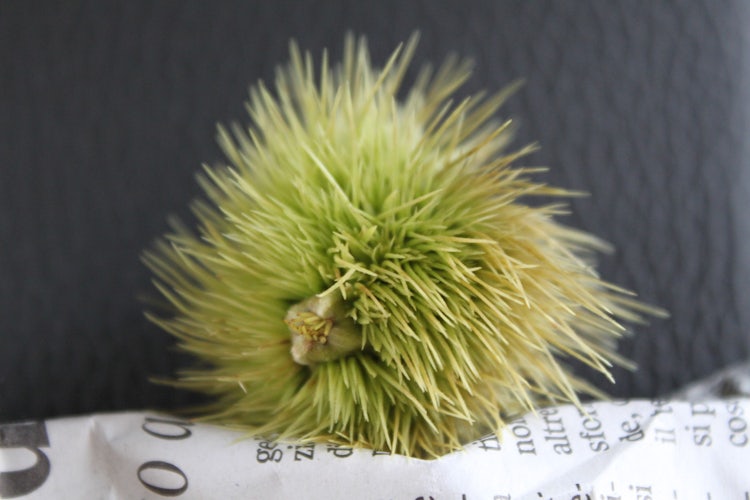 In Talla (pictoresque village nestled in the Casentino Valley, in the province of Arezzo), wine usually comes with the chestnut festival: enjoy a paper horn of caldarroste with a glass of good red wine! A huge grill is set up to roast mountains of chestnuts for all visitors usually on November 1st.
If you happen to be around there on the 8th December and want to try a traditional local dinner, stop by and take your seat at the local Sagra della polenta dolce (once again, in Talla!), a festival of "sweet polenta" which refers to chestnut mush and the baldino, more commonly known as castagnaccio, both served with other typical local products.
Heading towards the Mount Amiata, we immediately understand how chestnut was important as main ingredient in the traditional diet of this area, especially during the past hardest times. Nowaday, local chestnut has been awarded with the IGP quality identification: a delicious occasion for discovering the closeby hamlets and villages, as well as the natural territory including the Park of the Monte Amiata. There are so many events in the Monte Amiata region during this season that listing all of them is a very hard job, that's why below we're going to mention just the most important and well known, but keep in mind that culinary festivals will be held everywhere in the area, take a look at this page for discovering all the other gastronomic fairs. Abbadia San Salvatore will be home to the Festa d'Autunno - Fair of Autumn - throughout the second and third weekend of October, while Arcidosso hosts the Chestnut festival. Finally, the weekend of November 1st the magic of the wonderful Castratone will fill the atmosphere of Piancastagnaio.
Mushrooms and truffles, the nobility of the senses
When talking about chestnuts - and chestnut trees, of course - one automatically thinks about mushrooms and porcini to be even more precise, tastey morsels that try to hide under those trees from the expert hunters.
The most exquisite of flavours, porcini have become the star of local festivals that usually take place from September to October, and are often served with polenta, meat sauce or wild pork. The Festival of Porcino and Chianina (a variety of local beef meat) in Castelfranco di Sotto in the province of Pisa is just an example (it lasts 4 weekend among October and November).
And what about truffles? You either love them, or hate them!
Truffles are another typical Tuscan product, whose local variety, the white truffle, is historically associated with our region. November is the month dedicated to truffles and all dishes prepared with this typical mushroom (and not a tuber, as experts specify!)
Girone (a town near Fiesole) usually organize truffle festivals at on September with traditional recipes from the starters all the way to desserts, which not only gives you the chance to fill your belly as well as explore the marvelous town of Fiesole and the green Mugello valley!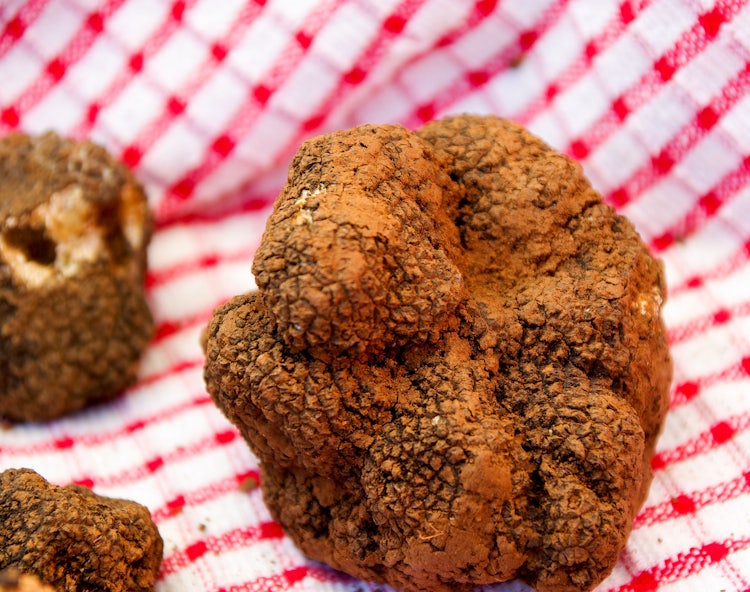 To be completely honest, there are two towns in Tuscany intrinsically linked with white truffles: San Miniato and San Giovanni d'Asso. In San Miniato (in the province of Pisa), the White Truffle Market Exhibition is usually held the 2nd, 3rd, 4th weekend of November, and promotes not only its local white truffle variety, but also all those traditional products the area has gained international claim for.
It almost goes without saying, that San Miniato and its surroundings are rich in artistic and natural monuments that deserve to be visited while visiting the area. It is so easy to spend time here admiring the town and its beautiful panorama.
San Giovanni d'Asso, nestled amidst the Crete Senesi and the Val d'Orcia to the south of Siena, has an entire museum dedicated to truffles, the first one of its kind in Italy. I am told it is a true "sensorial" experience!
The Crete Senesi White Truffle Market Exhibition, held on the second and third weekends every November in San Giovanni, is a chance to taste local truffle recipes and explore a town that is just as famous as some of its neighbors. Founded around a medieval castle, San Giovanni is surrounded by gentle, green hills and forests of holm-oak. An American artist has created an interactive park called the Bosco della Regnaia where, you may either simply stroll the grounds or go and discover the artistic works among the peaceful setting.
We've reached the end of our virtual tasting tour... now it's up to you to head out and get a real taste! Have a very pleasent trip and... bon appetit!