Also Known as the Golden Mushroom
Truffles are such a well kept secret that even the Tuscans don't always appreciate the gold mine they have growing (almost literally) in their backyard.
You have heard of the golden egg... well, here we have the golden mushroom. With a flavor that ranges from strong and intense to pungent (for some). The Truffle finds itself in a situation where you either love it ... or you don't. But in either case, it remains one of the most traditional of Tuscan products that you can select as a gift item to take home and with a few easy recipes, you can make the most of this treasure to amaze friends and family with your culinary prowess.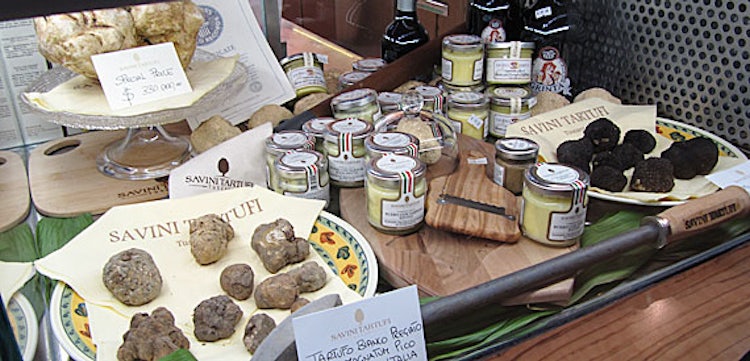 Getting in the Truffle Zone
Those that work with truffles will tell you: truffles are a bit like diamonds in their particularities and personalizations. Even within the same "family", size and shape can make a huge difference in the flavour. Without a doubt, Mugello and the hills of San Miniato are crème de la crème as far as quality goes for truffles.
Though some areas of Tuscany are definitely well-known in the international circuit as major suppliers, there are quite specific zones which excel in the harvest of this underground mushroom. And I don't say underground mushroom in the sense that it is avant garde or bucking the system. Nope, the truffle is classified as a mushroom that grows underground, specifically around the roots of trees. Truffles prefer to grow in the hills which are well covered with oaks, hazel nuts, pines and other similar trees. These tasty little morsels can be found in six zones throughout Tuscany, covering the various corners and diversity of the terrain.

Choose your Flavour
Each type of truffle has a distinct flavor and personality, varying in weight, size, fragrance and use in the kitchen. There are six types of Truffles which can be collected and the time that they can be official harvested is regulated by the region of Tuscany, below there are four of the principle products. Watch the dates if you are looking to purchase fresh truffles to make your own meal while visiting the area so you know they are fresh and authentic.
The king of Truffles and one which Tuscany happens to grow quite well: The tartufo bianco pregiato (the prized white truffle) found usually from September 10 to December 31 is predominantly found in Mugello and San Miniato. This particular truffle can cost up to 3000 Euros a kilo!! A bit outside of most budgets but the flavor is intense and fragrant, best used shaved raw over a hot dish.
The tartufo marzuolo (the White-ish truffle) found from January 10 to April 30. It is not indicated for long term cooking because it loses its flavor the more you cook it. The perfume is softer and makes a perfect base for mixing and combining flavors.
The tartufo nero pregiato (the prized black truffle) found usually from November 15 to March 15. There are many who prefer the softer fragrance of the black truffle, but this is absolutely a personal choice! The flavor goes well with meat and it allows for a longer cooking time. A variation on the above named black truffle is the tartufo brumale (the black winter truffle) which can be found from January to March and is distinguished for its extremely strong flavor.
The tartufo scorzone (or the black summer truffle) is widely available from June 1 to November 30. It's name comes from the rough, wrinkly outer crust. Not considered one of the prized truffles, it still mixes well with other flavors and is readily available, particularly during the summer months. If you are visiting near Florence in June, then you can stop at Rignano sull'Arno for their celebration of the scorzone truffle. The tartufo uncinato is very similiar in appearance and flavor to the the scorzone and is normally found from October to December. It has the flexibility that it can be used when cooking without losing its flavor as well as being consumed raw.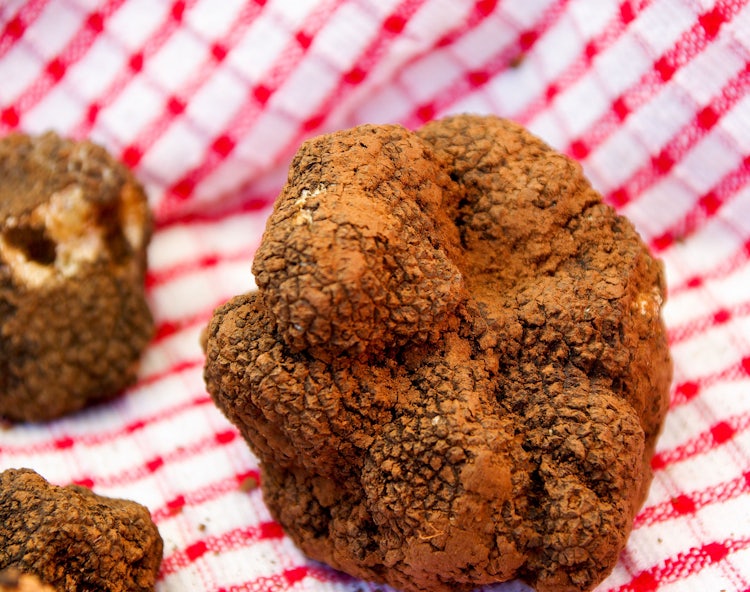 There are several opportunities in Tuscany to join in on the hunt. Though many areas are experimenting with cultivated truffles, it appears only the lesser prized mushrooms respond to farming whereas the more prized species still prefers to avoid man's intervention.
Professional truffle hunters, along with their faithful companion, are available to show you where and how they search and harvest. Since truffles grow under the dirt and display no foliage above ground, hunters need a companion with a very keen sense of smell. Dogs are the partner of choice, however, there are other animals that work just as well. In fact, many will tell you that the pig is excellent because they don't need to be "trained" to look for the truffle - they already know the scent... but the downside is they are more likely to eat their find!
What to Buy
The market definitely provides a wide variety of oils, creams, sauces and sometimes even fresh truffle products - however a word of caution, truffles don't often lend themselves to these types of transformations.
This means you should check the label for the word "aroma" - which implies a synthetic flavor. This doesn't mean the product is not good or aromatic but, it does suggest that the product is not made with "real" truffles. Fresh truffles can be conserved for a short period of time in the refrigerator and wrapped; however, they are best used within 5-6 days of their harvest.
If you are here in the fall months and particularly in November, make sure to check out local festivals dedicated to truffles!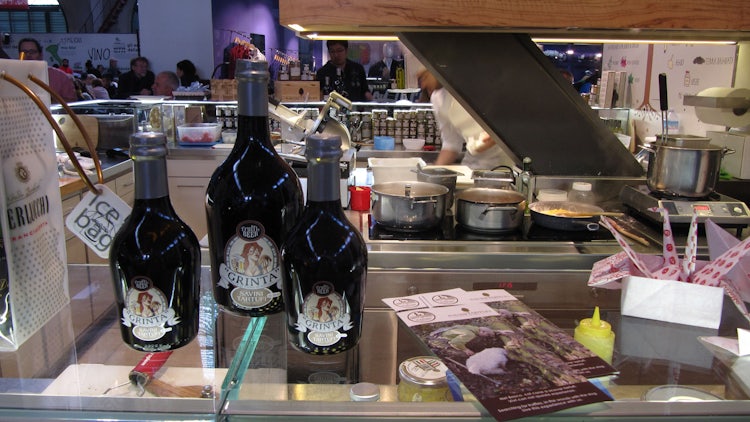 Perhaps the most common product is infused extra virgin olive oil. Many truffle products can be a bit "pricey", however, keep in mind that normally for seasoning, you only need a few drops for the flavor to permeate your dish. There are several variations on spreads that will make use of the pulp of the truffle and which are delicious served on toasted bread.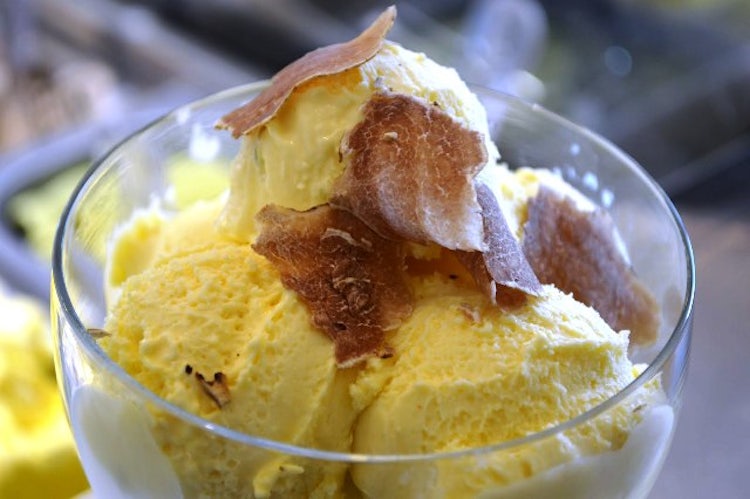 Best Way to Eat Truffles
I went straight to the Central Market in San Lorenzo where Savini Tartufi has a stand that offers fresh-made delicacies with truffles in various recipes and flavours. While the chef was busy tossing the taglietelle pasta with a creamy parmigiano cheese sauce and grating fresh truffles on top, I had a few questions for Silvia.
The burning question was: what is the best way to eat truffles? Apparently, if you love them, then truffles go well with (just about) everything - pasta, pizza and even a bistecca fiorentina. For those who are lucky enough to have fresh truffles, then there are two dishes which are classics: fresh farm eggs cooked sunny side up with slivers of truffles shredded on top or risotto in bianco, white risotto again with truffles sliced on top.
Since it is not always possible to find fresh truffles, Silvia suggested two favorites with their shoppers: a creamy parmesan cheese sause flavored with truffles. Obviously, it is even better with fresh truffle shavings...but not necessary to enjoy the dish. The second idea is a pesto sauce with truffle pulp added to it... and just add to your pasta.