Where to find it & How to Enjoy it: A few Insider's Tips!
Winter in Tuscany does have cold temperatures and sometimes a rather frigid climate (January & February are the coldest months, check average temps here), which are elements that are not always associated with a vacation itinerary. Tuscany, between the months of December to April, holds several special activities for those who are curious enough to face the weather. The winter months in Tuscany won't always promise an abundance of snow, yet for those in search of a novelty or snowy adventure, there are many options to incorporate into your itinerary while visiting the region.
The snow definitely makes for a unique and exceptionally beautiful landscape to admire and photograph, however, it requires extra caution on the roads. Snowfall in the cities is a very rare occurrence, the valleys and low lying hills is rare and normally doesn't last long - though a word of caution, ice and slick roads are possible in all areas of Tuscany. Proceed with caution.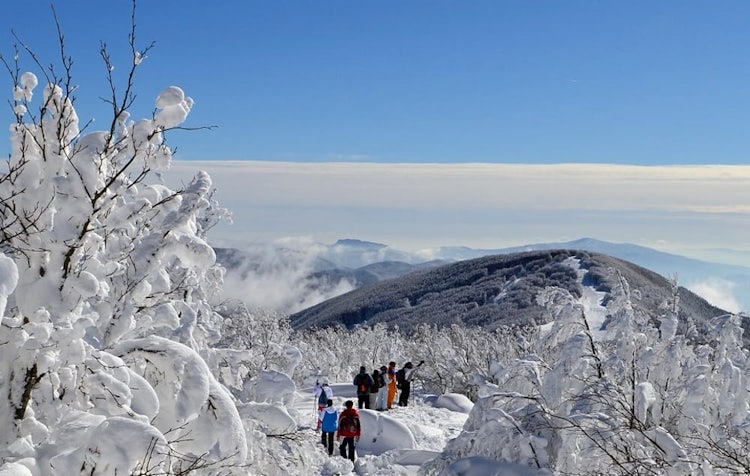 Where to find the Snowy Peaks
Tuscany is a landscape of many surprises ranging from soft rolling hills to vineyard covered valleys. Here this region you will find sandy beaches and mountain peaks, and these lofty heights are often white tipped in the winter months, thus the ideal place to start your exploration of the snow in Tuscany. While planning your holiday during the winter months, you can easily add one of these destinations to your itinerary and participate in a bit of snow time fun.
Abetone, an hour north of Pistoia
Perhaps one of the most famous snow resort areas is in Abetone, just an hour outside of Pistoia. The story around the name comes from when they constructed the mountain pass in the late 1700's a fir tree was knocked down, legend has tells us it was so big that it more than six people to embrace the tree thus giving us the name Abetone (big fir tree).
Mont Amiata, in southern Tuscany
It would probably be the last area one would expect abundant snowfalls, yet in southern Tuscany, you will find Monte Amiata, reaching over 1700 meters high, and a snow-covered summit hosting a wide range of winter activities. The truth is, Monte Amiata is a thriving community all year long featuring many activities as well as tantalizing flavors, wines, and cultural experiences.
Lunigiana, snow tip mountains near the coast
These are two of the most popular destinations but if you find yourself visiting other areas in Tuscany you can still find a way to enjoy your first snowfall. We suggest you look towards the Lunigiana.
Garfagnana, the northernmost reaches of Tuscany
We also enjoy exploring the Garfagnana which borders along the region Emilia Romagna following the Apuane mountains.
Monte Falterona, an hour southeast of Florence
This snowy summit in Casentino is the source of the Arno River and provides an abundance of winter snow. In contrast to the outer mountain ranges in Tuscany, it runs north to south, between Florence and Arezzo. A visit in this area is excellent both for the powdery slopes and national forest in Casentino.
Mugello, the wilderness between Florence & Bologna
One of the last areas to explore is north of Florence, Mugello especially if you are looking to take a stroll and enjoy the tranquility and silence after a snowfall. The wilderness that abounds in this area promises not only ample trekking ideas but also some delicious recipes for warming up afterward...like a plate of tortelli potato.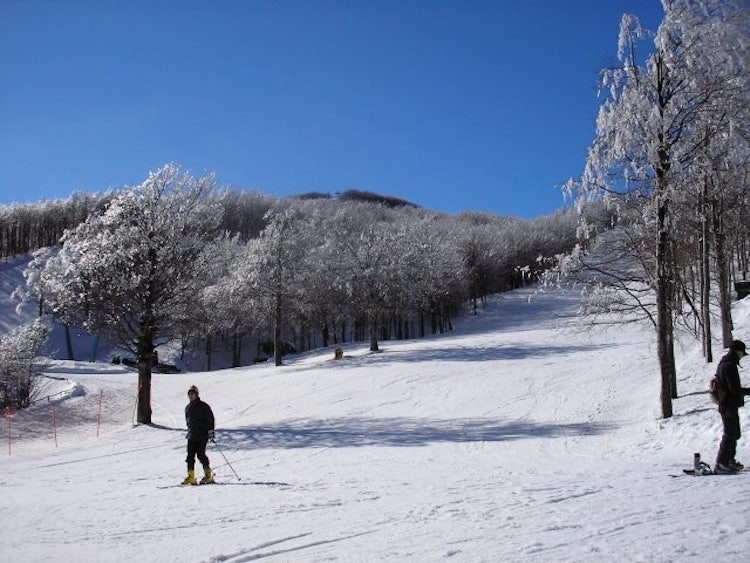 How to enjoy the Snow in Tuscany
Skiing, Snowboarding & Nordic Skiing
When one thinks of skiing in Italy, they normally set their sites towards the Dolomite, long known for its powdery snow and slick slopes. But that's not the only place where you can slide into these winter sport. In fact, in addition to varying levels of ski slopes, there are several snow parks, games, and activities suitable for all ages right here in Tuscany.
Whether you are a tried and true "appassionato" of the snow or a "newbie" with a curiosity to see snow for the first time, there are many places with enticing offers throughout the region of Tuscany. You will find ski lessons, black diamond slopes, snow parks where you can practice your jumps, and equipment rentals as well as miles and miles of trails for hiking, snowshoeing, bobbing, tubing and sledding.
Probably the most famous and international in Tuscany, drawing crowds from neighboring Emilia Romagna as well. The mountains above Pistoia have been the home to many champions, like Zeno who actually designed one of the slopes. Abetone features modern ski facilities for all levels. Located between a series of interesting peaks, even if not very high: Alpe Tre Potenze, the Selletta, the Monte Gomito and the Libro Aperto (all between 1700 and 1950 meters), for about 50 km of ski runs.
After Abetone, the south of Tuscany between the Maremma and Val d'Orcia boasts one of the second most important ski areas in Tuscany. Amiata is actually an (extinct) volcano covered by the largest beech forest in Europe and the area has 8 facilities for over 12 km of slopes. This area is exceptionally suited for those who enjoy stretching with a bit of Nordic skiing, including 10 km of trails winding through the distinct landscape and 5 of which are in constant use.
This small station in Lunigiana (right on the border between Tuscany, Liguria, and Emilia Romagna) has been open for almost 50 years! Zum Zeri-Passo Due Santi, on a clear day, will give you a view of the Gulf of La Spezia, the 5 Terre Islands, and the nearby Corsica. The slopes reach up to 1,600 meters in height, have three ski lifts, about 10 km of runs and have a tendency to attract mostly locals - which is also what makes it very special.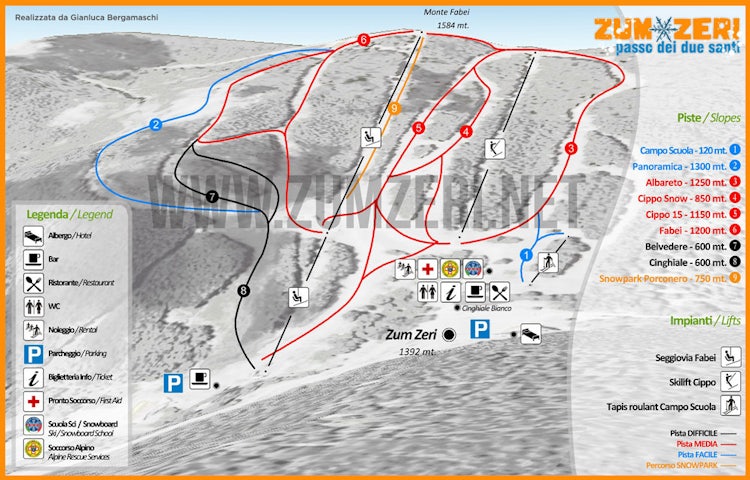 The next four locations are great for those who just want to dabble in the winter sports yet prefer something more local and less commercial.
Careggina (in the Garfagnana):
Open for skiing for over 35 years, there are three ski lifts and there are areas dedicated to all levels of skiing. On Mount La Cima, in Località Vianova, in the Garfagnana only 5 km from the town of Careggine, three ski lifts which serve 7 km of slopes, providing the area with excellent school fields and technical slopes that meet the needs of even the most experienced skiers.
Another area which has been open to snow sports for over 30 years, is the Casone di Profecchia, and it is particularly suitable for those who put on skis for the first time. In addition, there are itineraries for Nordic skiing or cross country skiing that cut through the wooded area, to admire the wonders of nature, the sounds, and perfumes characteristic of these mountains.
Who would have guessed that between Corno alle Scale and Monte Libro Aperto, there is over 12 km of ski slopes, two cable cars, and three ski lifts? This area is particularly suitable for guests and families with children taking their first steps on the snow! Sign up for the school, or glide down a snow-tubing track. There is also the opportunity to practice bobsleigh, the sport born in America in the late nineteenth century.
Though designated in Emilia Romagna, it sits so close to the Tuscany border that it is worth mentioning. The ski area has 2 lifts: and a tapis roulant that leads to 2 slopes, one for bobsleigh and sleds and a wide and easy level field for skiing and snowboarding. This station is also equipped with a newly built snowpark and a 5 km cross-country ski.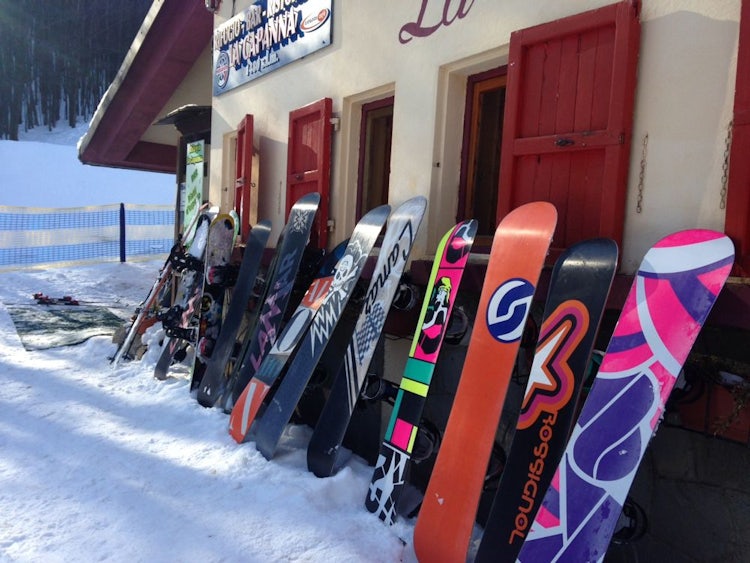 Games: Snowshoeing, sledding, snowballs, skating
You don't need to strap on a pair of skis or a snowboard to appreciate the crystal winter wonderland in Tuscany. If you are visiting one of the ski stations or stopping long before those altitudes, you will find several options for enjoying the enchanting atmosphere of Tuscany after a snowfall.
Another first for many could be snowshoeing; learning how to strap them on and then follow a professional guide on a trek through the many protected forest areas in Tuscany. Most of the snow stations mentioned above offer activities or you could contact Marta, an environmental guide, who takes groups into the winter wonderland landscapes of Casentino, (ask about her donkey rides!)
Or perhaps it is more of a challenge to strap on two razor-sharp blades and glide across the frozen ice, and this is a possibility without even leaving Florence if you head over to the Winter Park. However, if you are in the city for just a couple of days, perhaps the fastest way to get a few shots of you throwing around a snowball in Tuscany is to head up to Monte Senario, just a short distance out of the city borders and high enough to have a constant covering of snow. The monastery is the perfect tranquil environment for a chilly walk and then a hot tea or a glass of their famous herb elixir.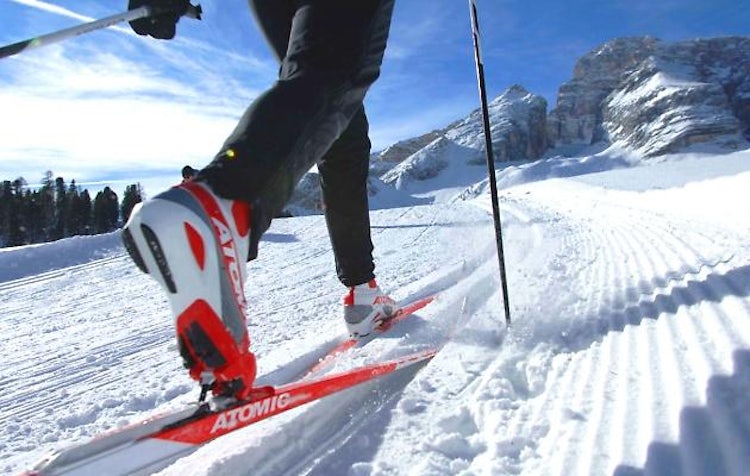 Alternatives to the Snow
Thermal water & Spa
So, what do you do when you find snow in Tuscany, and you have no desire to make snow angels or engage in a snowball fight. There are several options to the frigid temps outside, for example, one of the many thermal water spas, many of which are supplied with water bubbling up from the geothermal activity from Monte Amiata. Many spa resorts offer a free option located outdoors (Bagno Vignoni, Bagni di San Filippo, Montecatini, and Saturnia) as well as indoor facilities.
Cooking Lesson
Just because the weather is not cooperating with your holiday plans don't mean that there is nothing left to do indoors. One of our favorite options when the weather outside is "frightful" to settle down in the kitchen with a new Italian recipe. It becomes even more enticing when the chef will come over to your vacation accommodation - and setting up in your holiday kitchen. No driving! Check out this link for a few more options.
Museum Hunting
This is the perfect opportunity to take advantage of the vast selection of museums available in the city centers, especially Florence and Siena which have lots of fun places to explore. Normally one would just visit the main museums, but with inclement weather you have the perfect excuse to browse one of the interesting places located off the normal tourists itinerary.
Our last idea? We are always up for sitting in one of our favorite cafes and sipping a hot chocolate, cappuccino or cup of tea, with an excellent selection of pastries.