Is this you?
I will be in Tuscany in the coming weeks and want to buy gifts for family and friends to bring back home (as well as for myself). What are some suggestions to the best gifts to get from Tuscany?
If it is, then read on for our suggestions!
1. Wine, of course!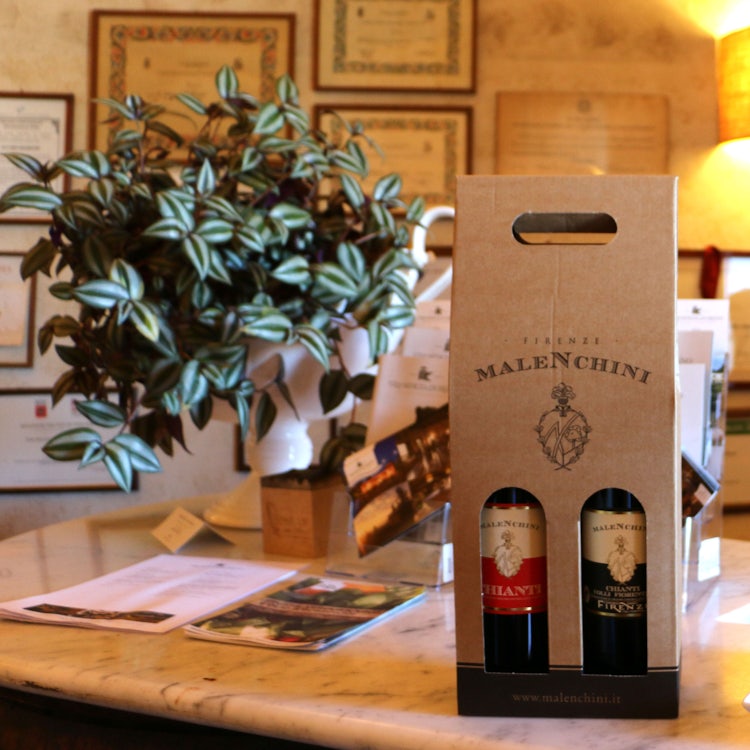 At the top of the list is Tuscany's main perfect "gift", WINE. From Chianti to Brunello, the entire region produces both magnificent reds and whites, many of which you might not find back home. From aged and bold to light and young, you'll find something for everyone. Large and small producers all work alongside creating some of the best wines in the world, and a bottle or two are a perfect gift for yourself or friend, whether you or they are new to wine or a long-term collector.... or "drinker"! ;-)
Where's the easiest place to buy wine? The easiest might be to visit a large wine shop in Florence, such as the Piazza del Vino (which also offers wine tastings as well as lunch/dinner tasting menus) and has wine from not just Tuscany but from all over Italy.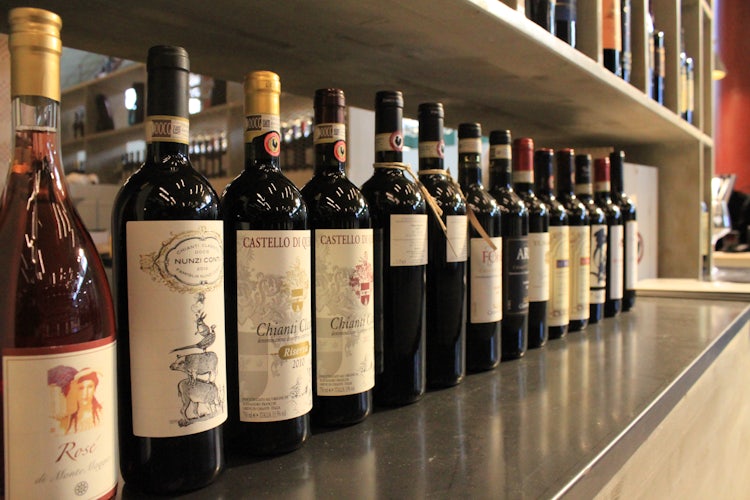 The next best place in Florence is at San Lorenzo's indoor Mercato Centrale, on the top floor, where you'll find the wine shop for the Chianti Classico consortium. It carries all of the wine labels that are part of the association so if time is limited and can't go around all of Chianti, you can head there to taste wines and then buy on the spot. They can help out with shipping wine home as well. This shop is limited to Chianti Classico wines.... so if you want wines from across Tuscany, you'll need to head to other wine shops (called "enoteca" in Italian) in Florence to search out other wines. That's why I like Piazza del Vino since you can find many Tuscan wines, although it is not in the center of town.
If you have time during your travels, enjoy wine tastings across the entire region... and buy wine directly at the wineries you visit! You can, of course, carry wine back with you when you go back home but depending on where home is, there might be physical as well as commercial limitations on how much you can take back. Read this article for more details: the ABC's of taking wine home.
2. Foodie Favorites: Cheese, Truffles and Olive Oil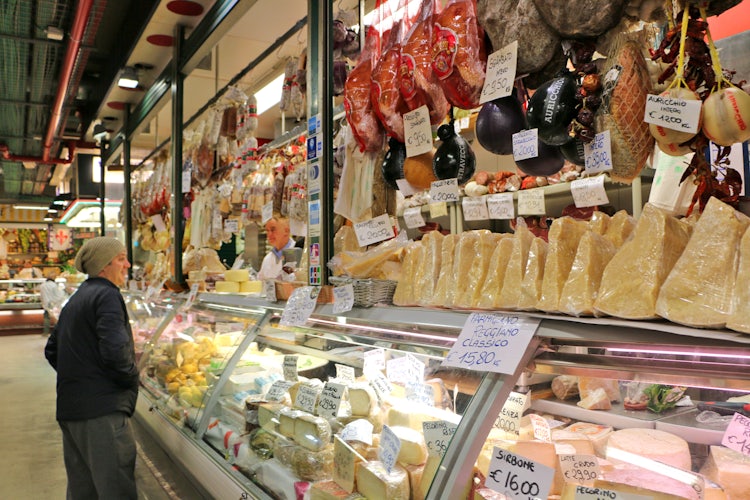 Tuscany is heaven for a "foodie"... and that's anyone who loves to eat good food! From fresh and aged pecorino cheeses to local cured meats such as finocchiona and fresh truffles - or truffle infused olive oil - you'll want to take some back, whether to horde for yourself or to share!
First, read a bit more about these local food favorites: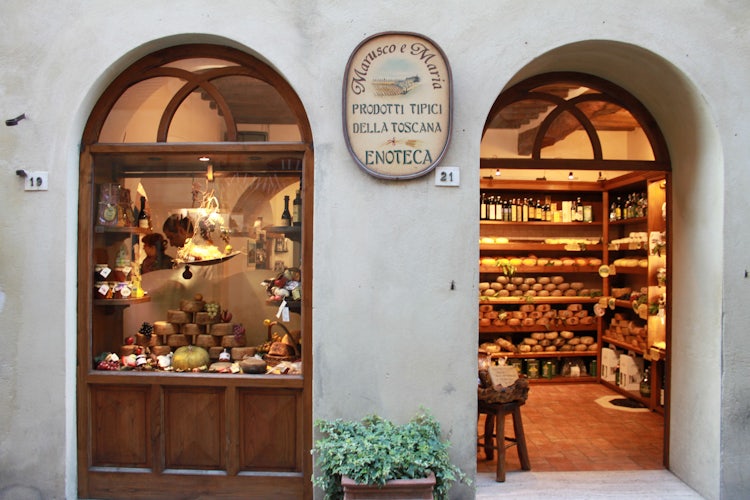 Where to buy pecorino: if you're exploring the Val d'Orcia, I suggest you head to Pienza where you will find several large cheese shops along the main street inside the tiny historical center who can package your cheese under vacuum-packed plastic to make it travel better with you. We always end up at Marusco and Maria buying an entire round of the semi-aged pecorino cheese to bring back home, my favorite! We ask it to be cut into halves and each vacuum packed, that way it lasts fresh longer.
Some other shops you can visit in Pienza and nearby:
Where to buy some truffles: First, if you're looking to enjoy some delicious truffle dishes, head to the Hotel Porta Rossa (via Porta Rossa, 19) in Florence. The Savini Tartufi restaurant inside offers a truffle tasting starter to get your mouth watering for the rest of the courses. You can buy Savini Tartufi products directly at the restaurant, as well as on the top floor of the Central Market. Their central market stand "Il Tartufo" offers a chance to do a tasting of more items spending less, so that you can get a chance to try out the many options of truffles... for instance, do you know the difference in white and black truffles? Once you taste both, you'll discover your preference.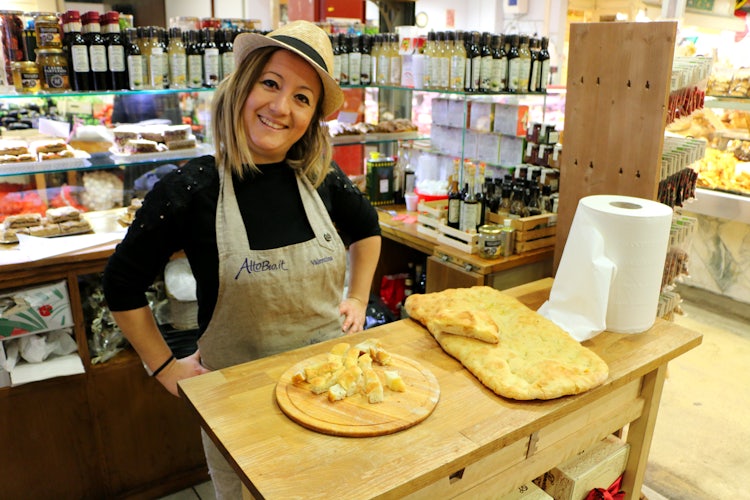 On the ground floor of the Central Market in Florence (as opposed as to the top for Savini), you can also find a small shop called AltoBio dedicated to truffles (as well as balsamic vinegars, another great gift to take back home, even if not from Tuscany!) We discovered it when we did this this Art & Food tour and enjoyed the many tastings of the truffle-infused oils and spreads they had. It was a great and enjoyable way to explore the city and food. To find the small shop, look for the biscotti shop first - it has about 20 different types of biscotti. The truffle shop is right in front of it!
Where to buy olive Oil: This is both an easy and hard question. You can basically get great olive oil everywhere in Tuscany, as long as you don't buy the cheap stuff at the chain supermarkets. If you're out and about and visiting wine estates that also produce olive oil, ask for tastings of their oil as well. If you love it, buy it there! It won't be cheap but it is the good kind you can use raw on salads and veggies and enjoy back home. Once you have a direct contact, you can always order by email or online knowing what you'll get.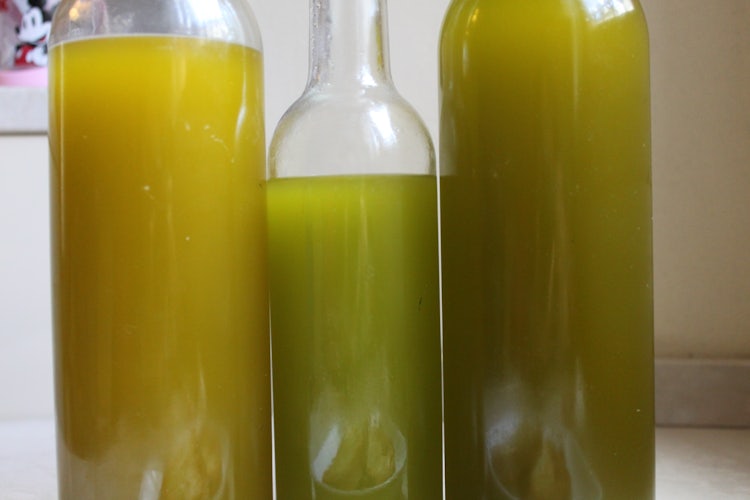 If you want a special flavor added, such as truffles, then it is best you look for those at the shops that specialize in truffles, check the ones mentioned above.
Make note that Tuscan olive oil will taste different from oils from other Italian regions. This is because the olives grown in Tuscany are different cultivars and the mix of the oil is made from various mixes of types of olives. An oil tasted and bought in Liguria tastes very different than one in Tuscany, so if you enjoy Tuscan oils, make sure to buy some here!
3. Ceramics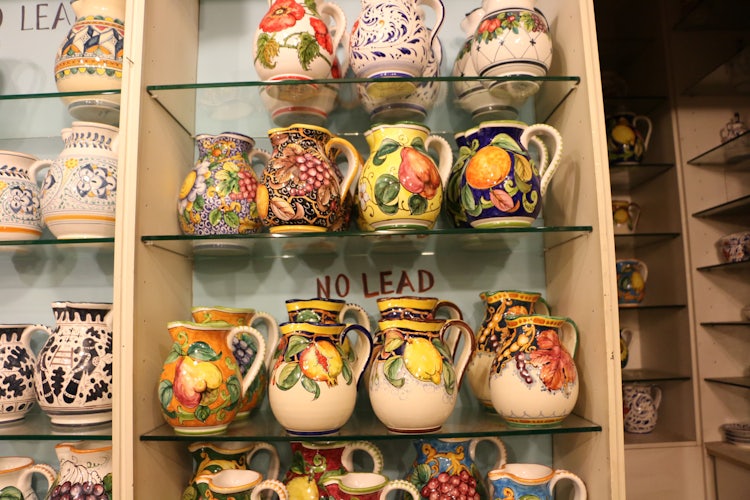 Ceramics in Tuscany have a long tradition, in particular, around Montelupo Fiorentino and Impruneta as the two areas closest to Florence. Porcelain, a fine relative of ceramics, also is quite famous in Florence with the Ginori factory in Sesto Fiorentino.
Ceramics, like wine, are delicate to move around. But if you're looking for the perfect gift that will last a lifetime with memories of your time in Tuscany - or to give a very special wedding gift to a family member - then look no further! Consider a large platter, tea or coffee set or whole table collection. While they are in investment, they will be high quality and last a long time. The shops and producers I've met have always seemed happy to work with you to create something unique; if you were to not find exactly what you're looking for, many can design on commission for you... and will take care of shipping it home to you!
To better plan your itinerary - and your shopping, as it is best to buy local - so mark the areas known for their ceramics:
Impruneta - Montelupo Fiorentino - Sesto Fiorentino - Trequanda.
While these other towns have in the past produced ceramics, their large-scale production has mostly stopped and while you can find a few shops, most no longer produce:
Anghiari - Asciano - Borgo San Lorenzo - Carmignano - Montepulciano - Montopoli in Val d'Arno
If you're also looking to plan your time in Tuscany with ceramics and the history of ceramics in mind, you could plan to visit the towns mentioned above. They have created a Tuscany Ceramics Pass that will give you special entrance fees and more when you visit the region following an itinerary based on the history of ceramics. Check out Ceramica in Toscana for a list of museums you can visit, many with their section dedicated to their history of ceramics production.
If you want specific shop recommendations, take a look at this list from SlowTrav or my recommendations on these ceramics shops in Florence. In these times of uncertainty regarding travel, you can still order online and get things at home like the items seen here below by the Ceramiche d'Arte Parrini company who hand creates and paints all of their ceramics.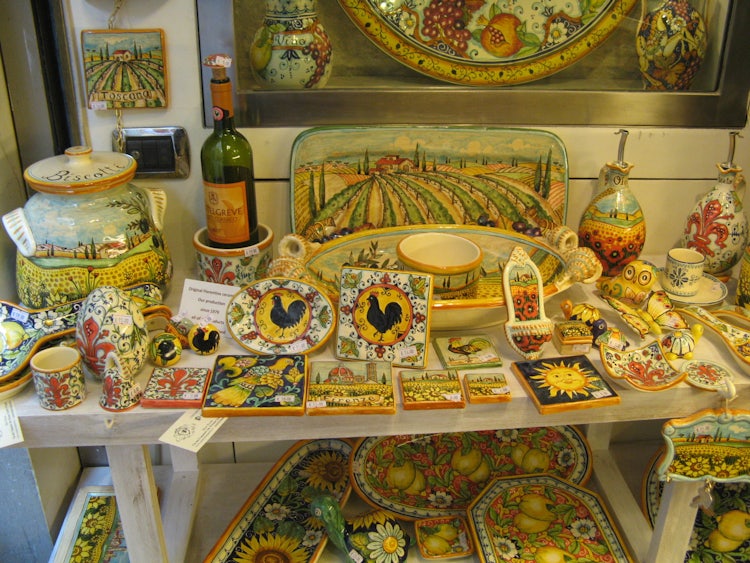 4. Leather
Leather in Tuscany used to be produced in the main center sitting atop rivers, from Florence to Pisa. But the production of leather is quite a "smelly" process so it has not been longer tolerated within the city limits in Florence for many, many years.... so most of the production has moved out down river, concentrated mainly around the town of Santa Croce sull'Arno.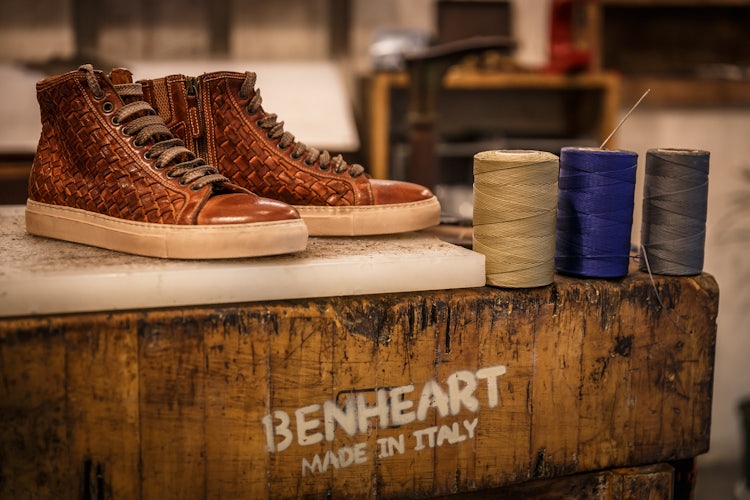 You will still find many shops in Florence with "made in Tuscany" leather products, from shoes to purses to jackets and belts. The hard part these days is finding them among the many vendors selling items made in Italy but with non-Italian leather. Make sure to stop and ask questions of how the items are produced, who makes them, how they are made. A good seller can sell you anything but you'll be able to tell from their answers whether you're getting a locally made, hand crafted item or a more industrial one. Artisans that make their product are proud to show them off!
You have to be a good hunter as well as patient... but you can also go to shops where we know they use Italian leather (if not Tuscan leather) for the best quality, with many handmade items made to last for many, many years.
In Florence you can start with these shops. I was really impressed with the quality of the Benheart items and talking to Ben am amazed at the passion and work behind all their works and designs.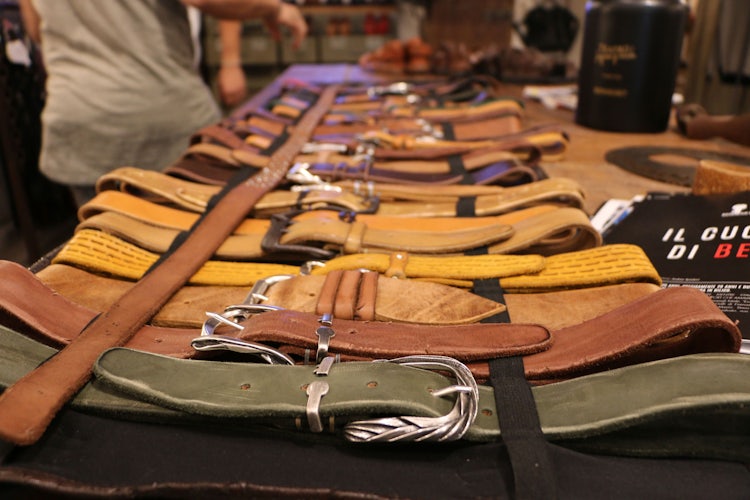 If you're particularly interested in jackets, I suggest heading west out of Florence toward Montespertoli to visit the Latini brand outlet, which supplies many high end department stores in the US and other countries. The family-owned business has over 40 years of experience, the quality is high end and collections are classic yet with a modern look.
If you're interested in bags, then just outside Florence you can visit Piero Tucci. If you're interested in learning about and seeing their workshop, I suggest contacting ahead of time to set up a visit.
5. Souvenirs reflecting local traditions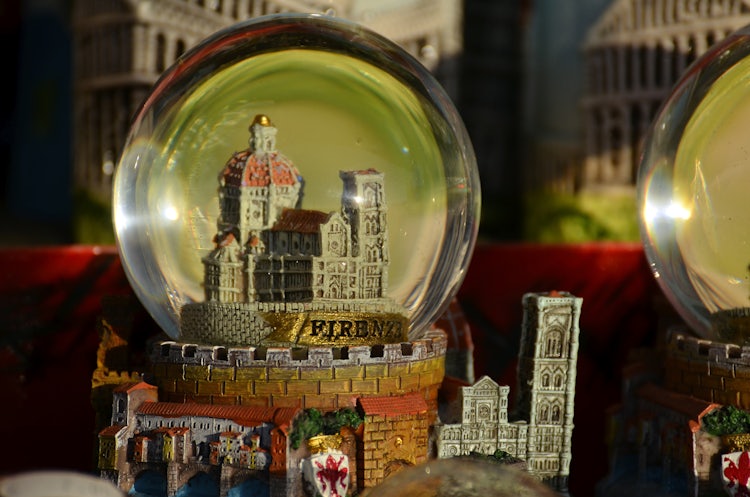 While most times you want to stay away from "tacky" souvenirs, it is also fun to buy one that will forever remind you of your travels through Italy. Plus there are also tasteful and useful souvenirs that will be greatly appreciated, from shot glasses to mugs, that you can find from each place you visit that will form part of your memories of your vacation.
In Tuscany, I suggest looking for a souvenir from the town that particularly represents it. The easiest and most obvious is a small replica of the Leaning Tower when you're in Pisa. You won't find usually be able to find them elsewhere so you have to go there to get them. A Leaning Tower can be solid and elegant carved in marble and can be found in all sizes in Piazza dei Miracoli in Pisa as well as inside a snow globe, on a decorative plate or even a modern poster.
The same goes for the cathedral dome in Florence, the Duomo. You can find it on mugs and platters of all types, as well as umbrellas designed to look like the Duomo when opened -- it will be fun to go through Florence searching for the one you like best.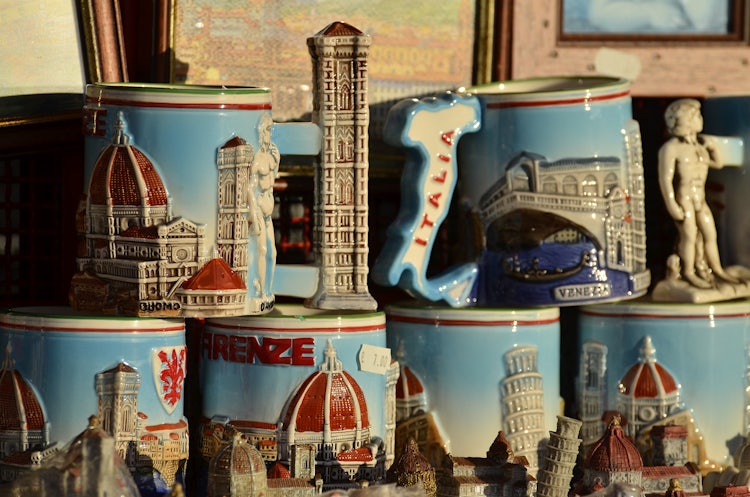 So what other iconic symbols to look for? In Pisa, the Leaning Tower is the main one but in Florence aside from the Duomo, you will also find the Ponte Vecchio and Palazzo Vecchio are both important symbols of the city. You should also look for the lily or "giglio", which is the emblem for the city. You'll see it on flags and other city logos as you explore the city.
In Siena, I would recommend looking for items connected to the Palio. Of course, everything you find will be divided by contrada, so you'll have to decide which colors or animal you like best and want to "cheer" for. If you're visiting Siena during Palio time (anytime from June through end of August), just make sure to read our notes on how to best enjoy the Palio, particularly how to respectfully purchase and show these items while there so that you don't walk around with the wrong colors into the wrong contrada (that almost sounded like a warning against gangs, didn't it?).
In Lucca, if you or your family is religious, you will appreciate buying a replica of the Holy Cross while in San Gimignano you will appreciate any souvenirs with the famous medieval tower skyline (I bought some beautifully embroidered kitchen towels with the skyline a few years ago and the recipient framed them instead of using them :D ).
How about you, what have you bought in Tuscany that reminded you or still remind you of your travels through Italy? Share below!