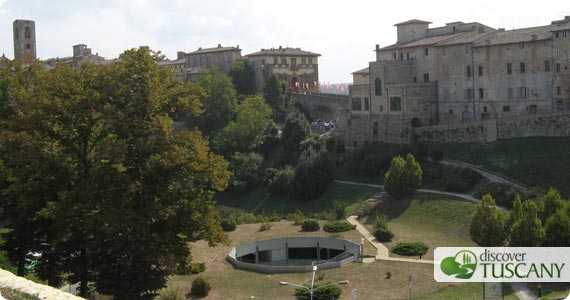 When we visited Volterra last year, we passed by Colla Val d'Elsa which seemed to be a beautiful medieval town. We didn't have a chance to stop then to visit it, but this past weekend, taking advantage that we were in the area for the medieval fair at Monteriggioni we decided to spend a day exploring Colle. It was a very pleasant discovery.
Colle Val d'Elsa is about 15 minutes from Monteriggioni which is where we were staying, right below the castle at the Residence La Rosa. The residence is very nice and small with only a few rooms and two apartments. We got the small apartment for 2 nights. The place is very close to Monteriggioni but being between the castle and the Firenze-Siena roadway took away from some of the tranquility we were expecting to find. The owners, father and son Aldo and Paolo were welcoming and nice, offering us a bottle of wine they produce on the farm.
We had no problems finding parking once we arrived in Colle, there were several parking lots right below the historical center (since Colle means hill you can clearly understand the old town is foun on a hill). The modern part of the town spreads out in the surrounding valley.
We followed a path from the parking lot up toward the Porta Nuova, or New Door, that guards the city's entrance from Volterra. Imposing, with two large round towers and medievals walls to the side and a moat! It seems we have stepped back in time but we are brought back to our time as a car comes out of the medieval door ;-).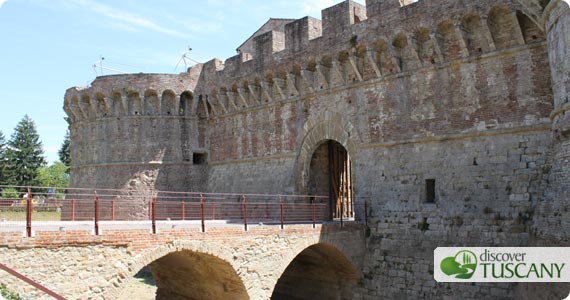 Once we enter through the gates we find ourselves in the first section of the old town called Borgo and as we walk along the main street our suspicions are confirmed: this is really an undiscovered treasure, clearly well maintained and conserved. It is small but well organized to welcome visitors, with several maps and informational signs throughout, public restrooms near Porta Nuova and access for disabled persons.
As we walk and pass numerous medieval and Renaissance palaces, we notice many of them still display the emblems (and a small plaque indicating the name) of the important families in the city that have made up its history. The town is full of history, its strategic position made it important for both Florence and Siena to possess during the times of warfare between the two cities. The town is well know for the famous battle of Colle (unfortunately no English version yet).
At the end of the town is the Renieri-Portigiani palace that displays a large Medicean emblem and which is now seat of the city government.
From here starts the second part of the old city, the "Castello" or Castle, built on a nearby hill and connected today by a wide stone bridge (called ponte del Campana, or Bell Bridge) but which back then represented an ulterior form of defense.
Walking along via del castello you end up the Bastione di Sapia, a bulwark from which you can enjoy a large panoramic view of the city below and of the surrounding countryside. It is said that Sapia Salvani, a noble woman from Siena, observed from this terrace the defeat of her own fellow citizens during the battle of Colle. In the Divine Comedy, Dante has us find her in Purgatory, and a sign on a nearby building reminds us of these phrases.
There are many sites of interest and we soon found out ourselves that we had underestimated the time we needed to spend there. A few we would like to signal out are: the tower of Arnolfo located toward the end of via del Castello where Arnoldi di Cambio was born, likely Colle Val d'Elsa's most illustrious citizen; the Archeological Museum and the Crystal Museum which we will have to return to Colle to visit. The city, we soon learned, is the Italian capital of crystal and almost all Italian crystal objects sold worldwide are produced here. There are many shops in the town selling precious crystal objects. We were able to resist the shimmery light from those windows on this occasion.
We were instead attracted by the coloful window at Manufactum , where the owner, Doriana, was painting the ceramic items – very beautiful – that she creates along with her husband. We purchased a few souvenirs but there were various items that attracted our eye – on our next visit we will surely stop by again 🙂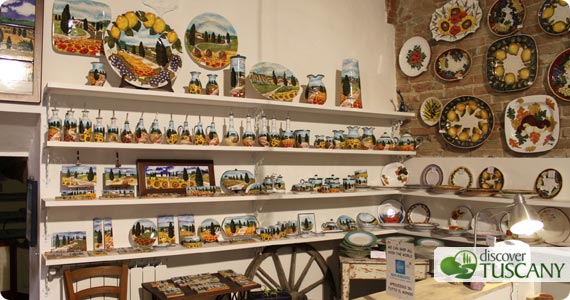 Happy note for our lunch: we discovered what turned to be an excellent restaurant, il Frantoio , located within the Castle section. Its light lunch fixed menu was a good deal (18 euros), while the à la carte dishes prices might have been a little bit more compared to what other restaurants and wine bars we passed along the way advertised but the setting was suggestive, both elegant and rustic at the same time. Above all, the presentation of each course was impecable, serving modern interpretations of common Tuscan dishes and offering their own fresh bread and sauces. Service was excellent: it is always a pleasure to eat at a place where you feel they care about making a good impression on their clients 🙂
We hope to soon have a more detailed article on Colle val d'Elsa, in the meantime we highly recommend a visit to this small medieval town which is often overlooked but which has a lot to offer!
About Stefano Romeo
Stefano is a native from Florence but with a quarter of Sienese blood in his DNA and many years living in Pisa is a true Tuscan. He is still learning that his homeland has many corners and hidden gems he has to discover, ones he particularly enjoys seeing from the saddle of his bike.