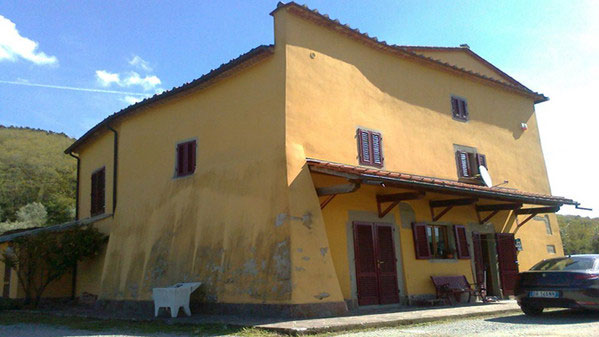 On June 17 the grand opening of a new agriturismo occurred near Serravalle Pistoiese in Tuscany. The fact is newsworthy because the farmhouse is the site of a very special social project where 12 homeless will have the opportunity over the next 12 months to work and pick up the necessary skills as well as confidence to start a new life off the streets of Milan and Pistoia.
The farm actually belongs to a couple from northern Italy who have dedicated their time in the past to social and volunteer projects. They have opened up their over 500m2 rural home from the 1400s to the Association "Clochard alla Riscossa" (Homeless to the Rescue) to be the site of this very interesting social project. The farmhouse offers accommodation in 5 rooms in the green hills of Serravale Pistoiese near Pistoia and just 3km from Montecatini Terme: just off the beaten track of most Tuscan itineraries but very close to Florence and Pisa making it perfect for visiting the region.
Double rooms are 40 euro per night with buffet breakfast included. During summer, full board per room (lunch and dinner included) costs 60 euros, a very good deal in Tuscany!
In this next year, the twelve chosen will be responsible for taking care of the farmhouse also called Clochard alla Riscossa, its orchard, garden and the farm animals. They will receive room and board as well as monthly pay for their work, with the aim that within the year they will be financially independent and in the condition of reintegrating themselves into society.
The association was founded by Wainer Molteni, a sociologist that up until last winter lived as as a homeless man himself and who now works as a consultant to the city of Milan in projects to help socially reintegrate the homeless of the city. The farmhouse project in particular is being funded by an anonymous benefactor from Milan, who will sustain the project until it becomes financially independent.
After the year ends, the 12 will be substituted by another group of homeless which will continue the project of giving today's "invisible" members of society the chance to re enter it through their own hard work and will.
We believe it to be a beautiful, praiseworthy initiative! What do you think?
For additional information, see the Association's Facebook page or website Clochard alla Riscossa.
The farmhouse is located at:
Clochard Alla Riscossa
via Marlianese, 210
51030 Serravalle Pistoiese (PT)
Mobile: 340.569.8217
Email: info[AT]clochardallariscossa.org
About Stefano Romeo
Stefano is a native from Florence but with a quarter of Sienese blood in his DNA and many years living in Pisa is a true Tuscan. He is still learning that his homeland has many corners and hidden gems he has to discover, ones he particularly enjoys seeing from the saddle of his bike.