Last time I guided you through destinations different from sea resorts and coast locations, leaving apart one of the most beautiful and interesting area of Tuscany: Garfagnana.
Set in the province of Lucca, amidst the Apuan Alps and the Appennines, Garfagnana features such a varied and rich landscape that has no equal in Tuscany: the Serchio river – and its affluents – runs all along the area, giving life to green rolling hills and valleys, looking on to breathtaking views. The Apuan, instead, offer rocky mountains and woody slopes to exlpore and climb.
Suggesting itineraries in Garfagnana isn't ever an easy job! There are so many trekking and climbing paths, ancient villages with old and mysterious castles and natural parks all deserving more than just a quick visit, as well as traditional restaurants and welcoming accommodation that I personally feel a bit lost!
The Apuan Alps: thrilling itineraries!
What I'd firstly recommend are the Apuan Alps: you should obviously be in the mood for a sport vacation since this massive Tuscan mountains are rich in trekking and climbing itineraries for both skilled and beginners, so don't panic and choose the right path!
Monte Forato, Panie – among which there's the renowned mountain-top Pania della Croce, one of the most marvellous view of the region: if weather permits, you may even see the Tuscan Archipelago, Corsica Island, Mount Amiata and all the Tuscan coastline till Liguria. While you're climbing a steep ride or feel vertigo coming, just think about the restful, peaceful and panoramic up-mountain waiting for you a few meters above! Besides Pania della Croce, there's also the Pania Secca deserving a climb (with the Omo Morto – Dead Man – profile closeby). Just to mention a few more itineraries, Monte Matanna, Sumbra and Pisanino – the highest peak of the Apuan.
Vagli Lake and the ghost village
There are a few more itineraries that winds their way through luxuriant forests and quaint old villages – like Castelnuovo and Castiglione di Garfagnana – that are really worth a visit. One of those is the path passing by Vagli Lake, an artificial basin created by raising a 90 meters high dam. What is actually interesting is the Ghost Village – Fabbriche di Careggine – laying deep on the bottom of the lake: every 10 years the dam is emptied for maintenance and the village reachable and open to visitors, offering a suggestive experience.
Stazzema
The other interesting itinerary I mentioned above winds its way through several pretty locations, among which Stazzema, a nice old village that seems hang down the mountain, well-renowned – unfortunately – for a terrifying episode of the Second World War, a nazi-massacre known as Eccidio di Sant'Anna, during which more than 500 people were brutally killed. It has recently become the set for the movie inspired to this episode by Spike Lee: Miracle at Sant'Anna.
Grotta del Vento
Least, but not last, the Grotta del Vento, a wonderful cave featuring such a rich variety of morphological aspects that visiting this place is always an endless surprise. The itinerary starts from Gallicano and passes through Fornovolasco, an ancient village founded by miners of the close regions that came here for working iron, where it's still possible to see the mins stone arches.
The Grotta del Vento – literally Wind Cave – is a continuous and never-ending succession of galleries, smaller caves and calcareous formations, and offer 3 different long skilled tracks for both children and grown-ups, experts and beginners.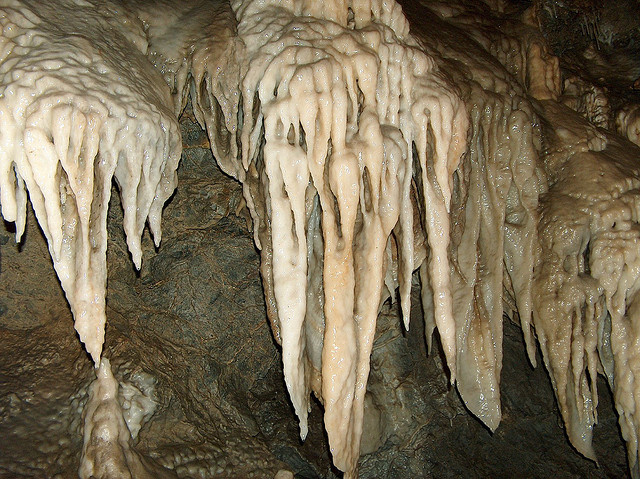 Orrecchiella Park
Turning our backs on Alps, there's a more restful destination in Garfagnana I'd like to talk about: the Orecchiella Park. It's a wide natural protected area housing a rich variety of animals that you may see while relaxing under the Tuscan sun or taking a walk amidst the park: wolves, mouflons, deers and golden eagles. It's a site suitable for families with children also, since there are several easy paths where you may push strollers and big green areas where your children may freely play and run (don't worry, you'll see animals in the distance only and some – like brown bears – are safely enclosured).
The Devil's Bridge
Whether you've ever heard about the Ponte del Diavolo – Devil's Bridge – or not, you should absolutely see it first-hand. Situated close to Borgo a Mozzano – it crosses the Serchio river; legend has it that the carpenter, who was late in finishing the bridge, came to a pact with the devil: the bridge was completed in just one night, for the soul of who would have crossed the bridge first.
And finally…food!
When touring marvellous places – especially if walking and trekking across nature – the common saying Appetites comes with eating would be more meaningful it turned into Appetites comes with walking! And what a better place than Garfagnana for delicious feasts (what a fitting oxymoron!), quick snacks or complete dinners peacefully spent with friends and family for tasting the local cuisine? Dishes in Garfagnana are traditionally poor and simple, since there was no time in the past for cooking elaborated recipes. The most typical products are savory cheeses and cold-cuts, mushrooms – especially porcini-, fowl, chestnuts – and sweet wheat – as well as jams and fruit conserves. What you usually find on tables are soups – vegetables and bread soup – spelt and cornmeal mush. But if I were you, I would go to a restaurant and order the trout. They cook it as you prefer, but it usually comes fried, in a tomato sauce or cooked onto the oven with potatoes…Marvellous!
Enjoy the trip…and the food as well!
About Chiara Ricci
Chiara was born in Pescia, where the province of Pistoia borders with Lucca, has lived and studied in both Florence and Pisa for several years. Traveling is her second passion... Her first one? To swim, but up to now it's still impossible for her to explore Tuscany and the world swimming so she has to use other means!