There's another white wine in Tuscany that deserves to be focused on: Il Bianco di Pitigliano, or Pitigliano White Wine.
Produced in the Grosseto area – the name comes from Pitigliano, a quaint village set at an easy driving distance from Saturnia, Orbetello and Mount Argentario – this wine has gotten the DOC prestigious quality award and is known all over the world as one of the most delicious white wines in Italy.
Pitigliano, a charming hill top town of Tuscany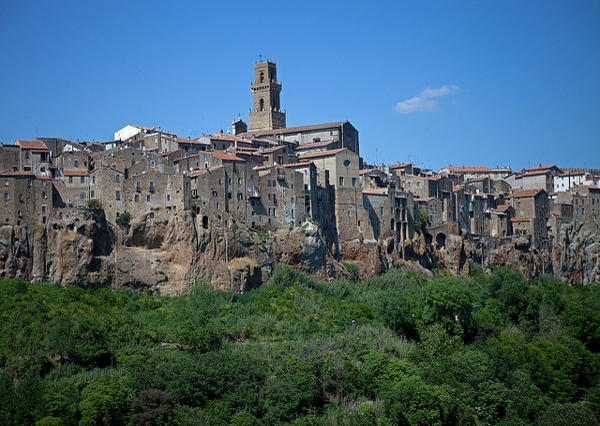 Pitigliano is a place where time seems to stand still: rising above an amazing outcrop of tuff, with houses, alleys and quaint buildings carved into this rock, it has an amazingly contrasting aspect that immediately stands out. Its medieval look perfectly contrast with the elegance of the city center Renaissance buildings. What has always bewitched me is that all the town seems to rise from the rock as it is, with each element – houses, streets – appearing as part of the hill itself…simply wonderful! I need now to open a very – promise! – short parenthesis: the photo above remind me of Michelangelo's Prisoners preserved in the Accademia Gallery in Florence…both the town and the sculptures seem to rise from the substance, tuff in the first case, marble in the second… Don't you think?
It's located in the Maremma area, so if you come from both North or South you'll easily get there. Immersed in a marvelous context – the Maremma and its natural environment, Saturnia with its famous natural thermal waters situated closeby, the silver coast and Capalbio located in front of at a less than 50 kms distance – Pitigliano is a quite popular destination that still offers an awe and peaceful place for resting and delving into local history.
Named the Little Jerusalem, Pitigliano has been housing a historical Jewish community since ages, that has always so perfectly fitted into the social context of the town to have its own synagogue, dating back to the XVIth century and recently restored. There's an interesting itinerary to explore, called the Jewish Itinerary that includes the Jewish Museum, the Synagogue and the Ghetto. It's a real step into centuries of local history and traditions, where you'll be invited to explore all the sacred places that the Jewish community created inside the tuff stone – all the surrounding area is called Tuff Stone Area for the massive presence of this volcanic rock.
These places marked daily life, customs and habits of the community: you'll have the chance to visit where they used to produce the famous cooked wine – pasteurized wine – where they slaughter animals according the traditional rules, where they made bread, and so on.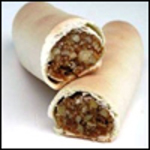 There's also a nice shop where you may buy the renowned sfratti, typical biscuits of Pitigliano made basically with honey, anise and walnuts. Actually, there's an interesting tradition revolving around these biscuits that may give you an opposite idea of what I've previously defined a well-integrated community: the name sfratto comes from the the stick used for knocking at Jewish's doors and intimating them to leave their houses. This may be dated back to the XVIIth century, when Grand Duke of Tuscany Cosimo II dè Medici decided that all Jewish from Pitigliano and the surrounding towns had to leave their homes to move to the ghetto in Pitigliano. Today, the sfratto is a delicious traditional recipe of the town that still reminds us of how this community is deeply rooted into local traditions and history.
One of the Most Beautiful Villages in Italy
Pitigliano has also been included among the Most beautiful Villages in Italy for the peculiarity of its old center – an association aimed to preserve and maintain off the beaten track towns and villages from neglect and natural decay.
Pitigliano is a place that has always fascinated me: originally an Etruscan settlement – you may also visit the Etruscan tombs situated just below the civil buildings and the archaeological sites closeby, dating back to Romans and Etruscan eras, among which the Archaeological Park Tuff – it's a sort of place where different cultures coexist and has been living side by side since centuries. This can awfully back the hope up that maybe, in a very faraway future, the world would definitely be better! I've always thought of Pitigliano as a living example of what diversity may give life to when people aren't concentrated on fighting it.
A taste of Maremma
Leaving our philosophical thoughts aside, don't forget we've just head towards Pitigliano for its white wine. An itinerary dedicated to food & wine could not obviously dismiss wine cellars for tasting local dishes and sipping a glass of good wine. The Maremma offers tasteful recipes made basically of meat – like wild roar – cold cuts, savory cheeses, vegetables soups but also fish. The closeby area is renowned for red wines also – Morellino di Scansano just to name one – so you'll be definitely spoilt for choice among wines to pair with whatever dish you feel like to enjoy.
Back and south into the Maremma nature
Pitigliano is actually set in an ideal location for arranging a vacation that mixes the lush green nature of Maremma and southern Tuscany with quaint towns – like Sovana, Sorano and Scansano – archaeological sites, thermal destinations such as Saturnia and sea resorts like Orbetello that faces the Mount Argentario, a promontory of rare beauty and the sandy beaches of Castiglione della Pescaia and the southern Tuscan coastline.
About Chiara Ricci
Chiara was born in Pescia, where the province of Pistoia borders with Lucca, has lived and studied in both Florence and Pisa for several years. Traveling is her second passion... Her first one? To swim, but up to now it's still impossible for her to explore Tuscany and the world swimming so she has to use other means!