12 Places to Visit When Based in Siena
If you have decided to use Siena as your base, then you are getting going to enjoy the active city life of a town filled with traditions, folklore, incredible monuments and churches and a romantic atmosphere.
Accommodations in Siena?
Siena is an ideal base for exploring all of Tuscany, especially Valdorcia and the southern areas. Click here to find a villa rental, vacation apartments or hotel in or near Siena
In addition, you will be in an interesting position to visit so much of Tuscany, even if you travel with public transport you can still reach many interesting places on a one-day trip from Siena. We have compiled a list of places reachable by public transport in less than two hours from Siena and links to our articles about them. Look below for some useful information and links for getting around with public transport.
In addition to these cities and towns, you can also include a day of wine tasting with several itineraries that include areas like Chianti, Brunello, Montepulciano, Arezzo and Orica DOC.
Here are our 12 suggestions of day trips from Siena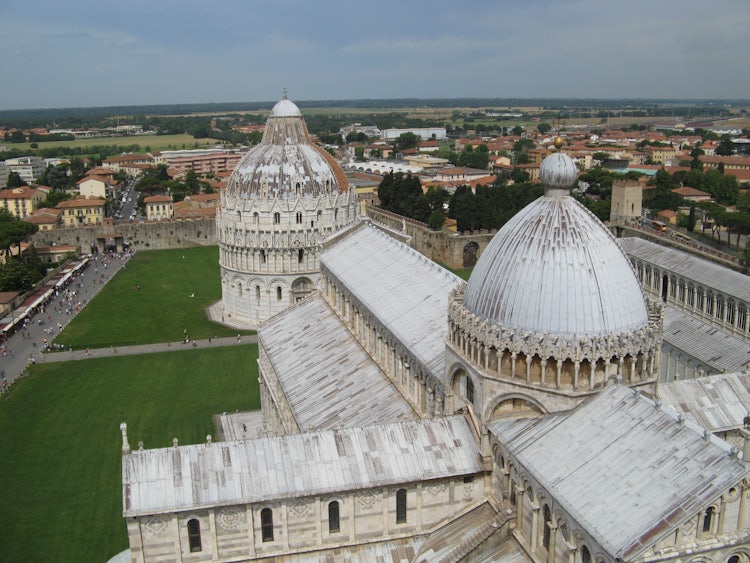 1 - Pisa
You can reach Pisa by train in 1 hour and 45 minutes. Trains run approximately every 30 minutes and you will need to change in Empoli. Leave early morning from Siena, walk around in Pisa, have lunch and then go see the Leaning tower at Piazza dei Miracoli before taking the train back to Siena in the late afternoon.
Read our recommendations for Pisa here.
2 - Florence
With a day-trip to Florence you will be able to visit the Uffici, walk over Ponte Vecchio and see the Duomo from outside. However as Florence has so much to offer, we do recommend to spend more than one day. From Siena you can get to Florence by either bus or train.
Visit our detailed site about Florence here.
BUS: Buses leave from Piazza Gramsci in the center of Siena. There are two different buses; Rapida (fast) and Ordinare (ordinary). The Rapida, line 131R, is a non-stop line between Florence and Siena lasting about 1 hour and 15 minutes. The Ordinare, line 131O, stops in two villages on the way and thus takes 1 hour and 30 minutes. The busses usually leave two times an hour and do have adequate storage space for luggage.
TRAIN: If you travel with small children you might find the train more comfortable as there is more space for the stroller and for them to walk around. There are two trains per hour, one is direct and takes you to Florence in 1 hour and 30 minutes. The other one takes you to Empoli where you will have to make a train change and the whole trip thus takes 1 hour and 45 minutes.
3 - Buonconvento
It is easy to reach Buonconvento by train and this village makes a good trip out of Siena. The trip takes around 25 minutes and trains leave approximately every hour. From the train station in Buonconvento you can walk to the historical center in just 5 minutes. While here in the area you can do some winetasting around Montalcino or even of the rather recent entry, Orcia DOC
More Information abuot Buonconvento here.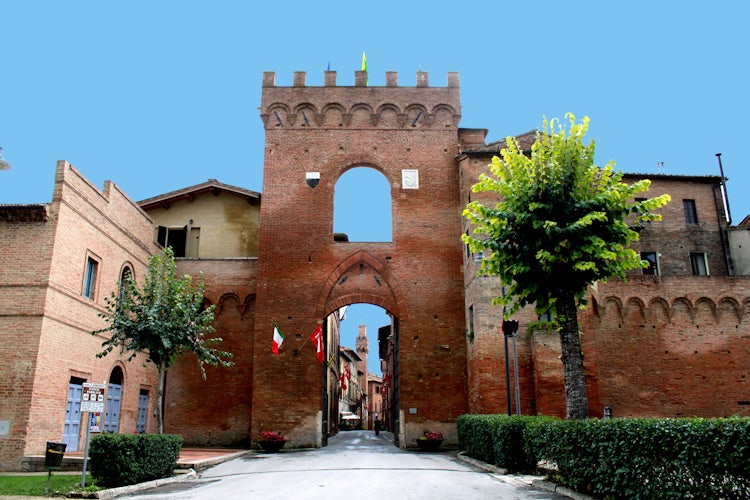 4 - Monteroni d'Arbia
There are several possibilities of reaching Monteroni from Siena. The train towards Buonconvento (see above) stops here as well as bus 112 towards Montepulciano and 114 towards Montalcino (see below). The train takes 12 minutes and the bus around 25 minutes.
Or you could walk to Monteroni d'Arbia, and hike a piece of the via Francigena, read how to here.
5 - Asciano
The charming village of Asciano can be reached in just 30 minutes and trains leave every hour. Get off at Asciano M.O.M (Monte Oliveto Maggiore) and you will be just in the center of the city.
Read our itinerary suggestion for Siena to Asciano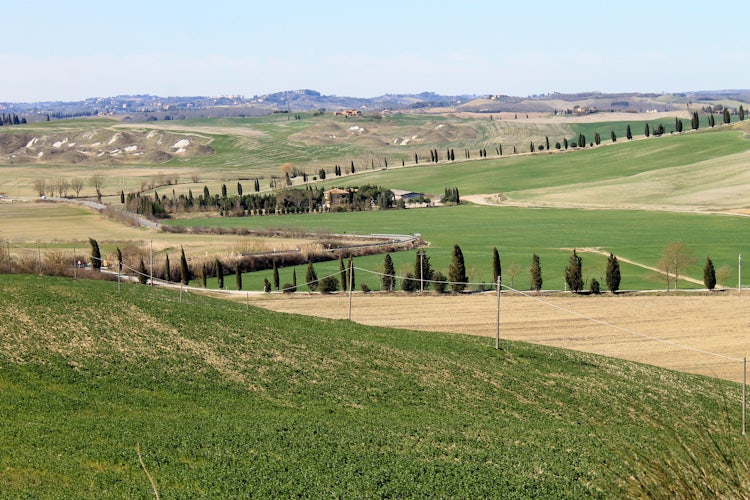 6 - Colle di Val d'elsa
This beautiful hilltop medieval city is best reached by bus. The Bus Ordinaria (131O) to Florence stops here, it takes 30 minutes and it leaves approximately every hour. The bus station is in the lower part of the city from where it is easy to reach also the historical center on the top of the hill.
Read about what to see and do in Colle di Val d'Elsa here.
7 - Rapolano Terme
Want to spend the day in the hot springs? Go to Rapolano terme – it's easy. You can reach Rapolano with either train or bus, the ride lasts around 40 minutes and both busses and trains leave approximately every one or two hour. The bus is number 107 towards Sinalunga and it leaves from the train station.
Read more about Rapolano Terme here.
8 - Monteriggioni
This beautiful castle town can be reached by bus from Siena. The bus leaves from Piazza Gramsci and the ride itself is just around 20 minutes, but you will need to walk the last kilometer to the castle - uphill. Catch bus 130 towards San Gimignano (leaves every one or two hours) and get off at Monteriggioni Scuola.
Read more about the castle here.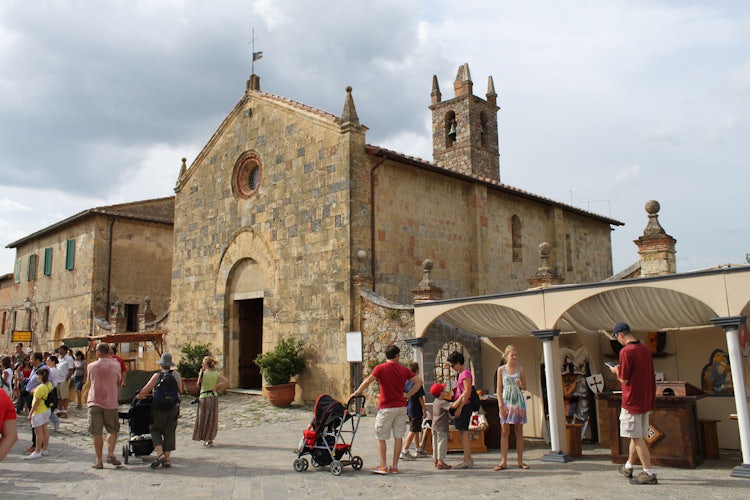 9 - San Gimignano
In one hour and 15 minutes you can reach the popular destination San Gimignano. The direct bus 130 leaves from Piazza Gramsci approximately every one or two hour (but not always so do check). Another option is to catch 131O toward Florence, get off in Poggibonsi and change to 133 to San Gimignano, adding around 15 minutes to your trip.
Read our recommendations for what to see and doo in San Gimignano here.
10 -Montalcino
Montalcino lies on a top of a hill. You can get there by bus number 114 in just one hour; however it does not leave very frequently. The bus is meant for nurses working at the hospital in Siena and mostly runs early morning and in the afternoon and has a lot more connections on weekdays than in weekends, on Sundays hardly any. Always check the time table for both going and returning before setting off.
Read about Montalcino here.
11 - Montepulciano and Pienza
As the train station of Montepulciano is located about 10 kilometers away from the historical center, we recommend taking a bus there. The buses are 112 (stops in Pienza on the way) or 139 (continues to Chianciano). The trip lasts approximately 1½ hour. In general buses are few, and in the winter it may be hard (or even impossible) to find a bus taking you back to Siena, so we recommend only to go in the summer (June-August). However, do always check the time table before leaving.
Read more about Pienza and Montepulciano.
12 - Castellina in Chianti
Castellina in Chianti is best reached by bus number 125 which leaves from the train station. In the morning there is a bus at 7.35 and the next is at 11.20, but from then you will have a bus approximately every hour. In the afternoon there seems to be fewer busses (approximately every second hour), so remember to check the schedule beforehand.
Read more here.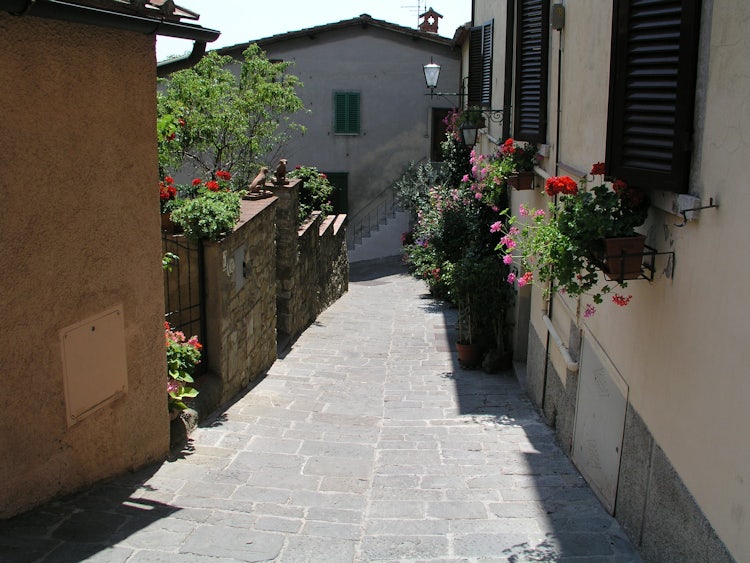 Enjoy your stay in Siena as well as its beautiful surroundings.
Useful information and links
In general we recommend that you leave Siena in the morning and return early or late afternoon as connection often are few after 7 pm. Furthermore, be aware that Saturdays and especially Sundays may have very few connections and that summer season has more connections than the winter.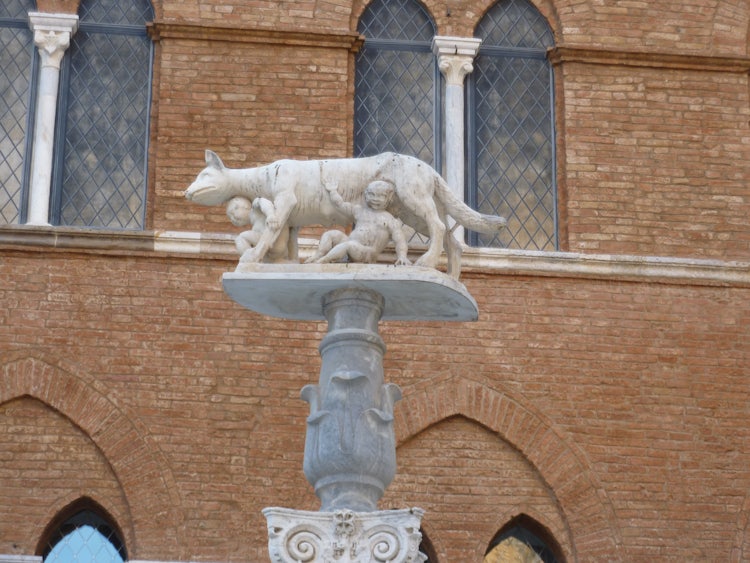 Buses:
Buses going out of Siena leave either from Piazza Gramsci in the center of Siena or from the train station (see below). Tickets can be purchased underneath the bus station or at the train station. For an updated bus timetable see here: http://www.busfox.com/timetable/
Trains:
The train station in Siena is situated about 2 km north of the city center. It takes around 15 minutes to walk and it is downhill. Alternatively you can catch a bus from either Piazza Gramsci or Piazza del Sale which will take you there in 5 minutes (e.g. number 3,9,10 or 17). You can search the train time-table here: http://www.trenitalia.com/trenitalia21.html. Tickets may be purchased at the station by the counter or in the machines.
Always remember to validate your ticket by getting it stamped in the machine either on the platform before entering a train or inside the bus as you enter it.