Free Entrance to Tuscanys Hot Water Springs
Tuscany is an Italian region with a high density of thermal water establishments. Several of these establishments throughout the territory are a much sought after destination for a relaxing vacation - the perfect addition to a holiday in appreciation of art and nature.
When we are constantly bombarded with stress, or we are tired and feeling lethargic, these are physical signs that our body is sending us signals that we need to slow down and relax.
Why Hot Springs in Tuscany?
A vacation at the thermal waters in Tuscany can remove you from the chaos of the city, the frentic rhythm of everyday life and gives you a chance to listen to your body and immerse yourself in a situation which encourages you to commune with nature. The great thing about the thermal water spas in Tuscany is that they are always close enough to make a day trip to a quaint medieval hamlet, a city of art or history or even a trip in the panoramic countryside very very easy.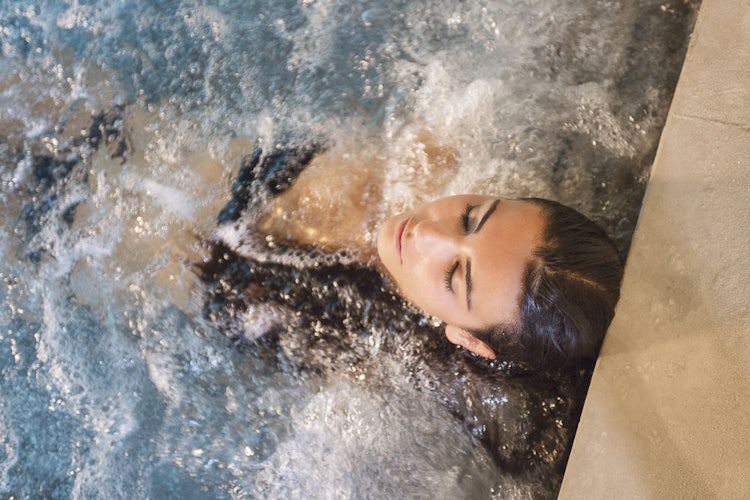 Free Thermal Water Areas
The hot water sprigs which have "free" access are essentially open to everyone. They will have specific opening hours but other than that they are open to the general public and many haveoptiona package deals which include many other services. You can enjoy a hot pool with naturally regulated waters, just lounging in the flow of the waters. The only downside to this is that often they are packed and sometimes that is not the ideal place for "relax".
In Tuscany there are several free thermal spas:
Bagni San Filippo, just south of the well known town of Pienza and only a short distance from the fascinating Mount Amiata, an area rich with Roman remains and was very active in the Renaissance period especially with Cosimo de' Medici
Bagno Vignoni is in the middle of Val d'Orcia, an area well visited for its healing waters both in the past and today. Located close to the picturesque town of San Quirico d'Orcia, this small borgo has a large pool which bubbles with warm water, and what sometimes seems like a cloud of steam rising above in the cooler weather which gives it a suggestive and romantic effect of this "bagno caldo". The free waters are located at the base of the hill before entering into the city.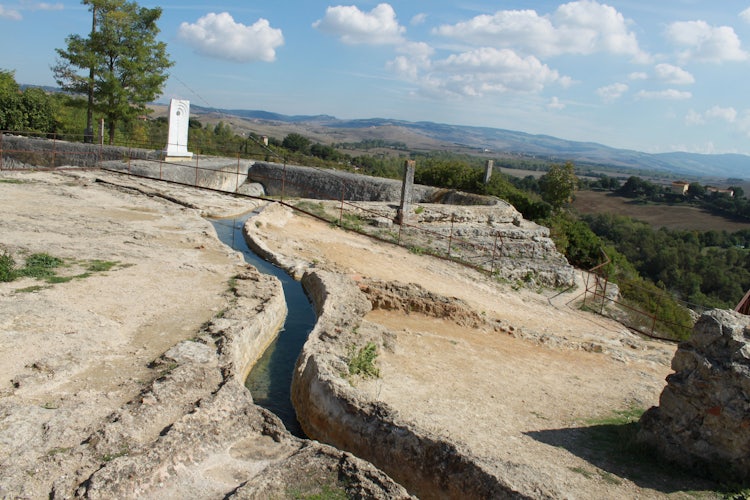 Le Terme di Petriolo is found in the province of Siena near Monticiano, a small town and castle that date back to 1189. This is an area which is rich with opportunity to relax and explore starting with the Palio at Siena, the towers of San Gimignano, the small town of Monteriggioni and let's not forget the 'myth' of King Arthur and the sword in the stone at San Galgano.
San Casciano dei Bagni is more in the center of Italy and closer to Umbria, well known for its pools of water and small fountains that transport you to another time especially with the particularly rural and picturesque landscape.
The Terme di Saturnia is located near the Maremma in Tuscany, between the Tuscan cowboys "butteri" and the blue waters off the Tuscan coast. Small pools of water in the hills that are connected with picturesque water falls which will delight and amaze. Especially beautiful in certain periods of the year when the sunsets are spectacular and paint the sky red.
Look for Special Offers
Though the free pools are beautiful and of course free, we strongly recommended that you take a peek at the numerous last minute offers and the special promotions that center around events in the area (this can include a soccer match, a motor race, a concert or sagra.) to get the most out of your experience with the Tuscan thermal waters.
The wealth of offers which the various hot springs publish make a vacation near or in the thermal waters less and less an occasion for the rich and more and more affordable for those families with children or those vacationing on a budget.
Advice on How to Plan an Affordable Vacation at the Spa
There are several spas which have an entrance fee, but can still be considered an excellent opportunity (price/quality):
Terme di Casciana in the heart of the hills around Pisa. Especially famous in this area is Acqua termale Mathelda, whose benefits are well documentd in history. Particularly noted for its exceptionally good thearpy for motor skill rehalibilitation, cardiovascular and respiratory treatment. The establishment in Casciana is just a short distance from the splendid walls of Volterra and the small town of Lari, noted for its rare beauty and excellent conservation.
HOW TO ARRIVE: Easily reached by car (use either A1 or A12 and then take the exit at Pontedera) or by train (the closest train station is Pontedera and from here there is a connection to Casciana), and if you are arriving by plane, the closest airport is Galileo di Pisa.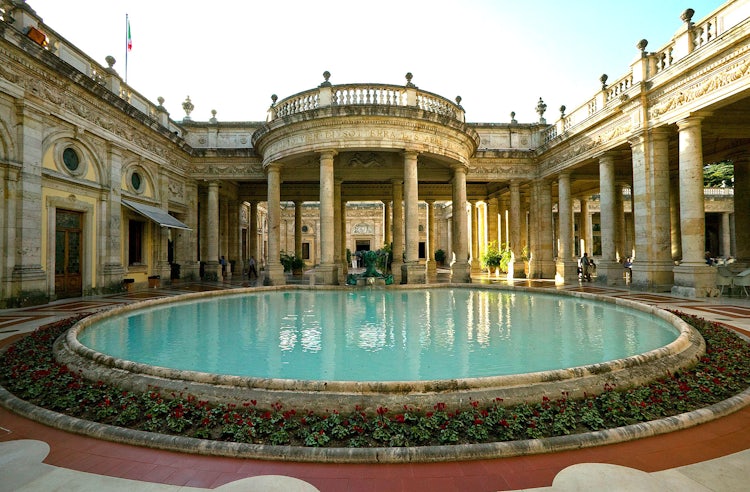 Perhaps the most mentioned springs in Tuscany are Montecatini Terme, synonymous around the world for good health and historically speaking, a well known tourist destination - even Italian legends like Giuseppe Verdi, Giacomo Puccini and Gioacchino Rossini were frequent visitors. Montecatini has several different offers including mud therapy, and mud bath therapy as well asmany other activities for health and relax.
Though famous in name, Montecatini is still a very economic offer, with less than 15 euros you can immerse yourself in the thermal waters. It is possible to add specific therapies including options with perfumed oils, personalized face or anti-aging masks or even an intensive anti-cellulite program all of which can last up to one hour.
If you prefer a bit more physical activity as opposed to just a beauty spa care, prices become even more interesting. Participate in water gym for 45 minutes, Hydrobike or even Yoga or Pilates (one hour for approximately 20Euro) Read here for more detailed information
HOW TO ARRIVE: The Montecatini Thermal Waters in the province of Pistoia is easily reached by both car and plane. In fact, you will find it especially enchanting to arrive by using the "funicolare" or cable car between the Montecatini train station and the historic center.
Another visit could include Chianciano Terme found at the base of Tuscany, and certainly an evocative scenery. Over the years it became well recognized for liver problems and hydroponic treatments. At the Terme di Chianciano the Parco Acqua Santa is open all year long and the cost varies according to the period however it still manages to keep the price down. There is even a carnet which will allow for 6 or 12 entrances at a discounted price. Children up to 12 years old enter for free.
Though for many this area is associated with doctor's recommendation for health care, liver treatments, beneficial drinking water and even sports rehabilitation there are many beauty care treatments that one can reserve, view their site for more detailed information
HOW TO ARRIVE: Chianciano Terme can be reached by the Autostrada A1. Take the exit Chiusi-Chianciano Terme. If you are arriving by train, go to Chiusi – Chianciano Terme, the establishment is approximately 17 km from the station. The closest airport is San Francesco in Assisi near Perugia and l'Amerigo Vespucci at Florence Peretola.
Not Just Thermal Waters
The thermal water spas are available all year long and this makes them a perfect addition to any holiday planning. They can conveniently be combined with many other activities and events within Tuscany for example the flower markets near Pistoia. Tuscany, which has a strong reputation for good food (and wine) highlights these flavours in the many sagras that take place throughout the territory. A sagra opens the doors and kitchens to many small towns and historic monuments and why not, a visit to one of the nearby hot springs.
These spas are the perfect excuse to combine health care with the exploration of the coastal region of Tuscany with the Mediterranean waters and sandy beaches near Grosseto, especially areas like Roselle, Populonia or the Gulf of Baratti which are considered one of a kind in their historical importance.
And if instead of history, food or art you prefer a more adventurous or stimulating activity then you could persue the Via Francigena. A world just waiting to be explored with nature trails and panoramic views much like those at Santiago of Compostela.
Some may consider autumn a "dead" season, but that's just not true in Tuscany when you consider the number of parks, the spectacular change of colors and the harvest of many of the typical flavours of the area including chestnuts and porcini mushrooms not to mention tartufo di San Miniato. Even winter in Tuscany is enchanting, often called the Land of the Presepi, or Nativity Scene with Mary, Joseph and baby Jesus. All of these events and activities are the perfect complement to a weekend spent at one of the above mentioned spas.