Winter in Tuscany? Why not?!
Winter is an open invitation to enjoy less crowds, new flavours, special treats and a wonderful opportunity to discover Tuscany's amazing landscapes with its flashy seasonal colors.
The temps might be brisk, but they are also inviting you to find places to hide out and enjoy the everlasting charm of Italy in a whole different manner. Just keep in mind to dress for the weather, with many layers.
And since there are shorter daylight hours, we suggest that you try to concentrate outdoor time in the morning which will give you the possibility to enjoy the small towns & Tuscan cities at night when all of the monuments are lit up!
1. Enjoy short lines and less crowded streets
Winter is absolutely the season for indulging in the city lifestyle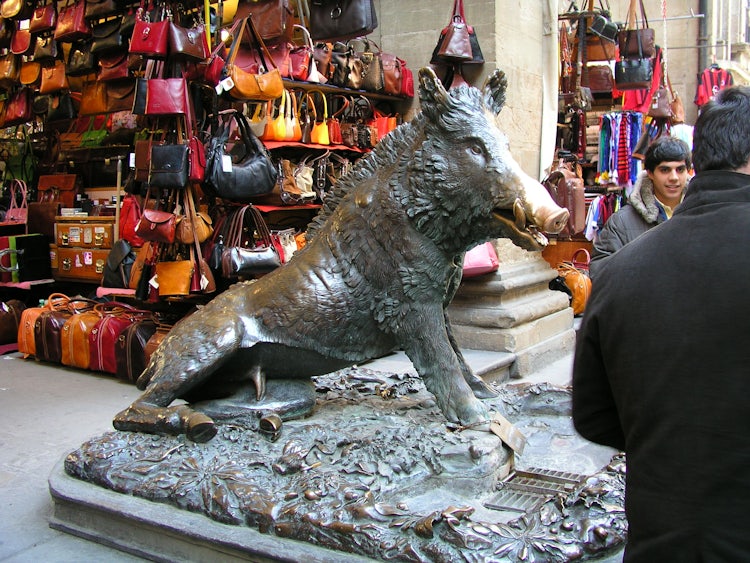 Concerts, museums, and exhibitions are all easily accessible as you whiz through the shorter lines giving you even more time to wander the near empty halls and corridors of Italian and international art, sculptures and cultural displays. The theaters are open and you will find shows in English and concerts with world renowned musicians, opera singers and conductors.
The streets of Pisa, Florence and Siena are full of local color especially with Carnevale in full swing creating an exciting stage for losing yourself in the fantasy of the season. But that's not all, the winter months give you a peek at the genuine Tuscan lifestyle because this is when you'll see the Tuscans out and about enjoying the quieter atmosphere of their beloved cities.
2. Enjoy People Watching, from your favorite corner in town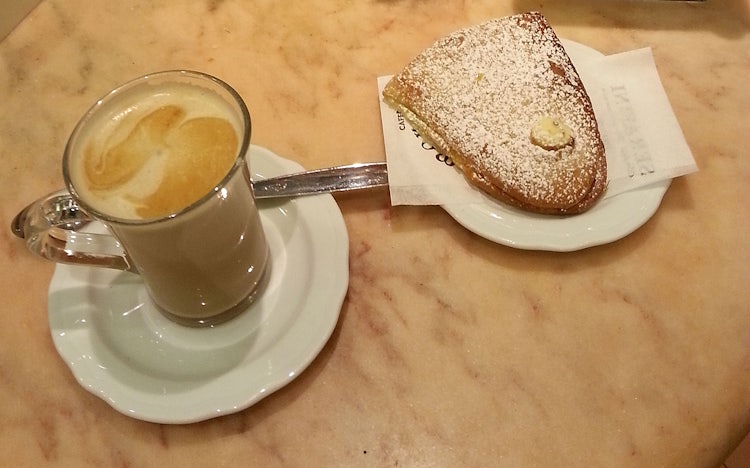 This is for those of you who dream about sipping a cappuccino at a quaint little café. Who doesn't love the lazy idea of nursing a coffee while watching the inexhaustible comings and goings of the locals. If you do this for several days in a row, you will learn that Italians are creatures of habit when it come to their early morning coffee; the bartender will either greet them by name or by their order... and after a couple of days he (or she) may start doing the same for you.
P.S. I wholeheartedly suggest testing several before you settle on just one café!
The best thing about café people watching in winter, it is so guilt free and you don't feel like you are missing out on anything because it is so cozy, pleasant and warm. Enjoy lots of thick hot chocolates too, they seem more like pudding that a drink!
3. Skiing! Who knew the slopes were so close... right?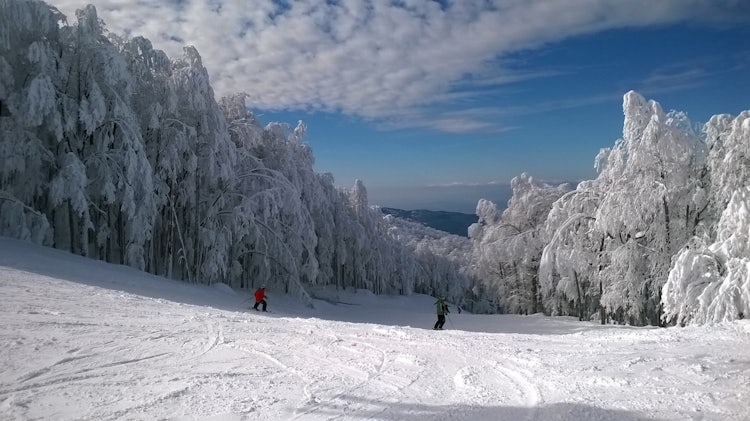 Only an hour and a half outside of Florence you can be gliding down the slopes of Abetone where you will find up-to-date lifts, slopes for all levels and rentals equipment; it is an easy day trip with activities, lessons and fun for all ages.
True, these are not the dizzying heights of the Swiss Alps but the competitive prices combined with the quality services make this a great option for those who are crazy about snow. Near the charming little town of Pistoia you will find the lofty white peaks of the Abetone ski area has over 50 kilometers of ski slopes (including black diamond runs), more than 20 lifts and peaks that reach almost 2,000 meters. It is a great adventure.
For those staying a bit further south in the Val d'Orcia, you can find skiing and snowshoe hiking opportunities in the Monte Amiata area. Though on a much smaller scale, it is just the right place for beginners to try out the slippery slopes. Equipped for all levels, you will find over 10 Km of ski runs, 2 chairlifts, 10 T-bar lifts and 2 cross-country ski trails.
And it's not just about the skiing because you will find cross-country skiing, walks with snowshoes, trips in snowmobiles, snowboarding and hiking on the snow.
4. Shopping during SALDI = SALES!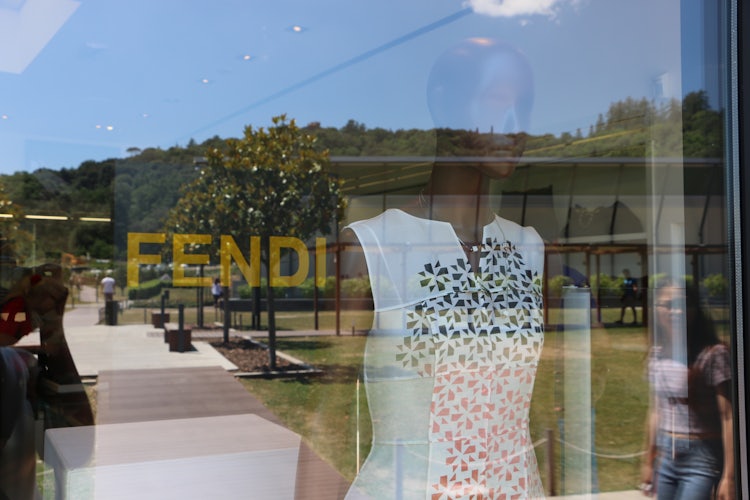 Winter sales - saldi - start in January (around first weekend of the month) and everything gets its price slashed. Though you can still go to the outlet stores such as The Mall, you will find that the smaller shops and specialty boutiques in the city centers will offer very competitive sales. It is definitely a battle for your business and when the products are gone (there are no rain checks), there are no more... first come, first served.
You will be battling it out not just with other tourist shoppers but also the locals who have an eye on the official winter sale dates. The official start date (January 5th) is the first business day before the Epiphany (January 6th) and lasts for 60 days. That is two months of winter shopping at great prices.
So bring an extra empty bag and work on filling it up while you are on vacation.
5. Soaking in the Hot Springs and Pampering Yourself
Indulge in an afternoon of soaking in the thermal waters of Tuscany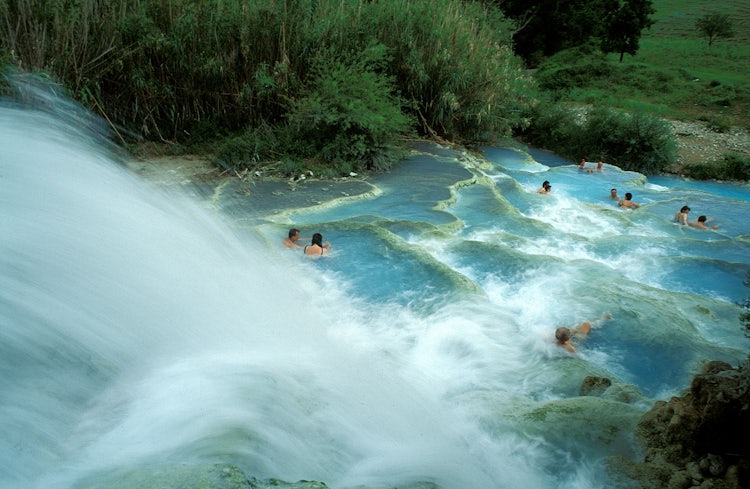 This is my favorite winter option especially after a day of skiing, sales shopping and museum hopping! With so many options, this is the time to take advantage of the numerous hot springs throughout Tuscany. From north to south, you will find quality spas with massage services, mud baths and toasty warm spring waters bubbling up to soothe those vacation worn muscles.
The options vary from organized indoor spas to public outdoor pools who get their waters from miles below the surface. No matter where you are staying in Tuscany, you are sure to find hot springs close by.
Winter Festivals ... and carnival!
Food and Fun are Good Reasons in Every Season
Enjoy a treat that only comes out in winter and other fun events in February and March... the "frittelle"!
These delicious little fried delicacies are just the right reason to look for a sagra and join in the winter fun. Both the little town of Lupicciano near Pistoia and Montefioralle just outside of Greve in Chianti are famed for their sagras for Italian Father's Day (March 19). Don't forget to check out other great events in March.
But with the period of Carnival going on for weeks before and after, it is easy to find someplace that will be highlighting these fried balls of either dough or rice stuffed with raisins and pine nuts. Another favorite sweet which fills the local pastry shops (and is normally only available in this period) are "cenci". Although they come with a ton of varieties and names throughout the region of Tuscany, the concept is the same: fried dough sprinkled with sugar.
Depending on WHEN you come in winter, you can also enjoy the beautiful Christmas markets in December with the festive feeling of the holiday season... or enjoy a day out truffle hunting or exploring the wineries in Montalcino as the new Brunello di Montalcino is released every February (the "Brunello Crossing" event over 2 days includes tours of wineries in the area).
Will you be in Tuscany in winter? What are you planning to do?