Local Recipes & Traditional Menus
Handmade pasta, grilled bistecca, truffles & wine at summer food festivals
Summer heralds in a season of long sunny days and cool refreshing evenings. This is the perfect time to enjoy some of the regional traditions; medieval fairs with colorful costumes and exciting re-enactments; the summer music festivals that present live jazz, classical and sometimes good old fashion rock and roll, and even the locals like to take a break and head out to discover the charming little towns in Chianti and the trails in the forests.
While roaming about you are bound to discover signs for dozens and dozens of Italian food festivals, or what are commonly called "sagra".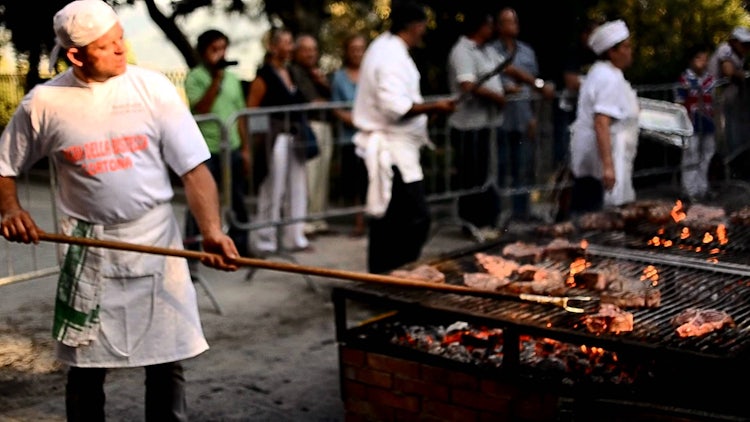 Ranging from small affairs organized by groups called "pro-loco" (organizations that promote the area) to much larger events funded by the town council. These festivals all have one thing in common: inexpensive, genuine Tuscan food.
Personally, I find them hard to resist! Each sagra teases me with basic yet yummy menus. Curious to learn more about a sagra? and how to navigate the menu? read our article.
Choosing the Best Sagra this Summer
Or, are you simply curious to learn which ones should you look for?
Below we have compiled a selection of the more interesting menus which should make it on your itinerary if you are fortunate enough to be in town in this period.
However, this is by no means a list of ALL the sagras in Tuscany this summer. Having said that, it is true that every sagra has something to brag about, and in my opinion, sometimes the smaller and less noted turn out to be the ones with the best ever menus.
If you found one that isn't on our list then definitely drop us a note!
** Dates are updated 2022 for those we've found - no date means it hasn't yet been announced **

Lari is commonly referred to as the town of cherries: it is the most renowned and important place in Tuscany for cherry production. It will be hosting the Cherry Festival, a delicious event dedicated to this tasteful fruit, abundantly cultivated amidst the rolling hills that surround the town of Lari.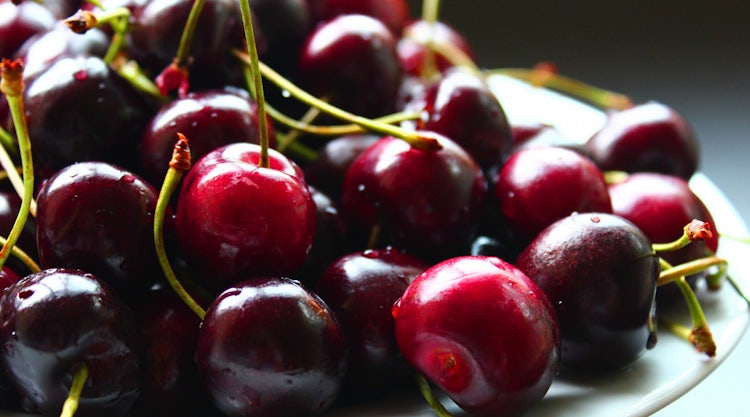 Firenzuola, Florence | SAGRA del FUNGO PRUGNOLO | May 21-22, June 3 and 5
Everyone is familiar with the famous porcini mushroom - but for those from the area, spring and early summer are the time to search for another type of mushroom, the "prugnolo". Fragrant and delicious, you will find they use it in every course (except for dessert, where you might want to stick to cakes or gelato). The town of Firenzuola in Mugello gathers together to offer you crostini with a cream made from prugnoli mushrooms, tortelli mugellani (a type of ravioli stuffed with potatoes and cheese) with a mushroom sauce or a nice slice of roast beef with sauteed prugnoli mushrooms. While in this area stop by Lago Bilancino and the WWF oasis for some bird watching.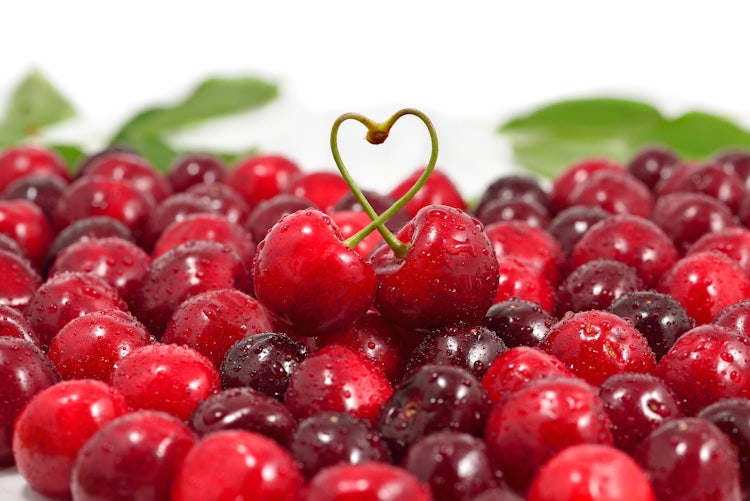 Not all sagras are for food that needs to be cooked, sometimes it is best served fresh. F
or more than 25 years the little town of Bacchereto has showcased one of their specialties: cherries. Bacchereto, in the province of Prato, dates all the back to the early 1100's and is nestled between Pistoia and Montelupo. They have tons of different ways to enjoy one of the first fruits of the season.
The way best is to eat them fresh, just picked from the tree. But. If that just isn't possible then you can try their recipe for duck with cherries, cherry "crostata" or "biscotti lampo", with candied cherries and almonds.
No trip to Tuscany would be complete if you didn't savor a plate full of hand-rolled pici. They even have their own special club: Amatori Pici Chianciano. There are several variations on the theme in the area and other small towns propose smaller (but still yummy) sagras, but Chianciano Terme offers you a plate of pici "under the stars". This pasta recipe is from the south-Sienese territory, between Val d'Orcia and Val di Chiana, and has ancient and uncertain origins.
Made from just flour and water, it was once considered the typical "poor" dish of local families. This town is famous for its hot water spas, so be sure to leave time for a bit of relaxation.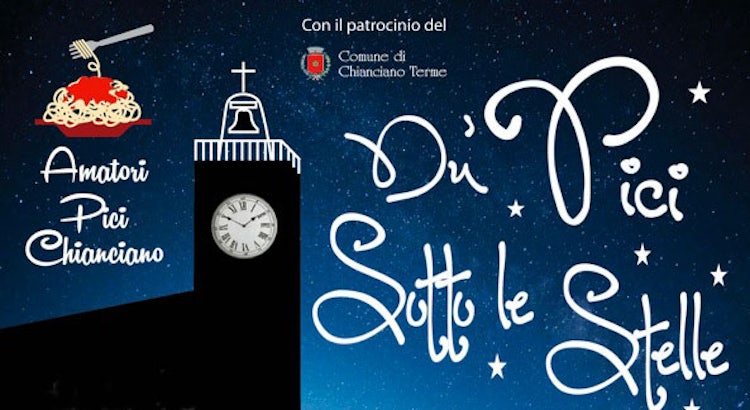 How much beef steak can you eat? If it is more than 3.429 kg then you might have a chance of taking home the grand prize. But if you are more interested in learning how to grill to perfection this "regina" (queen) of steaks, then you are in luck.
The town of Mercatale Val di Pesa is located within the borders of San Casciano VP in the Chianti area, and you will find lots of opportunities to site see. But don't be late, they fire up the grills around 7 pm and lessons on how to grill a steak are given by the experts.
And, if you are just interested in enjoying a plate of absolutely delicious meat grilled Tuscan style that's good too

A stupendous idea!!
This is a sagra of all the food festivals in the area. Before any of the sagras start their run in the Casentino Valley, the town of Bibbiena, just north of Arezzo, invites the pro-locos to set up a mini stand in the city center. The guest to the sagra purchases a mega ticket which includes a pass to "taste" a small portion at each stand: ravioli with spinach & ricotta, tortelli alla lastra (grilled tortelli pasta), gnocchi, roast beef with truffles - the list goes on. The itinerary takes you through the streets, courtyards, and museums of Bibbiena where you end up in the main square for a street party with music, dessert, and shows. This year they have some new arrivals on the menu - like a wine tasting!
Campi Bisenzio, Florence | CAMPI BEER FESTIVAL | dal 16 giugno al 3 luglio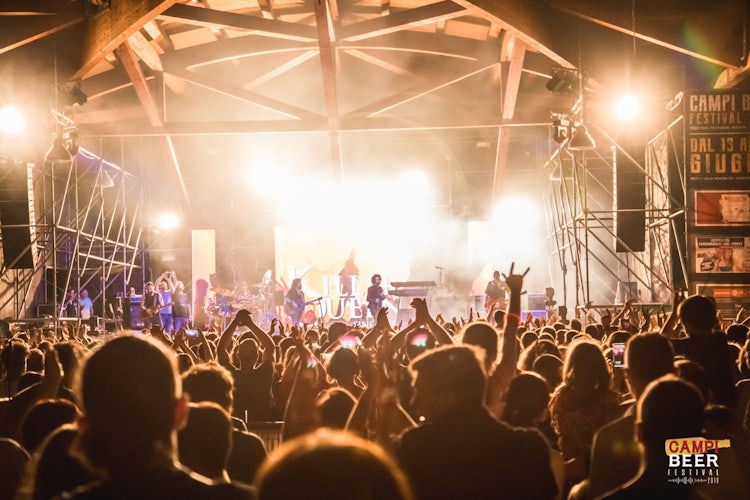 The Campi Beer Festival 2022 is a large party that mixes beer, concerts, street food and markets. The event offers live music every single evening with free entrance at the park of Villa Montalvo in Campi Bisenzio, not too far out of Florence (right behind Asmana). At the open air village you can taste beer from many artisan beer brewers and to eat you can choose from the many food trucks and stands (there is a gluten-free stand as well). There are free music concerts every day of the event. The artisan beer area is open every day from 6pm to 2am, and there is an area with table soccer tables and where you can ride an electronic bull. For the kids, the 2022 edition offers a "Jurassic expo" where you can admire dinosaurs and other prehistoric animals at real life size. Among the additions to the luna park this year is the possibility of cocktails in the air at 50mm high. The Facebook page has information on the concert program and other offerings, check it before you go (link in title).
Massarosa, Lucca | RANOCCHIOCCIOLA | July
The much-anticipated event in the province of Lucca, the "Ranocchiocciola" Festival which proposes two typical local dishes: the frog & the snail.
It is no surprise that these two Versilian cuisine specialties make up the menu since they were always two very popular dishes, especially given the prominent presence of these creatures in the area of Lake Massaciuccoli only a few kilometers from Massarosa.
Be sure to make a stop at the lake while in the area and the famous Roman villa right next door. You are also fairly close to the coast if you want to take a hop over to Versilia. PS there is always a backup menu for those of you who are not too eager to try the snails and frogs.
This is so much more than a sagra, it is also a fantastic motorcycle gathering through the streets of this little town in Castelnuovo Garfagnana.
The menu of the "merenda" (the Italian word for afternoon snack) is a selection of dishes which have close ties to the traditions of the farmer, who worked the land and normally was extremely poor. As all over Tuscany, these are some of the most loved flavors of today, particular in this area rich in chestnut trees and recipe variations.
The snacks are found on an itinerary which highlights the epoch of the farmer, and you can go to taste just one example or buy a ticket for the entire tour. These treats include "Formenton" polenta, porchetta, fried dough, and chestnuts.

Piancastagnaio, Siena | IL PROCENELLO | July 7-10
Just 30 minutes from the town of Radicofani and the thermal water springs of Bagno San Filippo, you can indulge in an afternoon snack, or what in this area was called the "merinnino". Fried zucchini flowers top the list of yummy specialties, and on the table, one might find typical focaccia bread, cold cuts or "la soppressata", sausage, "la minestra di pane", fresh fava beans with cheese, and anchovies, among other recipes.
And, of course, everything was accompanied by an abundant quantity of red wine. While savoring the delicious goodies, take a walk around town to admire the La Rocca Aldobrandesca from the late 1200's.
Riotorto, Livorno | FESTA DEL PALLAVOLO | July/August
All for a good cause, the feminine volleyball team uses this event - called Sagra del Cacciucco e della Zuppa up to 2019 - to fund their national championship matches. You can combine the fish soup characteristic of the "cucina povera" or poor man's kitchen, in the Livorno area with other types of soups that abound in this area.
The caccicco is made upon request at this sagra, so be sure to reserve your portion before you go. Close to Baratti beaches, this is a great way to see a bit of local color.
Chiusi della Verna, Arezzo | SAGRA del TARTUFO | August
Last year, this town participated in the June event mentioned above in Bibbiena. This area of Tuscany, though not famous for the prized white or black truffle, pulls out all the stops when showing off their seasonal harvest of the "scorzone".
A selection of dishes from antipasto, pasta and main courses all flavored with the distinct flavor of truffles. And after you have eaten your fill, this mountainous area is the perfect place to take a stroll and enjoy the fresh crisp air and the warm Tuscan sun.

Situated along the southernmost coastline of Tuscany, Talamone hosts a famous sagra that celebrates the "moscardini" (it looks like a miniature octopus). This 8 legged specialty is simmered in a rich tomato sauce and spices, then served with toasted bread soak in the broth of the stew.
The event takes place near the port where you can catch the balmy breezes. Visit the beaches nearby or explore the amazing Natural Park of the Maremma, where you will find some of the most beautiful stretches of the Tuscan coastline.
Castiglione d'Orcia, Siena | SAGRA DEL CROSTINO | August
The beautiful, and one of a kind, Val d'Orcia has so much to offer: stunning scenic views, fabulous wines, and picturesque towns - some with their own source of thermal waters bubbling up from below the Earth's surface.
The hilltop town of Castiglione d'Orcia has a little sagra that highlights the specialties of the local cuisine, spotlighting the "crostini". Traditionally speaking, this is a small slice of bread with a cream sauce on top served as an antipasto or starter.
With over 15 different special recipes, you will have to work hard not to like any of the selections.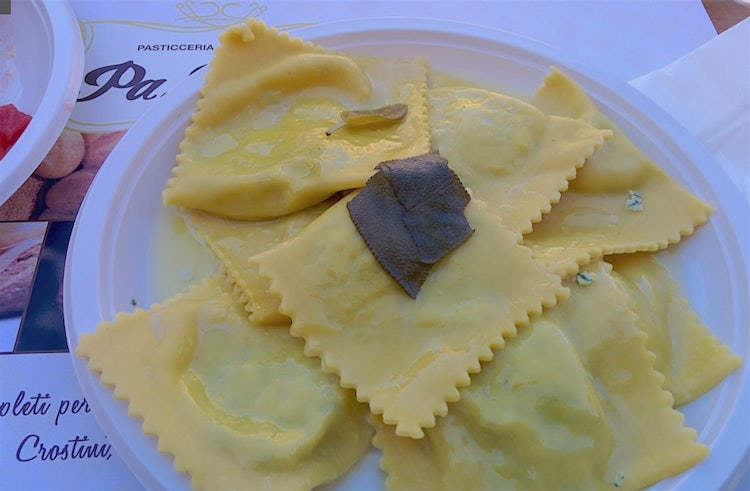 Practically in the shade of Monte Amiata and close to the via Francigena, the little town of Contignano, dating back to 979, proposes a deliciously, authentic menu. The sagra revolves around, what they like to call the "vero" or real raviolo: handmade pasta filled with a creamy mix of spinach, ricotta, and parmesan cheese and a dash of nutmeg...if there is a secret ingredient, they aren't telling.
But it seems that this area is particularly famous for a flavourful ricotta cheese - which makes all the difference. Normally you will find the specialty served with either butter and fresh sage or a rich, thick meat sauce. And, the menu doesn't stop here. You can have grilled meats, pasta with "cacio e pepe", homemade desserts and of course wine.
Their website is a bit outdated, but you can look for this even around the 15th of August.
This area of Tuscany is famous for its Chianina cows, one of the oldest breeds in the world!
Grown specifically as draught animals and for their meat, these large white cows are a symbol of Tuscany. The Chianina, recognized for its quality of meat and nutritional values, also boasts a most sought after label the Indicazione Geografica Protetta (IGP), or certificate for the region of origin. Cortona takes their time to grill these hearty beef steaks to perfection, and once you taste one you will understand why the Tuscan go crazy for them.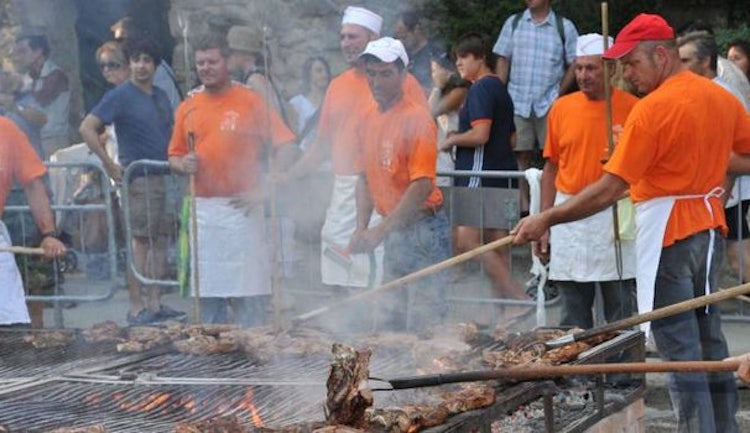 LAST UPDATED: June 21, 2022