The best bases for your stay in Tuscany with no car
If you're looking for the best base in Tuscany and you will have your own car, make sure to read our first part on Where to Stay in Tuscany which has general information for everyone in addition to this article.
Trying to decide where to stay in Tuscany without a car, depending on public transportation to get around? The choices are many, the important thing is that you're close enough to a train station or bus stop (walking distance is best).
Here are my suggestions for some of the top places:
Only a few days? Stay in FLORENCE!
If you're staying a few days, my first recommendation is to stay in Florence! You'll be depending on public transportation and as Florence is the main hub for trains and buses all over Tuscany, this is one of the simplest solutions. You can spend a few days visiting Florence, then do day trips to Siena, Pisa, Lucca, San Gimignano and Arezzo, to name just a few (read this article on more day trip suggestions from Florence). Some are best reached by bus, others by train.
For trips into the wine region of Chianti, the best solution is a guided tour as neither buses or trains can easily get you to the towns or wineries you might be interested in visiting.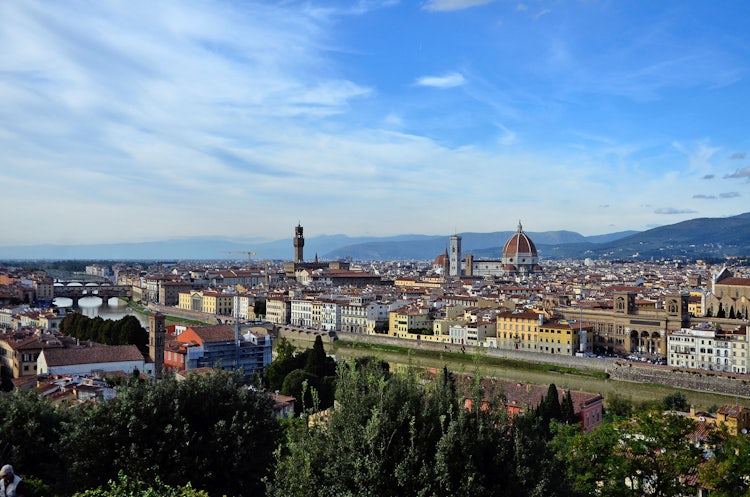 3 days or more? Stay in FLORENCE and SIENA!
If you have more than a few days, I would suggest you divide your time between two towns, one of them Florence and another. My top option is to recommend Siena as the other. You can use each base for doing day trips to places nearby. As suggested above, you can easily reach Pisa and Lucca from Florence, while from Siena you could do day trips to southern Tuscanyand into other areas surrounding Siena. Siena is a favorite of mine but generally underestimated by most travelers who most often don't even spend an entire day there. You can also do fun guided tours within the city and to the nearby surroundings.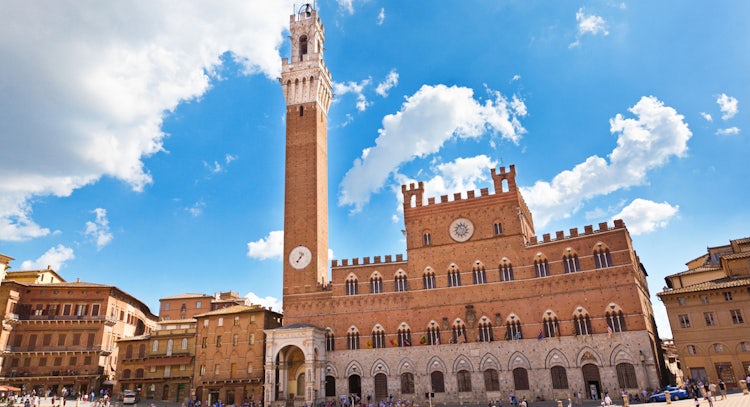 Dreaming of a hilltop village? Stay in SAN GIMIGNANO!
A little harder to get to and move around from but still very doable would be to stay in San Gimignano. The fourteen medieval towers still standing tall over this enchanting town will charm you, and you will love this small town in the evenings when the crowds are gone. You can choose to stay in San Gimignano within the walls of the small town or just outside to experience the countryside, the views of the town and be within walking distance of restaurants in the evenings. You will have to take a bus to Poggibonsi and from there continue by train or bus to other places nearby for day trips, so while it might take more time, with a bit of patience it is still very doable to use San Gimignano as your base.
Just be prepared: in the high season, San Gimignano IS a BUSY town with many visitors during the day. But in the evenings, you'll get to enjoy the town. In the off season... staying here is even more enjoyable! :)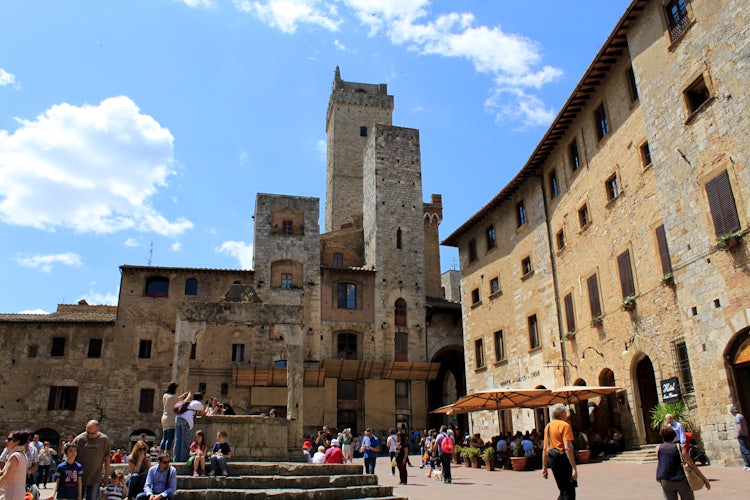 Interested in Chianti? Then use GREVE as your base!
If you're interested mostly in the Chianti region, you can still consider using Greve in Chianti as your base even without a car. Bus connects Greve to Florence to get elsewhere, and some buses connect Greve to other nearby towns such as Panzano, Radda and Castellina but, to be honest, the service between these smaller towns is not ideal. Greve can thus be a great base even without a car but I recommend it more for those who plan to stay put and enjoy the countryside rather than those who want to be everywhere else but at their accommodation for most of every single day. Stay in Chianti to enjoy Chianti! :)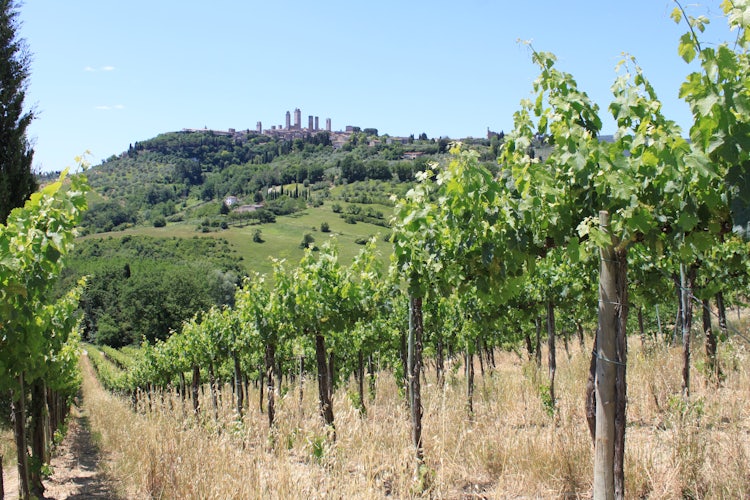 Other great bases are along the train routes
Other places to consider include many of the small towns along the train route between Florence and Pisa, Florence and Lucca and Florence and Arezzo, and the route from Empoli south to Siena. You will have to plan to stay within those towns to make moving around easier, because if you choose something in the countryside outside of the towns, you will have to depend on private drivers (which are the taxi service in small towns) to get you from the town to your lodging if it isn't within walking distance. Some examples are towns such as San Miniato, Certaldo, Castelfiorentino, Prato, Pistoia, Montecatini Terme.
A final note for anyone planning a trip without a car in Tuscany: MAP out where the lodging you like is located in BEFORE booking your stay. We gets lots of requests for help from visitors who first book a stay in a farmhouse in the middle of the countryside and only after look for help in sorting out how to get there. In those cases, if you can't cancel your booking for one reason or another, you will have no choice but to rent a car or hire a private car with driver.
Wherever you choose to stay in Tuscany, you will find youself falling in love with the region and its views and landscapes. Traveling without a car, while maybe a bit less convenient, will make for exploring Tuscany in a wonderful, less hurried way you will treasure.